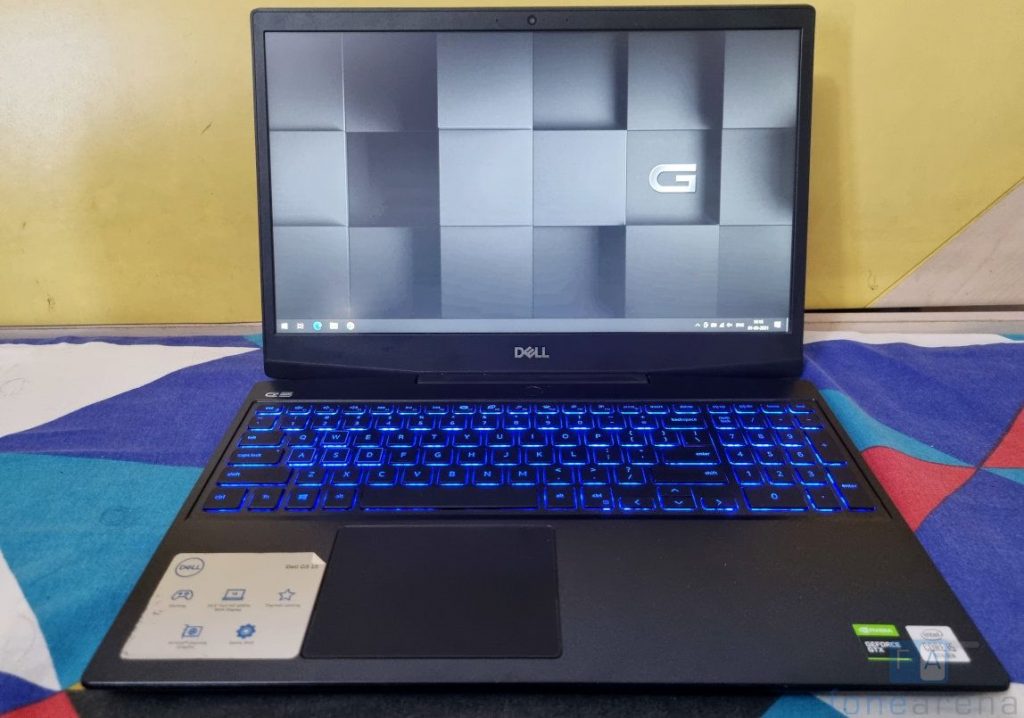 As technology pushes forward in the high-end laptop market, it is only a matter of time before they trickle down to the lower end laptops. Features like a high-refresh rate displays are starting to become common in gaming laptops. The Dell G5 15 is one such laptop, featuring a 1080p 120Hz panel that's powered by an NVIDIA GeForce RTX 1650Ti. Here is my review of the laptop.
Specifications
Processor: 10th Gen Intel Core i5-10300H Quad Core Processor
Operating Systems: Windows 10
GPU: NVIDIA GeForce GTX 1650 Ti, 4GB GDDR6
Display: 15.6 inch FHD (1920 x 1080) 120Hz WVA Anti- Glare LED Backlit
Memory: 8GB, 2933 MHz, DDR4
Hard Drive: 512GB PCIe M.2 SSD
Ports: 1 HDMI 2.0, 1 SuperSpeed USB 3.2 Gen 1, 2 SuperSpeed USB 2.0
1 Headphone/Mic, 1 USB-C DisplayPort Alt-Mode only, 1 RJ45, 1 Standard SD Card slot.
Connectivity: 802.11ac +Bluetooth 4.1, 1×1 Gigabit Ethernet
Dimensions and Weight: Height: 21.6mm x Width: 365.5mm x Depth: 254mm; Weight: 2.34kg
Primary Battery: 51 WHr, 3-Cell Battery (integrated)
Design, Display and Sound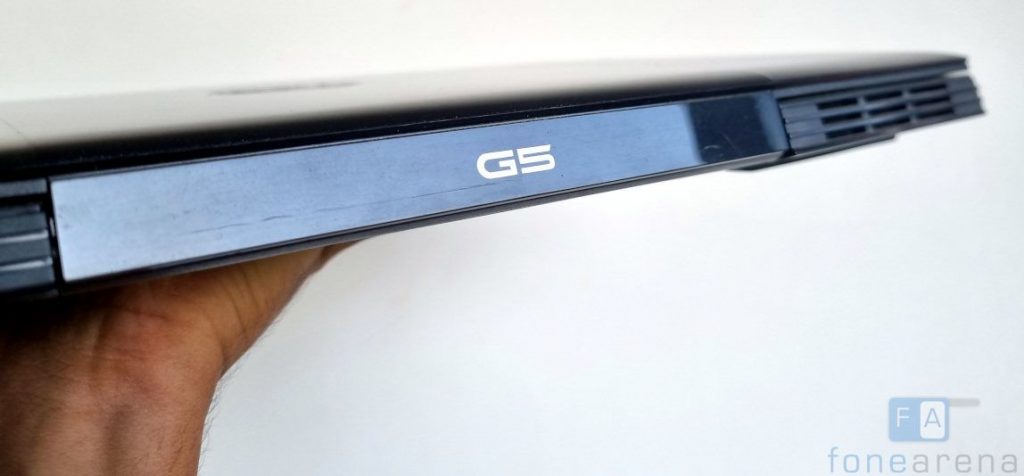 Over the years, Dell's G series gaming laptops have become very identifiable with their laptop's design language and the Dell G5 15 is no different. Dell has made sure that the design does not scream "Gaming laptop", which I appreciate. However, there are various hints around the device that indicate the same, such as the angular design at the rear of the laptop and the amount of rear facing vents needed to cool the laptop's internals.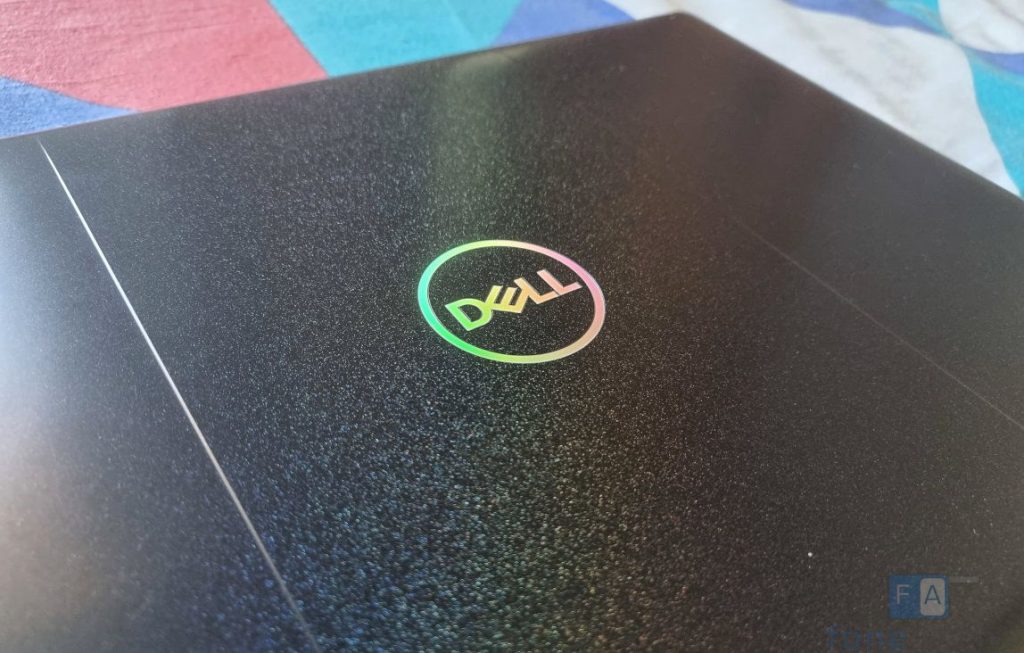 The entire laptop is made out of plastic, but it does not feel cheap at all. Instead, the hard plastic offers good rigidity and support, and the keyboard deck has little flex when pressed hard. The chassis is nearly all matte black, except for the lid, which has a pearlescent finish that shines in the light. I am not particularly fond of this finish, I would have much rather liked a simple black colour instead.
The laptop's lid does flex a little more than I would like, but it is nothing too worrisome. The centrally placed hinge feels good too, only maybe a little too tight for my preference.
Regarding the bezels around the display, they are reasonably thin, with a thick chin-bar that has a "Dell" in the center. The top bezel houses the integrated webcam, with no IR sensors for Windows Hello. Dell has integrated a fingerprint sensor in the power button for Windows Hello, which is nice and convenient.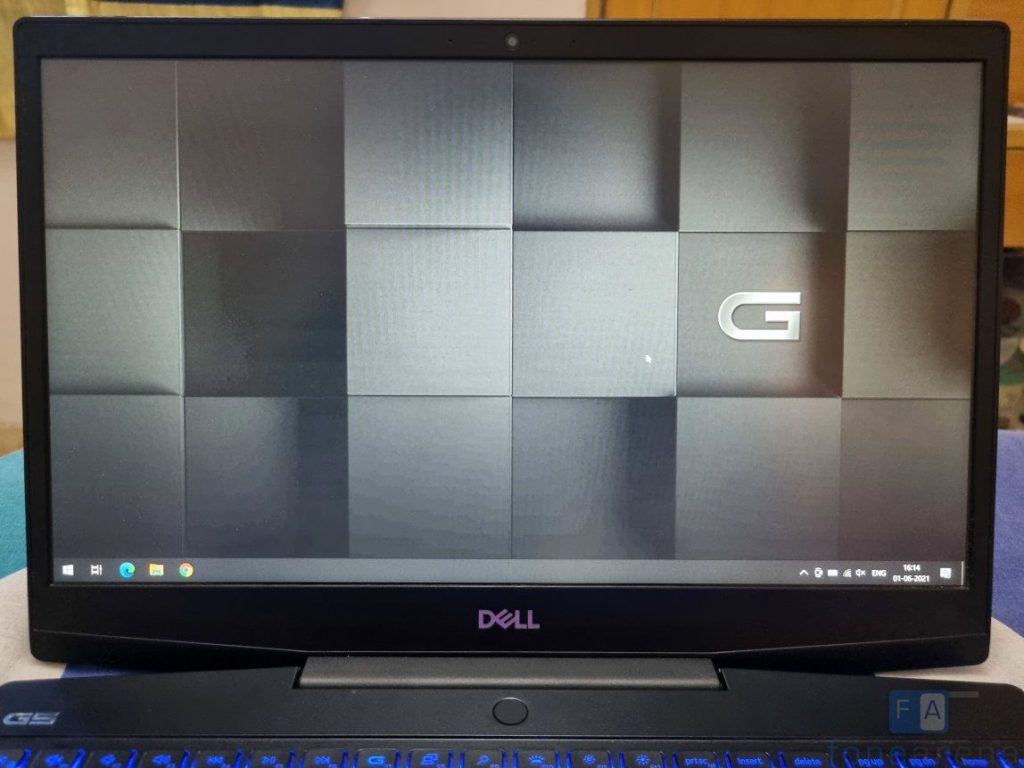 The display on the G5 15 is a 15.6-inch WVA panel with a refresh rate of 120Hz. While the high refresh rate is extremely nice in games, the display is not great in terms of colour accuracy. I would not recommend this laptop to creators, such as photo/video editors as the colour accuracy is quite skewed.
The display has a matte finish, and viewing angles are alright. It can get reasonably bright, and the contrast levels are decent, however the backlight bleed was quite noticeable in dark environments. For this price, Dell should have selected a better panel, however if you're just gaming, it should be fine.
For speakers, the G5 15 has two bottom-firing units that can get fairly loud. The quality is surprisingly not bad, and my only complaint would be that the bass falls a bit too flat.
Performance and thermals
Our model of the G5 is configured with a Core i5-10300H, which is a 4 core/8 thread CPU that can turbo up to 4.5GHz. During a synthetic load such as Cinebench, the processor was able to sustain a boost frequency of about 3.61GHz, which is well above its base frequency of 2.5GHz. While it stayed above its base clocks under heavy load, I did notice that the CPU temperature maxed out at 100°C, which is alarming. Clearly there is performance left out due to the thermal limitation of its cooling system, and it is disappointing to see this from Dell. I am also worried about the long term effects of running the CPU at these temperatures.
The NVIDIA GeForce GTX 1650Ti GPU on the other hand, performed better thermally. Under a stress test, the GPU temperature hovered around 70°C, and maintained clock speeds around 1230MHz. In games, the performance was as expected from a GTX 1650 Ti. In lighter titles with high quality settings, it is easy to cross 120fps, making excellent use of the 120Hz display. In heavier titles at medium to low settings it is possible to hit the 60fps mark, which isn't too bad.
Here are some benchmarks below: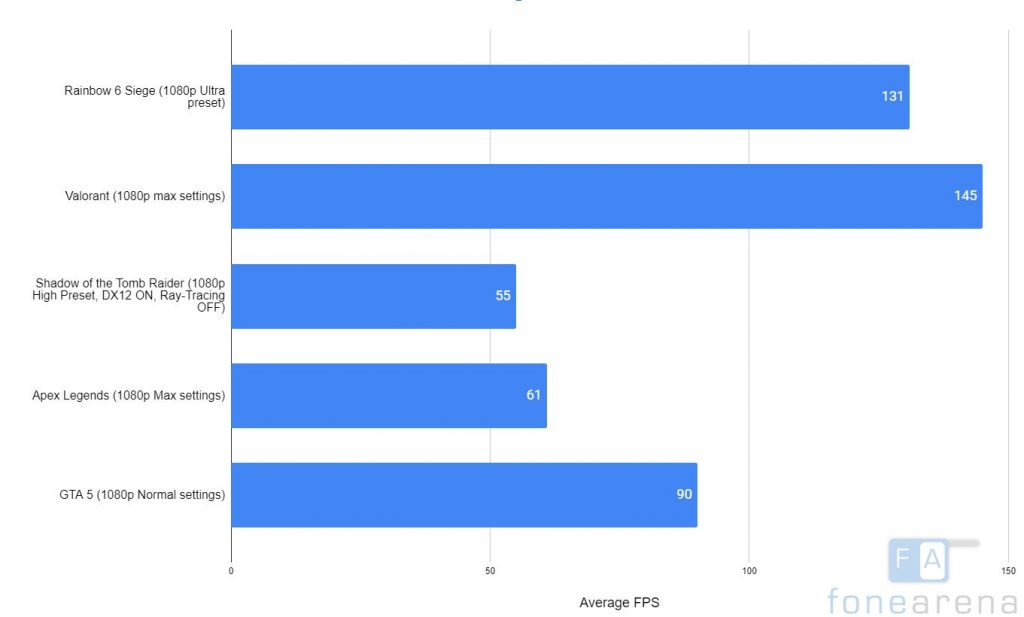 Noise levels during both synthetic benchmarks and gaming was well under control. The fans ramp up quickly under load and get moderately loud when at full speed. It is a little high-pitched, but it is very easy to ignore and if you wear headphones, it becomes imperceptible.
Keyboard and Trackpad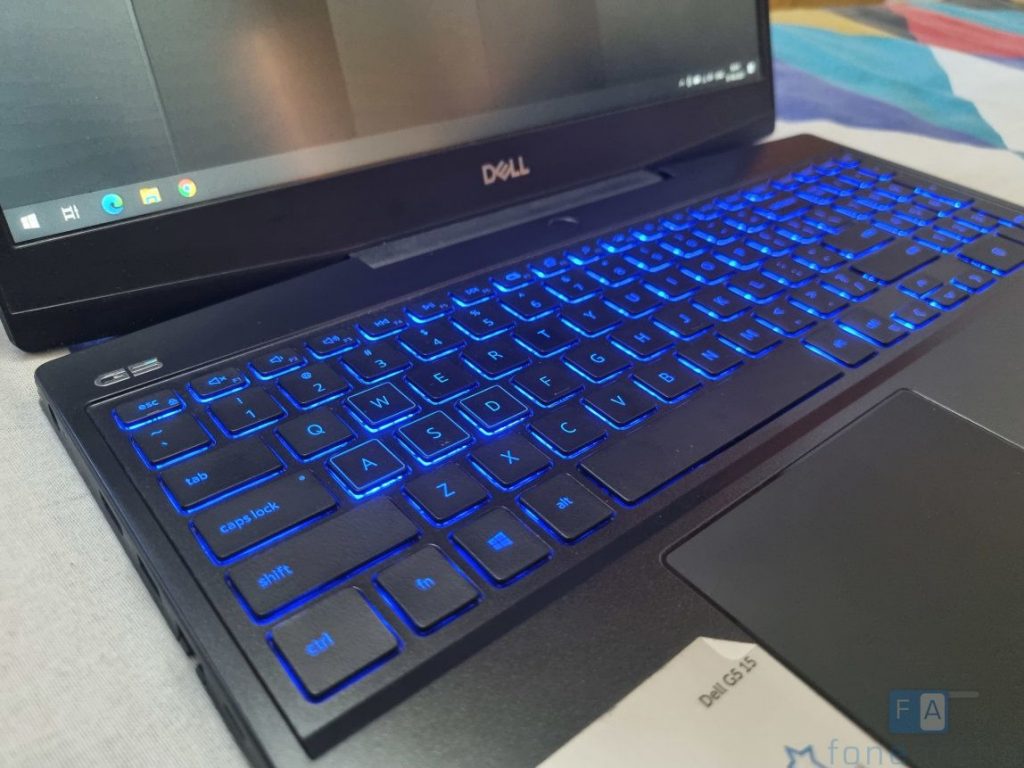 The Dell G5 15 comes with a full size keyboard that is backlit in Blue colour, giving a cool look to the laptop. The feel of the keyboard is similar to most Dell laptops in this price range, which isn't a bad thing. The keys have a relatively short travel distance and a satisfying press mechanic that is characteristic of a membrane keyboard.
For regular typing, the keyboard is mostly alright. However, for gaming, the short travel distance can sometimes throw you off, making you unsure of whether you pressed a button or not. For light typists, the keyboard will be fine, but if you are used to deeper travel, the laptop on the G5 will take some time to get used to.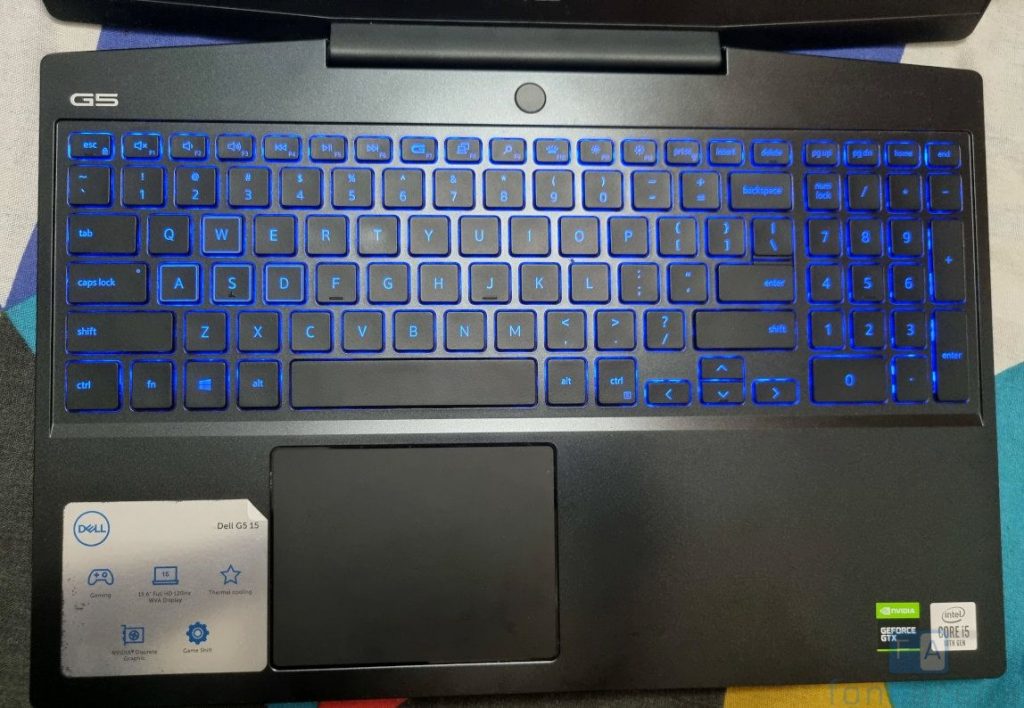 The trackpad, on the other hand, is quite good. It has a good size, and the surface is nice and smooth for my fingers to glide on. The tracking was accurate, and the click mechanism was alright. If I had to pick on something, it would be the placement of the trackpad itself. It is a little too far to the left for my taste.
Ports and Connectivity and battery
There is a good selection of ports on the G5 15, with plenty of USB Type-A ports, a USB Type-C, HDMI, an ethernet port and a SD card slot. Regarding connectivity, the laptops support WiFi 6 and Bluetooth 4.1, which is a little outdated, but mostly fine.
Our model has a 51WHr 3-cell battery inside, which provides pretty average battery life for a gaming laptop. During light use, the laptop can last for around 5 hours at max, and with heavier use, that value drops fast.
Conclusion
The Dell G5 15 has a good design, decent keyboard, and it performs well for a laptop in this price range. The keyboard and trackpad are alright and having a 120Hz display is nice for gaming. The thermal design for the CPU is a bit worrisome, especially for long term reliability, however it does not throttle for now.
With regards to competition, there are quite a few laptops from Acer and ASUS, including the VivoBook Gaming 15 that we reviewed a few months back. The market is soon about to be flooded with laptops that have NVIDIA's latest RTX 3050Ti GPU, and it is highly likely that Dell will update the G5 with it. So it may be smarter to hold off on buying this version of the Dell G5 15. However, with the current GPU shortage and pricing, if you find this laptop on offer, it won't be a bad pickup.
The Dell G5 15 is available from official Dell website for Rs. 77,990 and should also be available from offline stores.