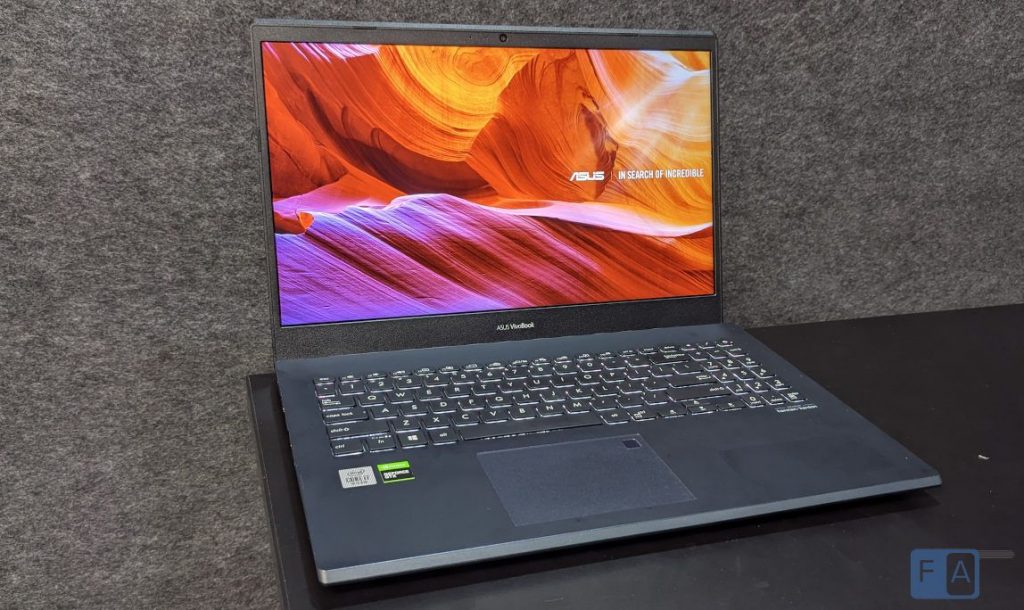 ASUS is well known in the gaming laptop space, with many popular devices in the ROG and TUF series. While their VivoBook series traditionally is meant for casual usage, both for students and working professionals, ASUS always releases a gaming variant in the VivoBook series, to give their users a laptop that can be used for regular work along with some casual gaming. The latest in the VivoBook series features up to a 10th Gen Core i7 processor which is great for everyday tasks and it is complimented with up to an NVIDIA GeForce GTX 1650Ti GPU, which is another great entry level mobile GPU. So how does the VivoBook Gaming 15 stack up? Does it deliver good performance in gaming and normal work? Read on in my review.
ASUS VivoBook 15 F571LI specifications
Processor: Intel Core i7-10750H processor
Display: 15.6″ FHD (1920 x 1080) NanoEdge display, 120 Hz refresh rate, 80.2% screen-to-body ratio
Graphics: NVIDIA GeForce GTX 1650Ti with 4GB GDDR6
Memory: 16 GB 2666 GHz DDR4
Storage: 256GB PCIe 3.0 M.2 SSD +  1 TB 5400 RPM HDD
Connectivity: Dual-band Wi-Fi 6 (802.11ax), Bluetooth 5.0
Ports: 1 x USB 3.2 Gen 1 Type-C, 1 x USB 3.2 Gen 1 Type-A, 2 x USB 2.0 Type-A, 1 x HDMI 1.4, 1 x SD card reader, 1 x RJ45 LAN port, 1x Audio combo jack
Inputs: Backlit keyboard with 1.4 mm key travel, Fingerprint sensor
Audio: ASUS SonicMaster stereo audio system
Operating System: Windows 10 Home
Battery: 42 Wh 3-cell lithium-polymer battery
Dimensions: 359 mm x 248 mm x 21.9 mm
Weight: 2.1 kg
Design and Build Quality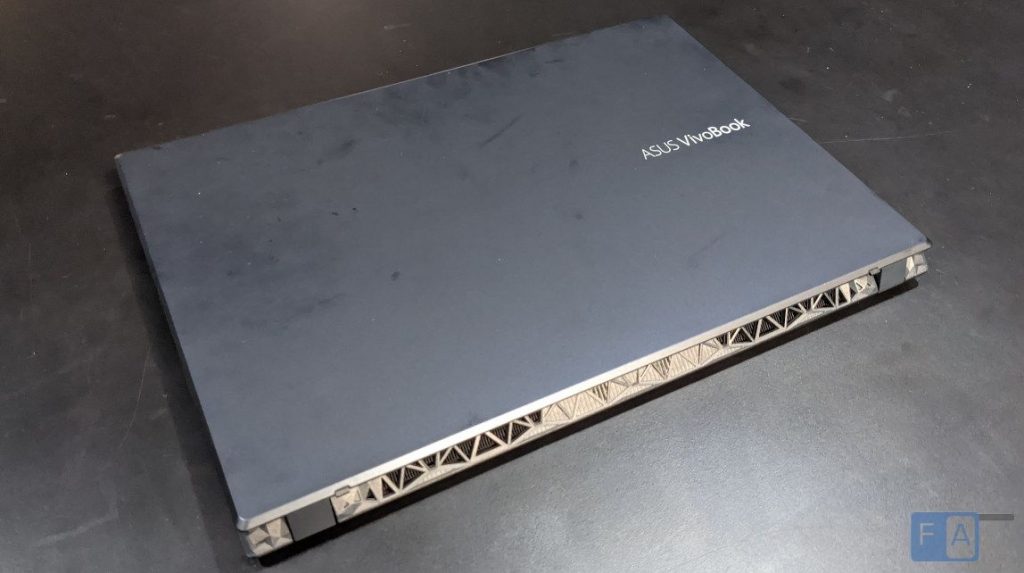 When you first see the Vivobook 15, you notice how clean, minimal and professional the laptop looks. It has a really good, smooth metallic finish all around the laptop, from the lid, to the keyboard deck, palm rests and the sides, with the exception of the underside panel and screen bezels which are made out of plastic. I have to highlight the metallic finish in particular, which reminds me of the finish that I would find on cars, and it does do a decent job of hiding fingerprints but overtime the finger oils became quite noticeable.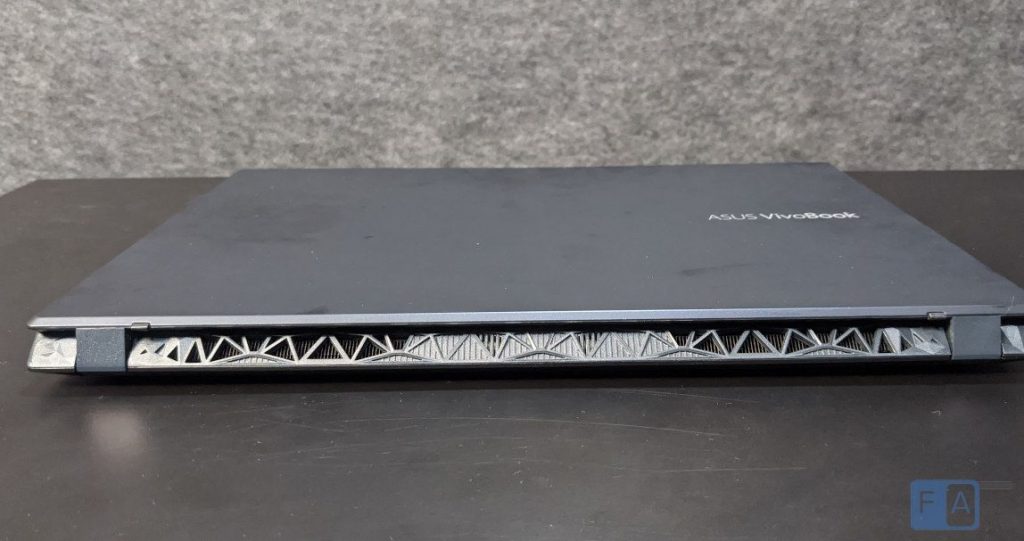 The only design element that looks slightly out of place is the aggressively styled cooling vents situated at the rear facing side of the laptop. At first glance, these vents are the only indication of the cooling requirements for this laptop; unless you notice the huge vents on the bottom panel of the laptop too. That is when you realize that this laptop has some high power internals packed into its slim profile, hinting at its gaming oriented performance.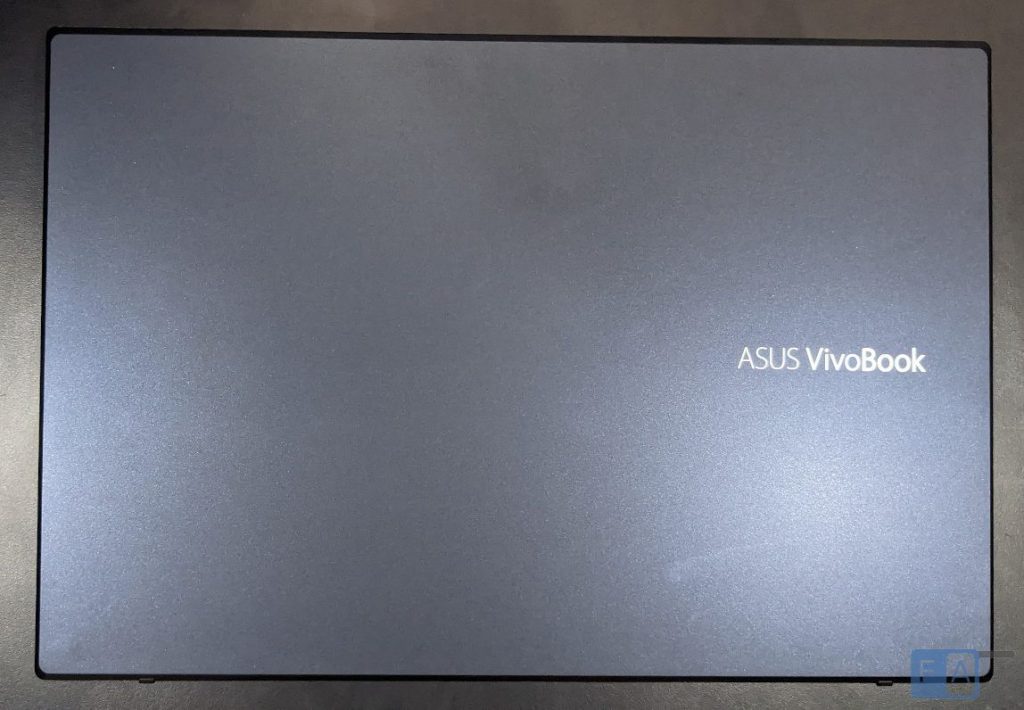 On the laptop's lid, there is an "ASUS VivoBook" text found on the right side in a silver colour that matches well with the blue metal of the lid. Another "ASUS VivoBook" can be found inside on the bottom bezel of the laptop. Keyboard deck flex is basically non-existent and the laptop lid is decently rigid.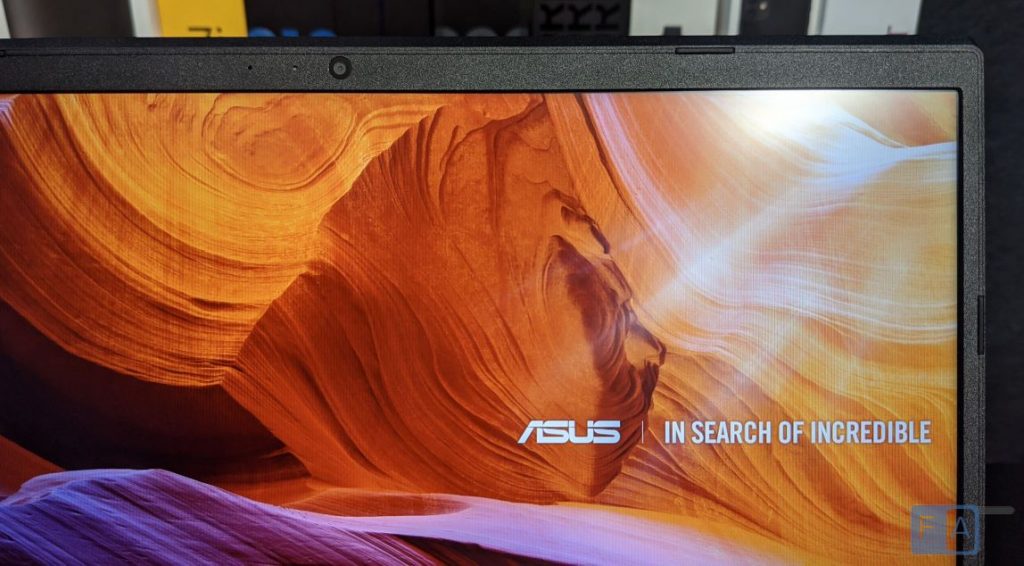 The bezels around the display are fairly modern looking, which ASUS has calls their NanoEdge display. However, it is not as thin as some of its competitors or even some of their own VivoBook laptops. The two side bezels are narrow, the top bezel is a wider with a webcam and the bottom bezel is about an inch in thickness. The bezels feel a bit last generation, but by no means is it a dealbreaker. It is certainly better looking than those all-around thick bezels that were found on laptops from a few years ago.
Opening up the laptop was not as straightforward as I would have liked. There are two screws at the top edge and two screws in the bottom edge which are easy to remove, and there is an extra pair that can be found underneath the rubber feet in the back. Remove this and you can open the bottom panel.
Once inside, you have access to a single slot of user upgradeable RAM, HDD and the M.2 storage drive, which is great. You can see the Wi-Fi card, which is also replaceable, although there is no reason to do that as the Wi-Fi connectivity was excellent. You can also see the 42Wh 3-cell Lithium-polymer battery in the bottom right corner.
Display and Sound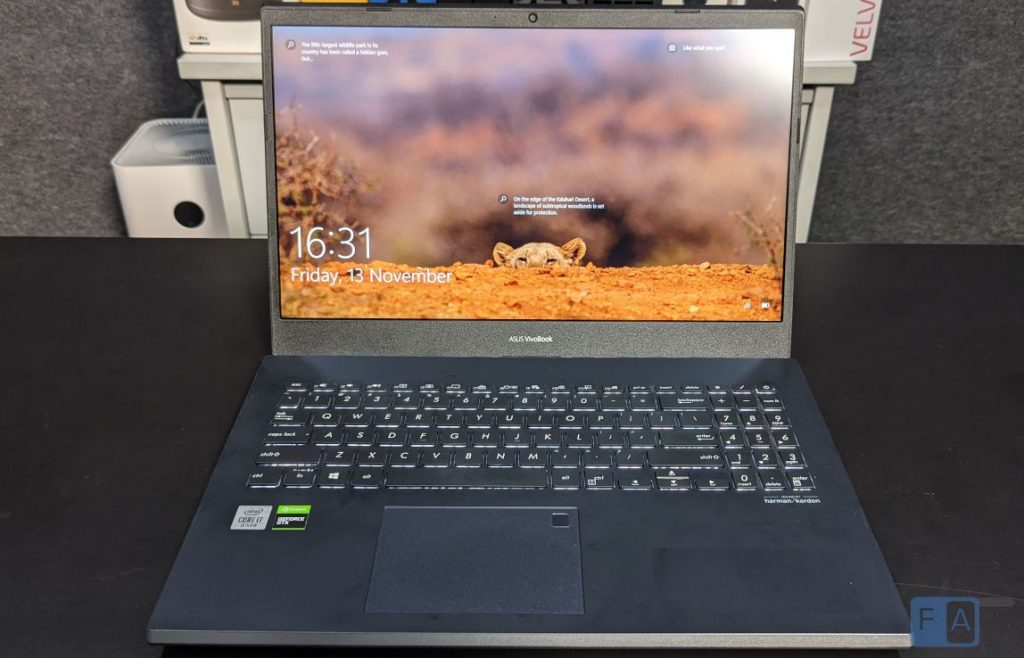 The VivoBook 15 Gaming has a 15.6-inch 1920 x 1080 IPS-level display that refreshes at a smooth 120Hz. ASUS claims that the display has a colour gamut of 100% sRGB, and while I don't have tools to measure it objectively, I can safely say that in my opinion the display is quite good. It has a matte finish coating, so the colours aren't as vibrant as they could have been if the screen had a glossy finish. Although, I almost always prefer matte finish screens because of how they prevent screen glare.
The display is otherwise great. Colours feel accurate, the contrast and brightness is decent, and while I am not sure if the display is good for colour critical work, I definitely enjoyed watching videos and playing games on the VivoBook. The cherry on top is easily the high 120Hz display refresh rate, which makes such a big difference to gaming when compared to a 60Hz experience.
The laptop comes with two bottom firing speakers, one on each side, and they are supposedly tuned by Harman Kardon. Sound quality was, in my opinion, just fine for a gaming laptop. It gets decently loud and remains mostly distortion free, even at max volume, however the bass is lacking and there isn't much clarity in the highs.
Performance and thermals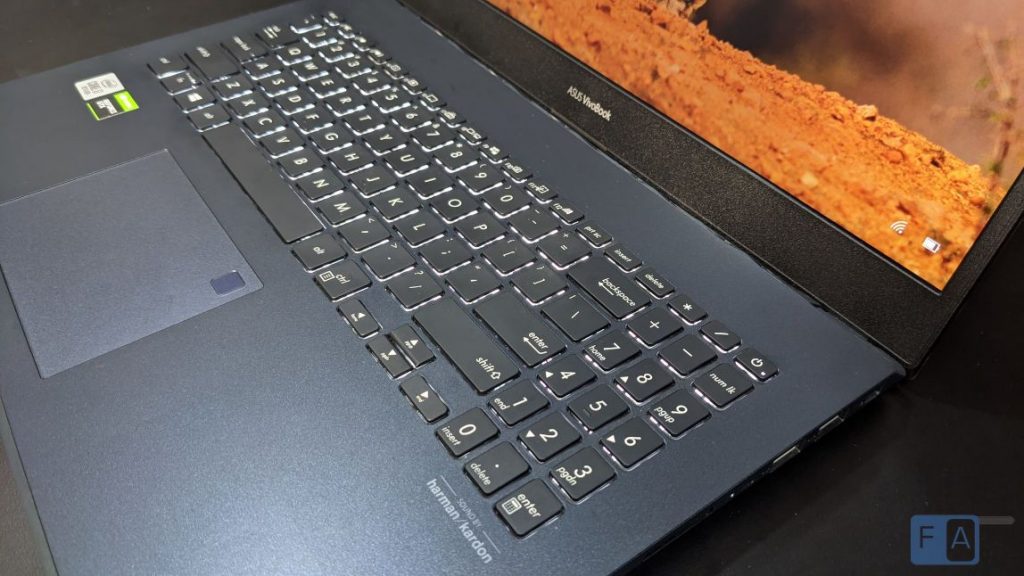 Powering this laptop is a 10th Gen Intel Core i7-10750H CPU, which has 6 cores and 12 threads, with a base frequency of 2.60Ghz and and a supposed max turbo frequency of 5.0GHz. Unfortunately, during my review I got nowhere close to this number, with the single core max frequency topping out at about 4.0GHz. When checking the Intel XTU utility, it is clear that the cooling performance for this laptop is not enough and that its thermal throttles quite a bit.
It's not all bad though. I only noticed this throttling during synthetic benchmarks or when performing long video renders. Throttling was not an issue I faced during my day-to-day usage or even during long extended gaming sessions. So I would say if you're looking at casual usage, then the VivoBook Gaming 15 is fine, but if you're looking for a laptop that will give you the maximum performance at all times, then maybe this is not the laptop for you.
The laptop does come with two fans to cool the internals and I have to say, they do get rather loud. Not uncomfortably loud whatsoever, but they are noticeable. Under normal, light workloads, we measured sound levels of about 35dBA, which is around normal ambient levels, and under full load, the noise levels peaked at about 50dBA. It does push a lot of air, but it is not enough to prevent the CPU from throttling. However, it does keep the palm rests really cool, so that is a positive.
For the GPU, our model has the GTX 1650Ti, and well, we all know how well the card performs. It is a solid GPU for 1080p gaming that is perfectly combined with a 120Hz screen, pushing 120+fps in many modern FPS games and even single player RPG games, albeit at medium to low settings. Here are some benchmarks below: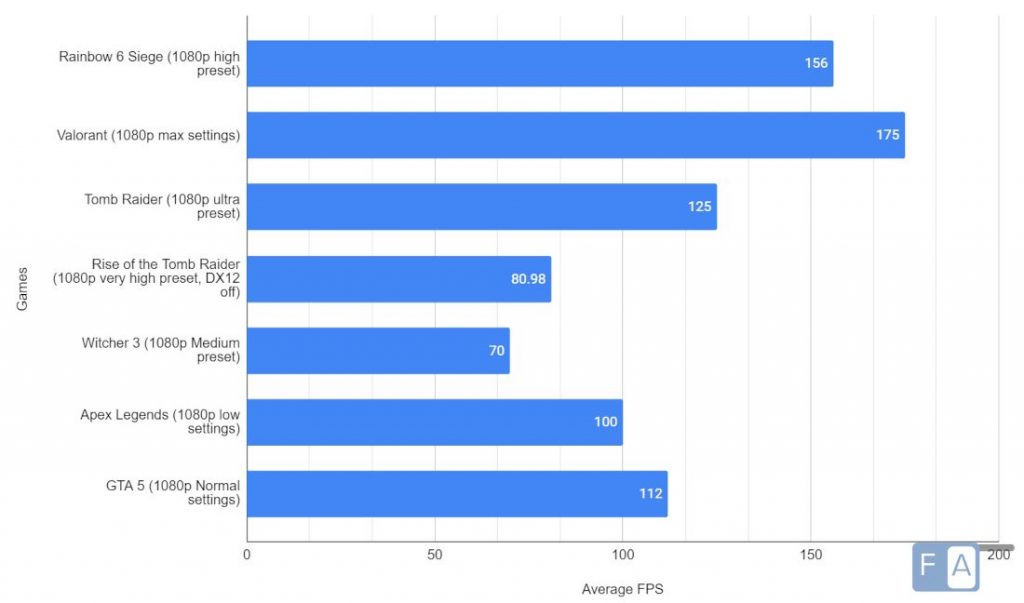 For storage, you have the option of having up to 512GB PCIe 3.0 M.2
SSD and up to 1 TB 5400 RPM HDD. My model came with 256GB SSD and 1TB HDD. I got maximum read speeds of about 1.7GB/s and maximum write speeds of about 1.2GB/s.  The HDD was obviously much slower, but its only meant to store larger files such as games or archiving photos, so the slow speed wasn't much of an issue.
Keyboard and trackpad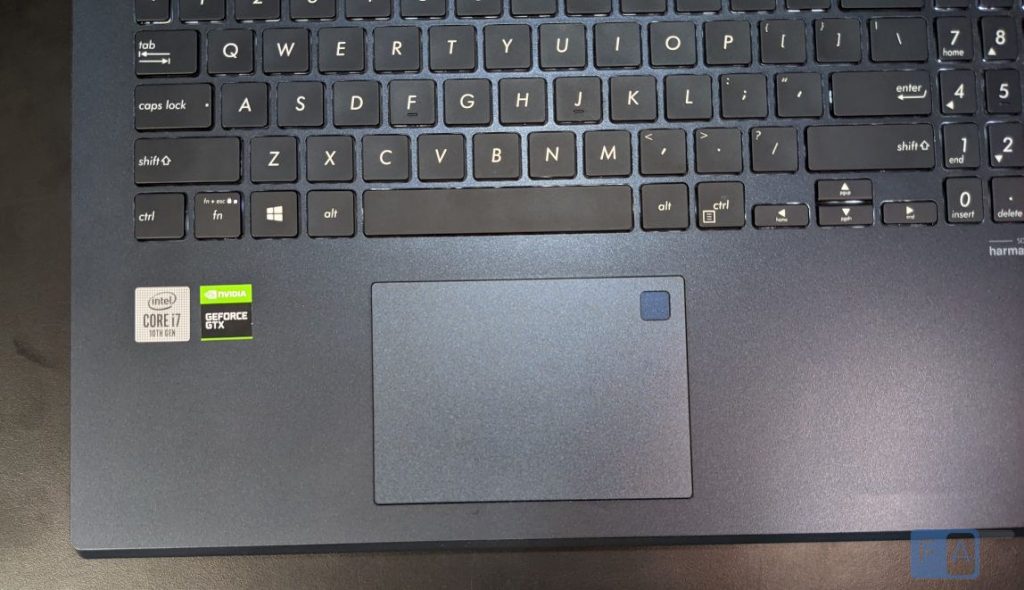 The keyboard and trackpad experience on the VivoBook Gaming 15 were overall really good. The keys are a chiclet style with very good spacing, and they have 1.4mm of travel which is nice and not too shallow. I quickly got to typing at my regular speed with this keyboard and another positive is that they are reasonably quiet when typing. The keyboard legend looks modern and legible, and its white backlighting shows through perfectly, with three levels of brightness control.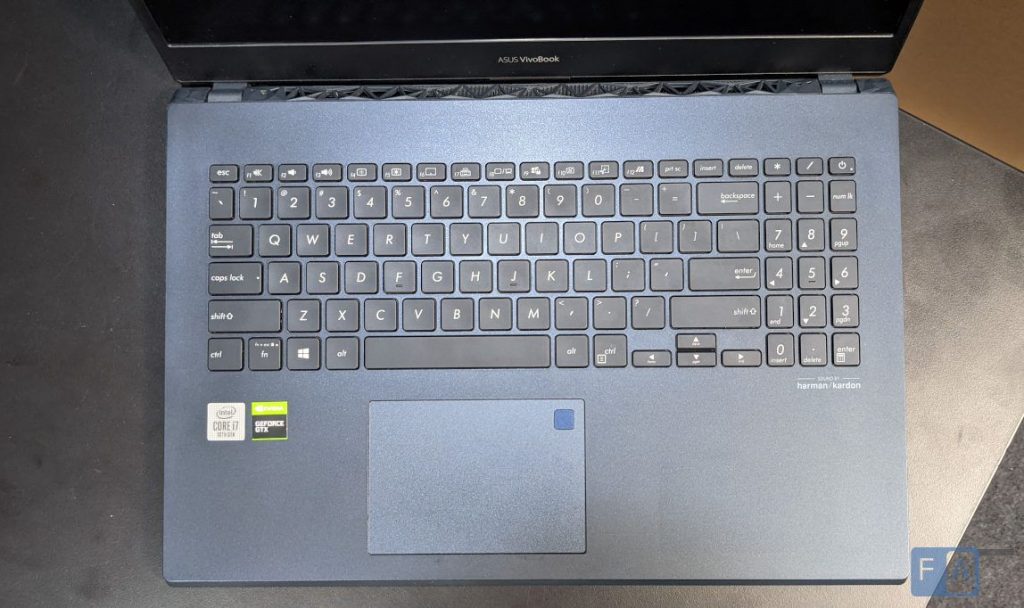 The keyboard has N-Key rollover and anti-ghosting support, so there were no issues when gaming. There is the ability to switch the behaviour of the Fn keys but there was no shortcut to disable the Windows button, which can get a problem when gaming. Also, I missed having media control shortcuts during my review process as this laptop has none. Bummer.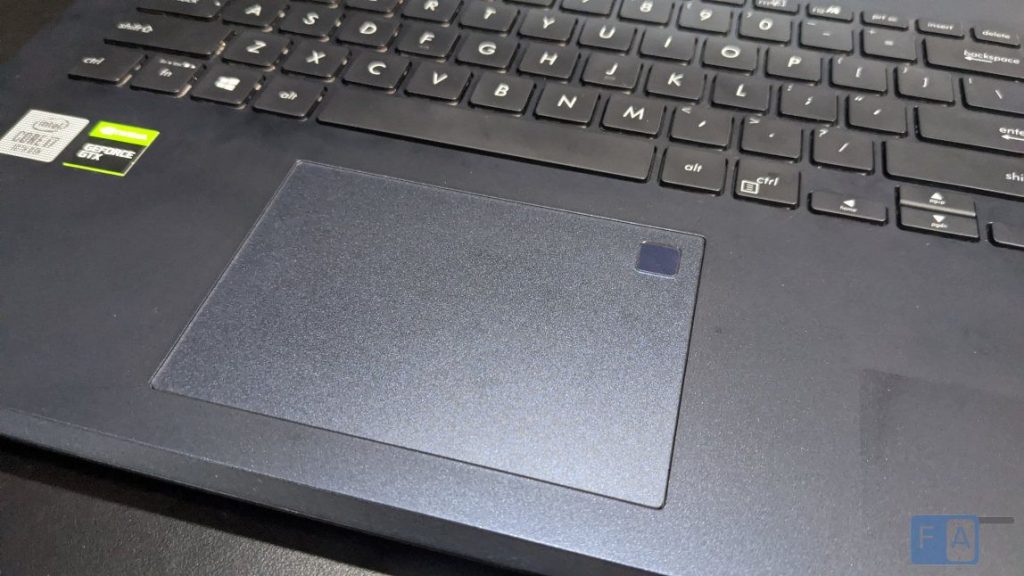 The trackpad is reasonably sized and it is glass topped, giving it a nice and smooth tracking experience. It uses Windows Precision Drivers, making it accurate and responsive. It does not have dedicated left and right mouse buttons, instead it has clicks underneath the surface. The click mechanism was decent and satisfying, with no real complaints. Our model has a fingerprint sensor in the top right corner of the trackpad, and it worked perfectly fine with Windows Hello log-in.
Ports and Connectivity 
The Vivobook F571Li has a healthy selection of ports that can be found on either side of the laptop. On the left side is a 3.5mm combo audio jack, 1 USB 3.2 Gen 1 Type-C, 1 USB 3.2 Gen 1 Type-A, 1 HDMI 1.4, 1 RJ45 LAN jack and the barrel shaped charging port. On the right side is a SD card reader, 2 USB 2.0 Type-A ports and a Kensington lock. Having a USB Type-C port is great, however it does not support charging via USB nor does it support Thunderbolt, which is unfortunate.
Connectivity was really good in this laptop. Integrated into it is the Intel Wi-Fi 6 (802.11ax) chip, giving it really good WiFi capabilities. During my review, I got really nice speeds, with no signal drops or latency during gaming. Along with this, the laptop also features Bluetooth 5.0, which worked perfectly fine too.
Battery
The battery life, simply put, was extremely poor. I am not sure if we got a defective unit or if ASUS really messed up the power management for this laptop, but I was only able to get about 1.5hrs at max. Usually only an hour, which really is shocking. And this was only with plain video playback, not doing battery intensive tasks like editing or gaming. If you are purchasing a laptop and will have access to a plug point all day, then maybe it wouldn't be a problem, but do keep this in mind if you are considering purchasing this laptop.
Conclusion
For what it aims to be, ASUS had done a good job with the VivoBook Gaming 15. The CPU offers great performance for moderate to heavy tasks, with no issues for everyday tasks, and the GPU options lets you casually game that is complimented with a smooth 120Hz screen. The laptop is built really well and the keyboard and trackpad experience meet expectations. Really only the major issues with this laptop is its weak battery life and thermal engineering. If battery is not a concern for you however, then the VivoBook Gaming 15 is an easy recommend. ASUS needs to fix these issues in the next VivoBook Gaming 15, at which point, the laptop will become a great choice for those casual gamers.
Availability
The ASUS VivoBook Gaming 15 F571LI starts at Rs. 84,990 and is available from Flipkart as well as offline retailers across India.
Pros
Smooth 120Hz screen
Good keyboard and trackpad experience
Slim and sleek build with good quality materials and finish
Decent speaker system
User-upgradeable RAM and storage
Cons
Thermal solution is inadequate
Poor battery life
Slightly loud fans