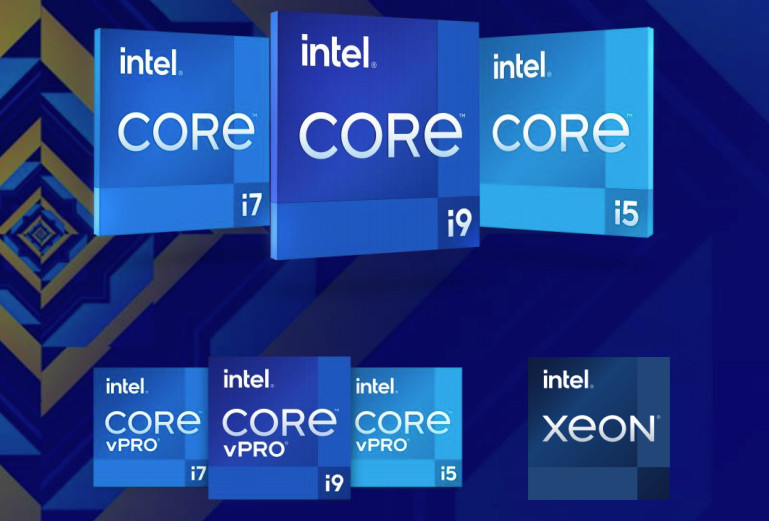 Intel has introduced new 11th Gen Intel Core H-series processors based on 10 nanometer SuperFin process technology, feature up to 8 cores and 16 threads, with single and dual-core turbo performance up to 5.0GHz. Additionally, the central processing unit (CPU) can directly access high-speed GDDR6 memory attached to the graphics card, enabling gamers to experience higher frame rates with lower latency, and load large textures faster. The mobile processor offers 2.5 times the total PCIe bandwidth to the CPU compared with the 10th Gen H-series processors, and three times the total PCIe bandwidth compared with other industry processors.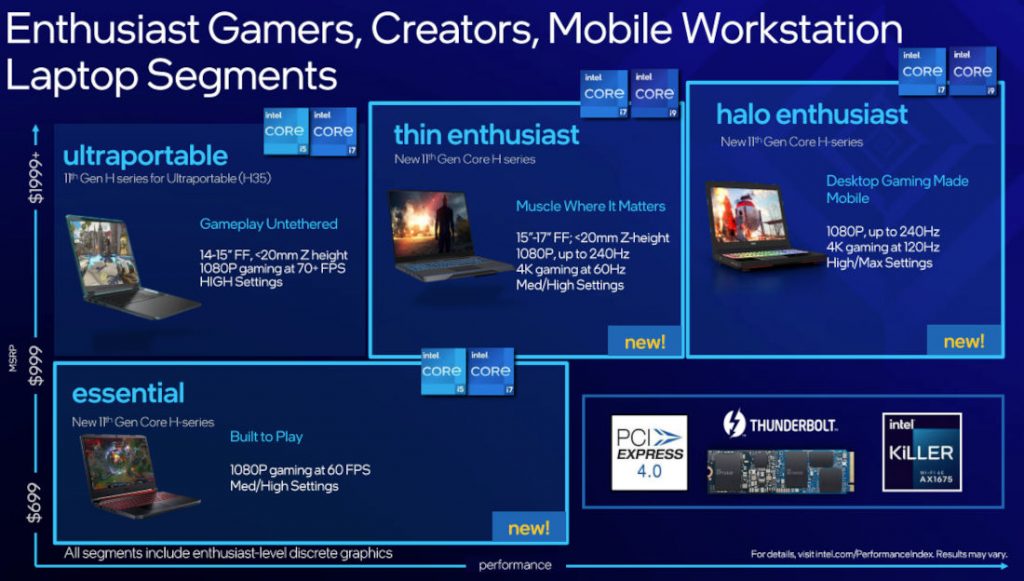 The 11th Gen Intel Core H-series mobile processors empower creators and business professionals to execute tasks faster, from anywhere, thanks to best-in-class components and connectivity. With 20 lanes of PCIe Gen 4 — a first for any laptop — the processor offers 4k HDR/Dolby Vision video streaming, rich configurations with fast storage, hybrid Intel Optane storage for high performance and capacity, 6GHz Intel Killer Wi-Fi 6E (Gig+) support, and Thunderbolt 4 with up to 40 gigabytes (GBs) per second for faster connections.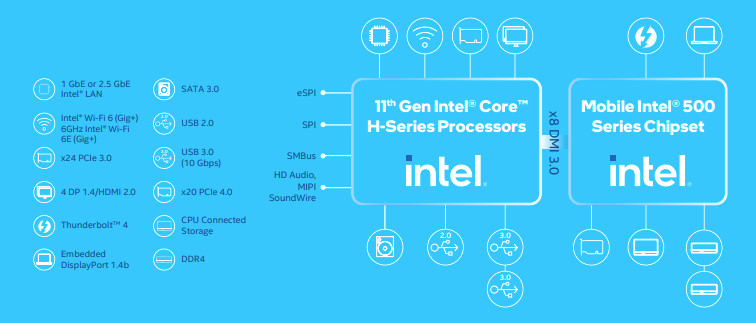 New platform features also include:
20 PCIe Gen 4.0 lanes with Intel Rapid Storage Technology bootable in Raid 0 — and up to 44 total PCIe lanes that include 24 PCIe Gen 3.0 lanes from a dedicated platform controller hub.
Memory support up to DDR4-3200.
Thunderbolt 4 with transfer speeds up to 40Gbps.
Discrete Intel Killer Wi-Fi 6E (Gig+).
Dual Embedded Display Port integrated for power optimized companion display.
There are five Tiger Lake-H (TGL-H) processors for consumers, and another five for commercial systems.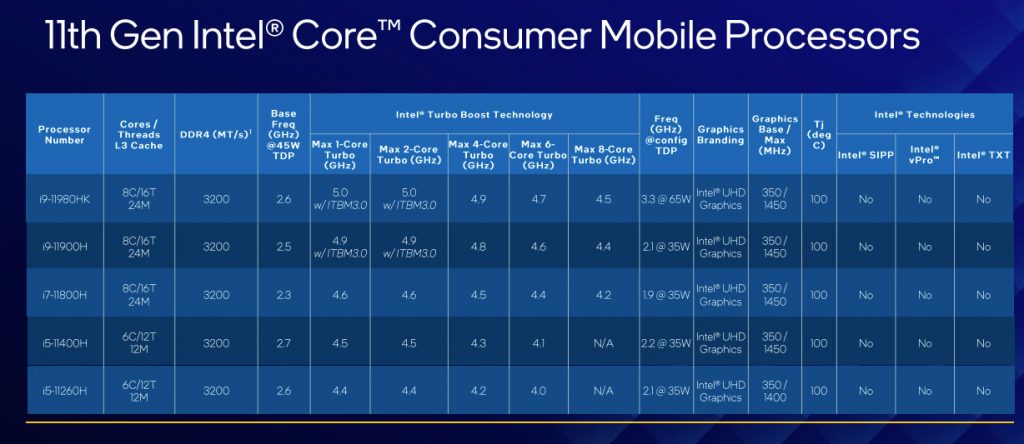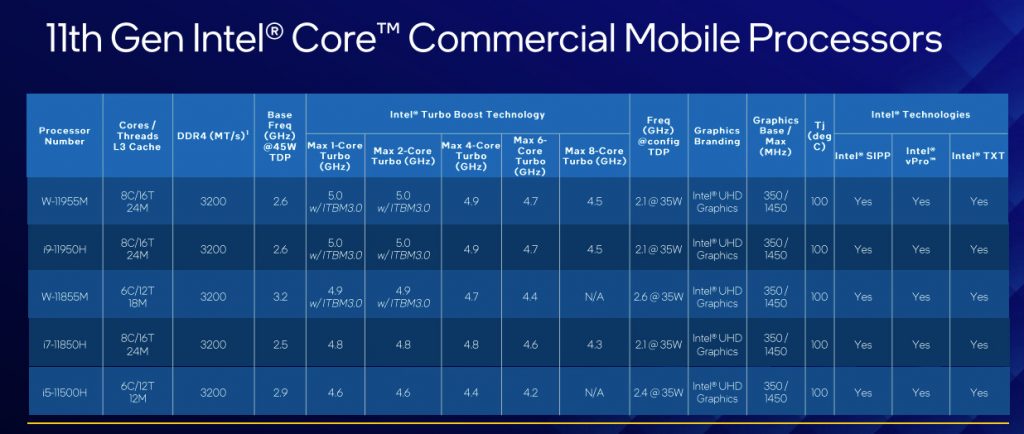 Intel also introduced new Intel vPro H-series processors — led by the eight-core and 16-thread Intel Core i9-11950H — and Intel Xeon W-11000 series mobile processors. Built on the 11th Gen Intel vPro platform, the unrivaled business-class PC platform delivers comprehensive hardware-based security and breakthrough performance, as well as powerful computing experiences for professional users such as engineers, data scientists, content creators and financial analysts who need to tackle multi-threaded, performance intensive applications at their desk, or on the go.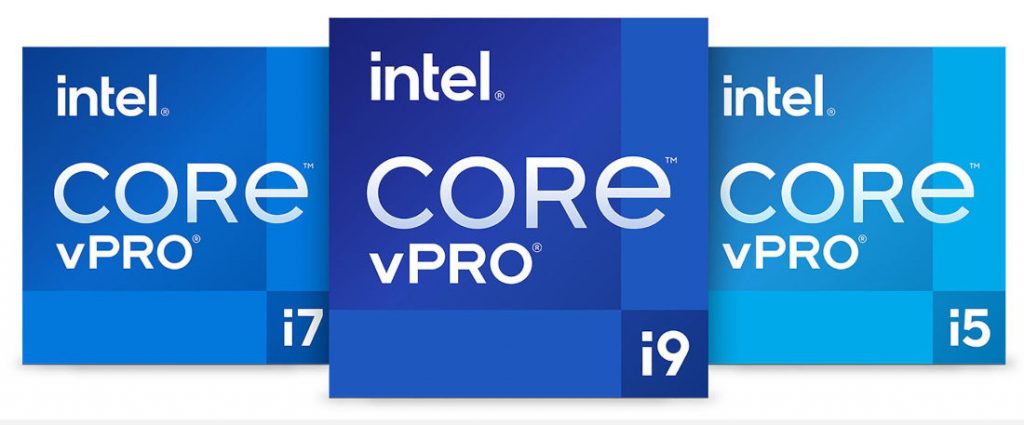 The new 11th Gen Intel Core vPro H-series processors and Xeon W-11000 series mobile processors when combined with the new Intel Core vPro platform, offer:
Xeon + Error Correcting Code (ECC) memory.
Intel Hardware Shield​ — available exclusively on the Intel vPro platform, as delivered by 11th Gen Intel Core™ vPro mobile processors, provides the world's most comprehensive hardware-based security for business, and the industry's first and only silicon-enabled artificial intelligence threat detection to help stop ransomware and cryptomining attacks for Windows-based systems. It is also equipped with Intel Control-flow Enforcement Technology, a ground-breaking technology to help shut down an entire class of attacks that long evaded software-only solutions.
Intel Total Memory Encryption.
Intel Active Management Technology.
Intel Deep Learning Boost​.
Intel said that there are 80+ enthusiast designs with Tiger Lake-H that are expected to roll out over the rest of the year.