Late last year, AMD outed a bunch of new processors under the Ryzen 5000 series which are based on the new Zen 3 architecture. The most premium offering from AMD is the Ryzen 9 5950X which boasts of 16 cores and 32 threads and is one the most attractive offerings in the market for anyone looking to build high-end PC for gaming or otherwise and takes on Intel's top-most offering i9-10900K. Does the AMD 5950X live up to the expectations. Lets take a look in this review.

Package
The processor ships in a standard box with AMD Ryzen 9 branding and the cut out for the processor on the side. While the package we have is the media sample, the retail unit is also very similar.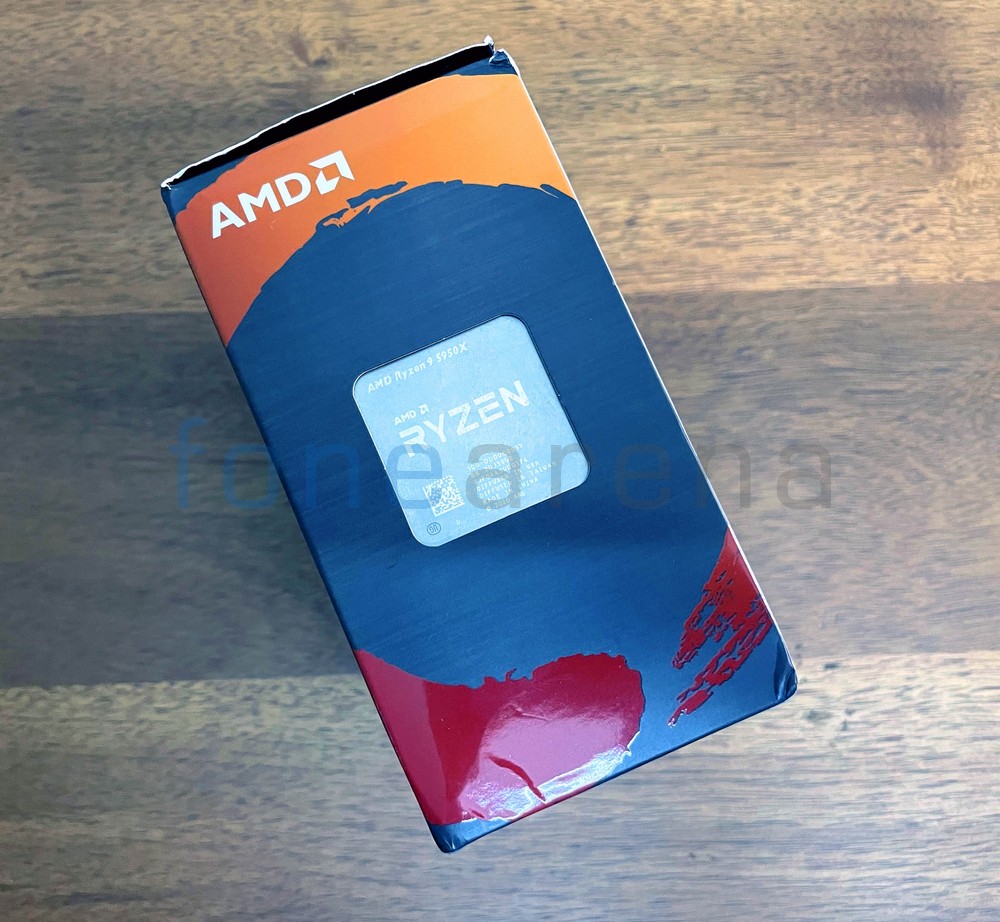 On the back you have the mention of the Zen 3 architecture and the AM4 socket.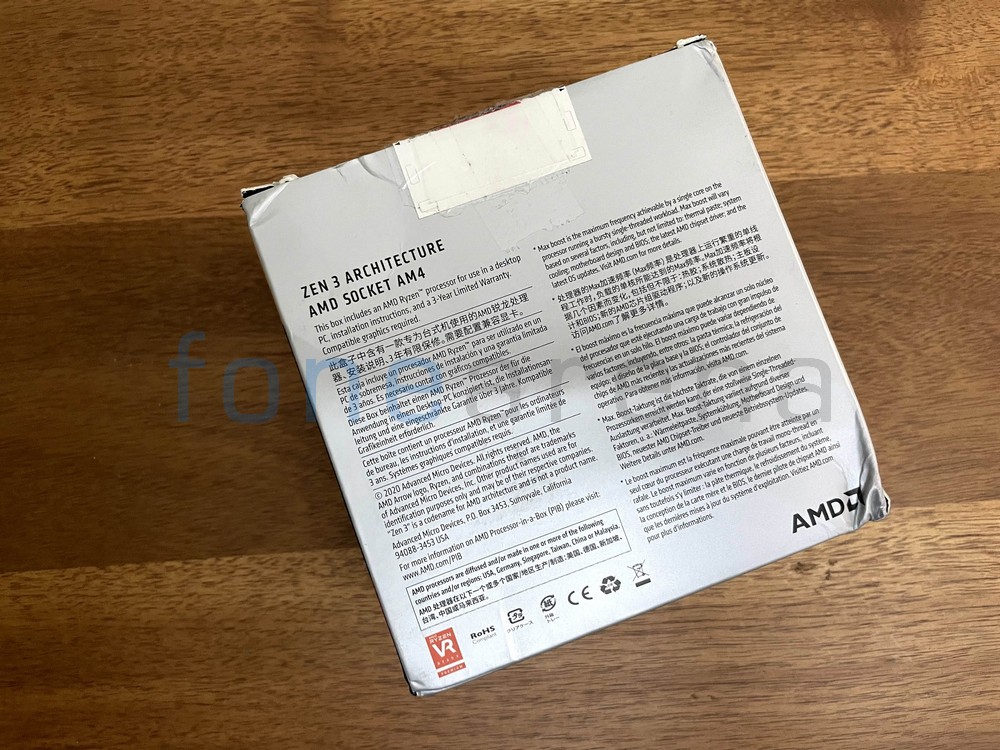 The 5950X ships without a cooler or thermal solution like most high-end processors in the market these days. No surprise here considering it is targeted at consumers who are likely to opt for an AIO air or liquid cooler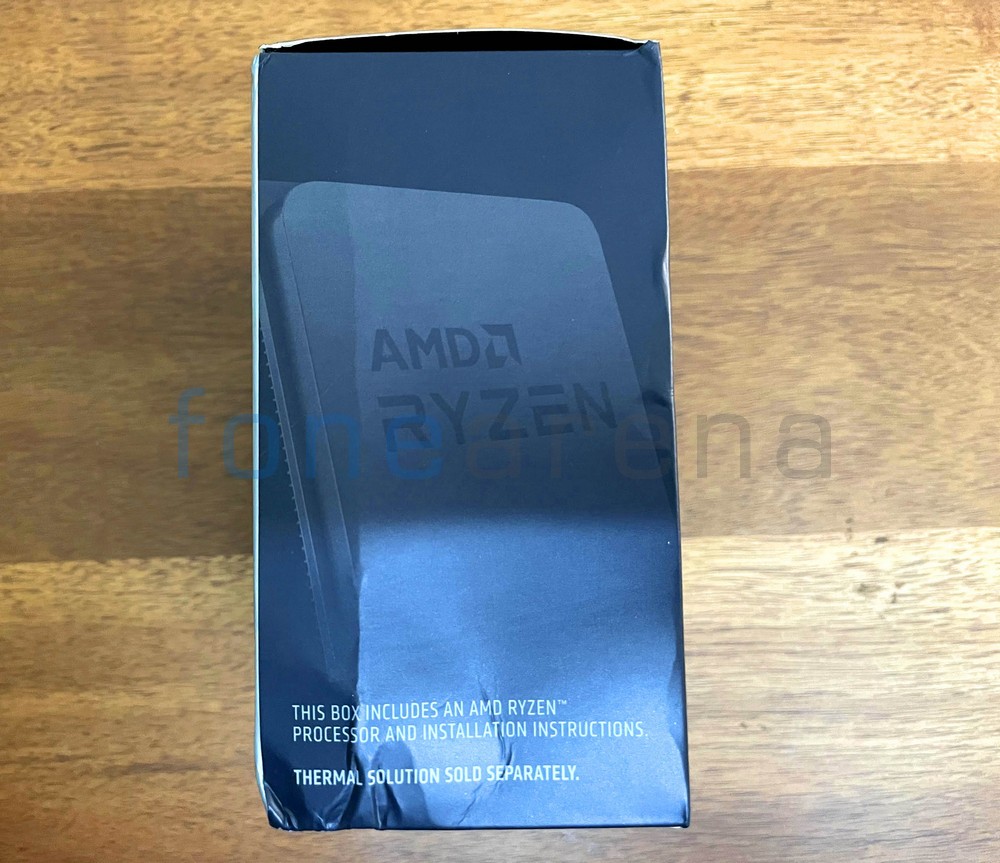 AMD Ryzen 9 5950X Specifications
Cores
16
Threads
32
Base Block
3.4 GHz
Boost Clock
4.9 GHz
L2 Cache
8MB
L3 Cache
64MB
PCI Express
PCIe 4.0
Memory Support
DDR4 3200MHz
Max Temp
90 degrees
TDP
105W
Manufacturing Technology
7nm
Socket
AM4
Architecture
x86 / AMD Zen 3
Launch Price
Worldwide : USD 799
India : INR 60990+GST
Warranty
3 year limited warranty
Features
MMX(+), SSE, SSE2, SSE3, SSSE3, SSE4.1, SSE4.2, SSE4A, x86-64, AMD-V, AES, AVX, AVX2, FMA3, SHA, Precision Boost 2
Our Test Bench

ASRock X570 Taichi Motherboard v3.80 BIOS
Silverstone PF240-ARGB AIO cooler
32GB DDR4 3200MHz RAM
Samsung 980 Pro 512GB PCIe 4.0 NVMe SSD
GPU: Nvidia RTX 3090 / AMD Radeon RX 6800
SilverStone ET750-HG 750W modular power supply
Architecture
AMD has moved from the Zen 2 layout to the newer Zen 3 layout for the latest CPUs which brings a host of improvements.  The 32MB L3 cache is directly accessible per core.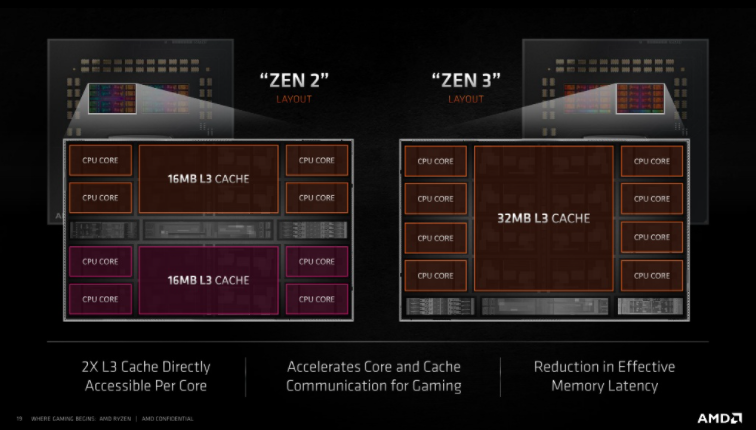 The 5950X  features 2 CCDs(Core Chiplet Dies) CCD0 and CCD1 which contain 8 cores each. This is visible in Ryzen Master which is featured later in this review.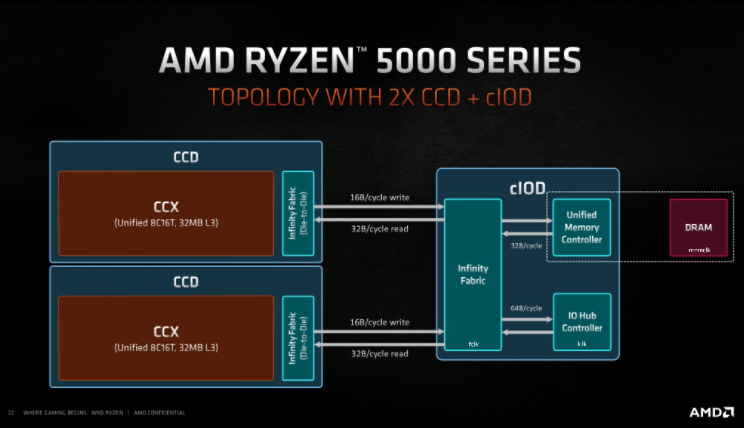 What is impressive in terms of engineering is that AMD managed to fit the 16-core 5950X CPU on the same die size as the 6-core 5600X and also retain the AM4 socket for yet another year.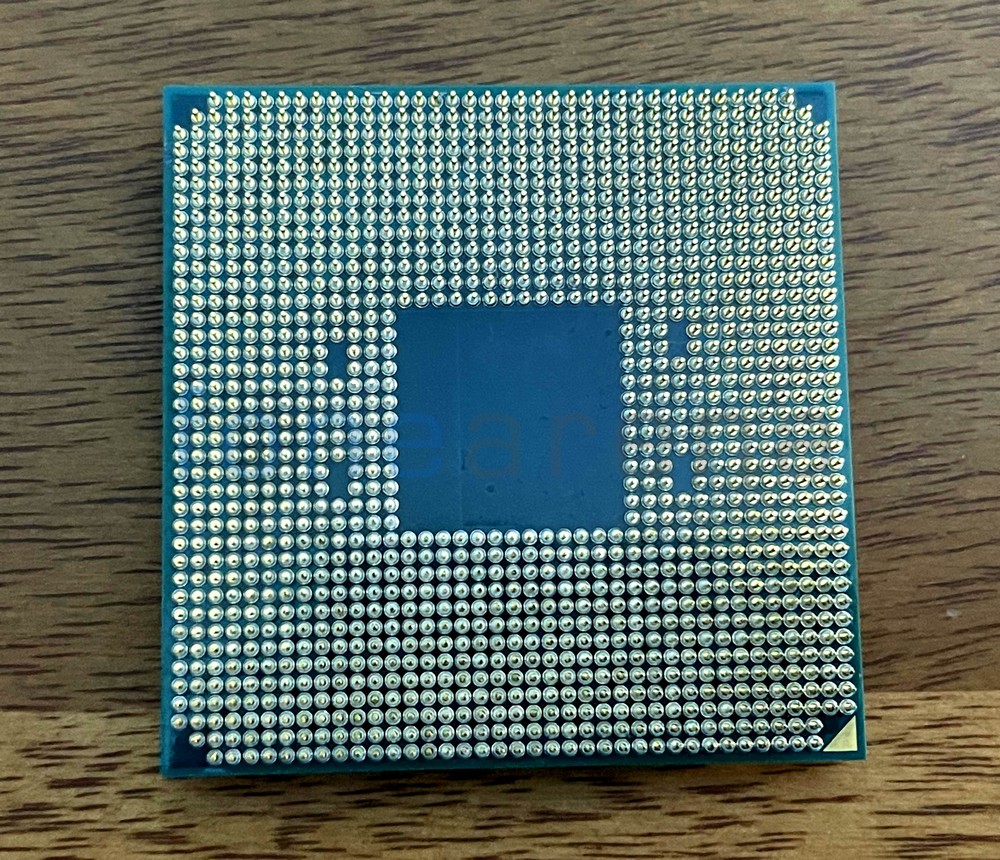 AMD has also disclosed that the Zen 4 design is under development and will use a 5nm manufacturing process which should be interesting from a TDP point of view.
Benchmarks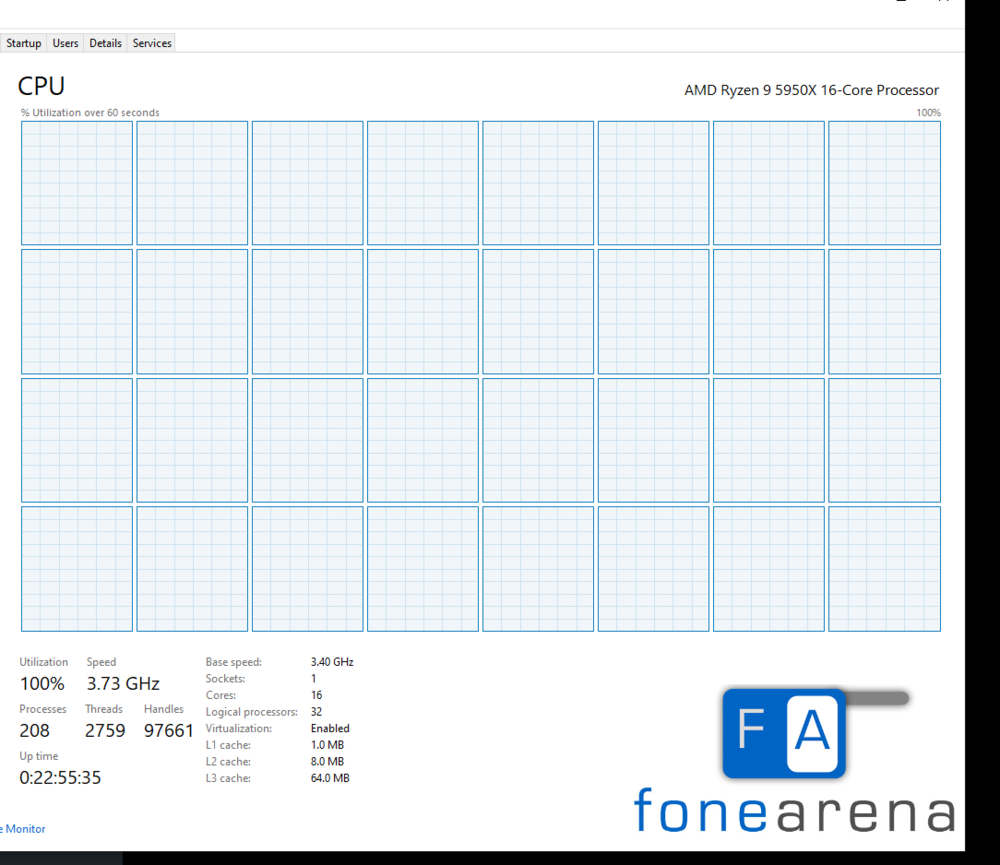 While we have been benchmarking mobile SoCs for a long time, we expect to publish more content around personal computing devices and will try to bring you more insights in this space.
Cinebench R23
Cinebench is based on the Cinema 4D suite and can be used to measure 3D modeling, animation, motion graphic and rendering performance
Cinebench R20
A slightly older version of Cinebench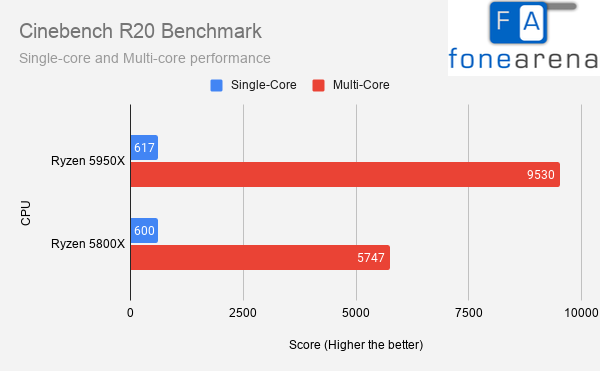 GeekBench 5
Geekbench is a popular cross-platform utility for benchmarking CPU and GPU performance.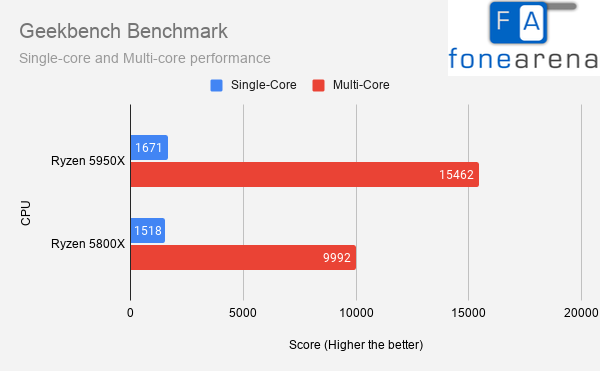 CPU-Z
CPU-Z is a very popular tool to check the system information of Windows computers. It has a benchmarking tool built-in which gives a taste of the raw CPU performance of both single-core and multi-core
Blender
A relatively newer benchmark, this benchmark is based on the Blender  open-source project which gives an idea about the rendering performance of both CPUs and GPUs.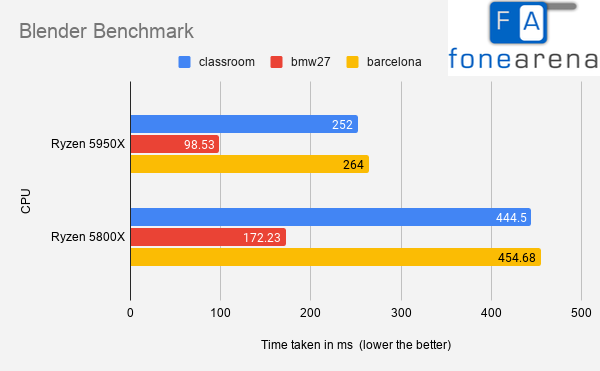 Jetstream 2
Jetstream is a Javascript benchmark which can measure browser performance effectively. It was run in Google Chrome.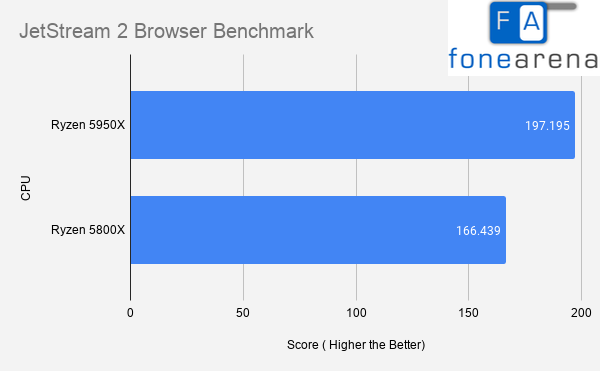 Mozilla Kraken
Mozilla Kraken is another Javascript benchmark which is built by the Mozilla Foundation and gives a glimpse into real world web browsing performance. This test was run in Google Chrome.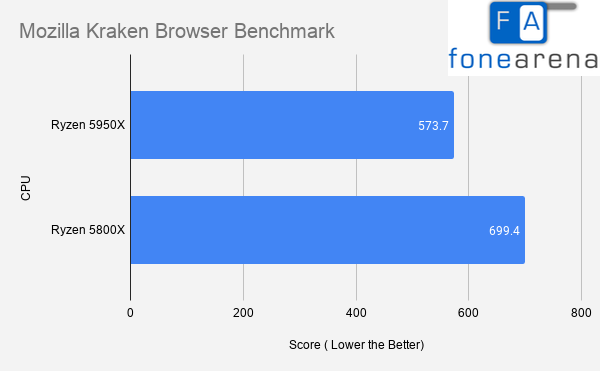 PC Mark 10
In a PC Mark Benchmark we ran, the system powered by the 5950x ranked 99% higher than all other results.
Gaming Performance
While gaming performance is mostly dependent on the GPU, it requires a good CPU to cater to the demand of the GPU to avoid any bottlenecks. We tried several demanding games and the 5950X was paired to an Nvidia RTX 3090 with 24GB of VRAM and AMD Radeon 6800 with 16GB of VRAM. We ran the games in QHD and 1080P and even paired an XBOX controller for the gaming feast. This CPU can pull off 4K gaming with a compatible GPU at ease.
Some of the games we tried are below :-
Flight Simulator 2020
F1 2020
Counter Strike Go
Forza Horizon 4
Ryzen Master / Overclocking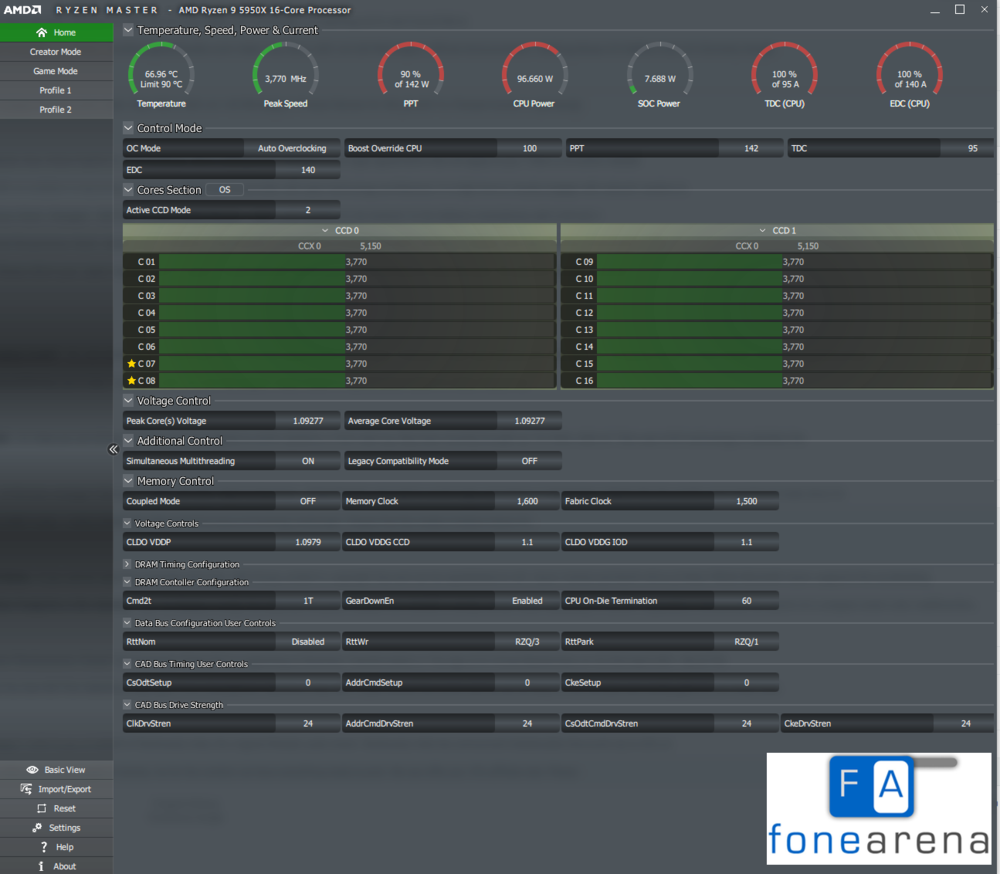 AMD offers a free software for Windows platform called Ryzen Master which not only lets you monitor your CPU performance and other parameters but also lets you overclock your CPU without having to go into the BIOS settings. Overclocking from within Ryzen Master was a hit and a miss from our time with it. We had better luck manually overclocking from within the BIOS. Nevertheless, RyzenMaster is a great tool which a lot of data about your CPU related parameters including temperature and currents.
We request you to use the tool at your own risk, and we would not be responsible in any way if you void your warranty in case you damage your CPU
Real World Performance / Thermals
The Ryzen 5950X is a one of the best CPUs currently in terms of real world performance. When idle, the thermals and power consumption are fairly low. We were running it on a liquid cooler, and it idled at around 35 degrees.  The maximum temps we saw while overclocking was around 89-90 degrees but without overclocking it peaked in the 70-80 degree range.
Conclusion – Verdict

The Ryzen 9 5950X is by far the best AMD consumer CPU till now. The sheer amount of computing power at just 105W TDP is incredible. If you are building a gaming PC, the 5950X is the best CPU in the market currently, no doubt about that.
While other Zen 3 processors such as the 5600X and 5800X have been available in the market, the 5900X and 5950X still suffer for supply issues and this has lead to consumers and retailers opting for previous gen 39xx CPUs for their rigs which is still good for AMD but doesn't bode well for the Ryzen 9 lineup. Strangely, the top of the Ryzen line  also overlaps with the entry level Threadripper workstation line up.
For the 5950X to be seen as an attractive offering, we wish the supply gets better and prices get normalized. Having said that, the 5950X is the CPU to get for enthusiasts who want the absolute best and price is not a concern.
Pros
16 cores and 32 threads – chews away what ever task you throw at it
105W TDP – Excellent Thermal efficiency
Easy over-clocking / management with Ryzen Master tool
Compatible with B450,B550,X470 and X570 Chipset based motherboards
Cons
Expensive
Supply is limited
Could be an overkill for most consumers