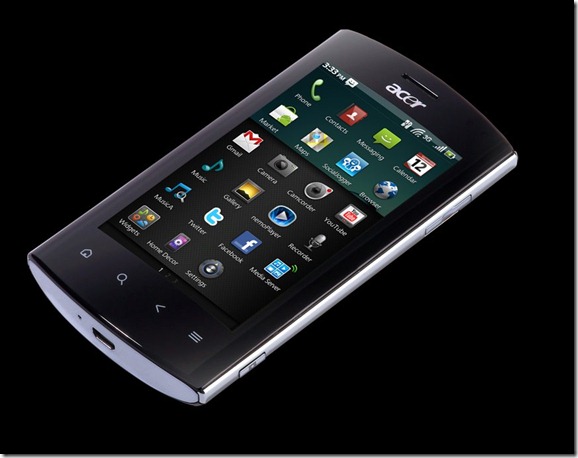 Acer has launched a new Android handset in India in the form of the Acer Liquid Metal. The Android 2.2 phone is powered by a Snapdragon processor and boasts of HSPA 14.4 Mbps support. It has a 5 MP Camera which also records video in 720p. The battery life promised is about 8 hours of talktime.
Here are the interesting features of the Acer Liquid Metal
Powered 800MHz Qualcomm Snapdragon Core Processor
Android 2.2 Froyo OS (5X faster than the earlier versions)
Display : 9.1 cm (3.6-inch) TFT capacitive touchscreen, 16M colors,480 x 800 pixels resolution
Fastest Connectivity Suite : HSPA 14.4 MBPS , 3G (3G + Wi-Fi), GPS, Mini USB
Record video in HD at 720p (30fps) and watch more high-resolution videos in Xvid format (Record is possible even on low light conditions)
Dolby Surround technology , EQ profiles and Dynamic Bass Boost
Push Mail
3 Predictive Dialers (3 KB with XT 9)
Superior Battery Life up to 8 hrs of talk time (1500 MAH Battery)
Top LED Indicator
Accelerometer sensor for auto-rotate
Wireless LAN Wi-Fi 802.11 b/g/n, UPnP
Bluetooth v3.0 with A2DP
Camera : 5 mega-pixel, auto-focus, LED flash ,Geo-tagging, face and smile detection, image stabilization
Unique Acer Interface
Pinch to Zoom option
8GB Micro SD Card FREE (up to 32GB)
Acer Liquid Metal Price and Availability
The handset will be available in 3 colors – Silver, Brown and Tiffany Blue at a Maximum Retail Price of Rs.20500.
Press Release
ACER LAUNCHES SLEEK, ANDROID™ 2.2 – POWERED ACER LIQUID METAL SMARTPHONE
 
Mumbai, 17th March 2011:  Acer today announced the launch of the Acer Liquid Metal, the latest generation smartphone offering from Acer that combines power and style in a striking metal casing. The Acer Liquid Metal leverages the power of Android™ 2.2 (Froyo) platform and is further strengthened by the  Qualcomm Snapdragon Core processor enabling the user to enjoy uninterrupted web navigation at a super speed. The Acer Liquid Metal has been carefully designed keeping in mind the current requirements of today's modern and dynamic individuals who need a fully integrated handset to support their lifestyle.
The Liquid Metal is equipped with a curved 3.6" display with a TFT capacitive touch screen aimed at providing users with a fast, responsive, multi-touch control of the phone. The curved back gives an exceptional look to the phone enabling the users to slip the Liquid Metal easily into ones pocket or in ones hand. The materials chosen, like the stainless steel of the battery cover, are solid and resistant and the chrome trims give a sense of high quality for extreme tactile and visual pleasure. The Liquid Metal utilizes HSDPA for on-the-go Internet access at speeds upto 14.4Mbps as well as WiFi allowing data transfer 10 times faster than previous devices. The LED signal on the upper part of the telephone notifies the user of missed calls, the need to charge the battery, and new incoming messages clearly.
Acer Liquid Metal's 1500 mAh battery coupled with intelligent power management means you have up to 8 hours talk time and 550 hours in standby mode. Acer Liquid Metal comes with 3 popular keyboard layouts so you can choose the one most comfortable for you. Clever XT9 predictive text support saves you typing unnecessarily and lets you send messages as fast as your fingers can move.
 
The Liquid Metal is built in with a pinch to zoom feature, 5-megapixel camera with digital zoom, LED flash with a maximum resolution of 480 x 800 pixels ensuring sharp pictures and videos that can easily be uploaded to the social networking sites.  The usage of four touch sensitive control buttons below the touch screen display has meant that the phone is easier to control and operate with ease. The control buttons gives the user the access to all basic functions of the phone without having to use the touch screen display. The 5-megapixel camera offers 720p HD video recording as well as autofocus and smile recognition and the Dolby surround sound enhance the video-watching experience.
 
Liquid Metal shows its excellence not only in its style and power, but brings delightful user experience by the intuitive interface and software developed by Acer. Breeze, the new Acer interface is developed to manage applications even more efficiently and effectively. With this feature, information is visible even when the screen is locked; helping the user to view the application history and easy access to frequently used applications. Breeze also allows the user's to customize their home screen and re-arrange their applications according to their specific needs. It's not just a widget, but offers a whole new way to use an Android device. There are two layers – the first one appears when you unlock the phone and lets you look through a whole lot of widgets which give you information about social networks, the weather and the like. Flicking this over (literally) leads you to the second home screen, which lets you flick through your recent apps and video and music collections on your device.
 
Announcing the launch, Mr. S. Rajendran, Chief Marketing officer, Acer India, said, "We have always enhanced our product portfolio keeping consumer needs in mind. Powered by a new breed of processors, the Android platform and wireless connectivity, Acer Liquid Metal enables fast and efficient web browsing while providing a host of other unique features that makes it an ideal Smartphone.  We will be launching more smartphones in the near future to meet with the growing demands of our consumers."