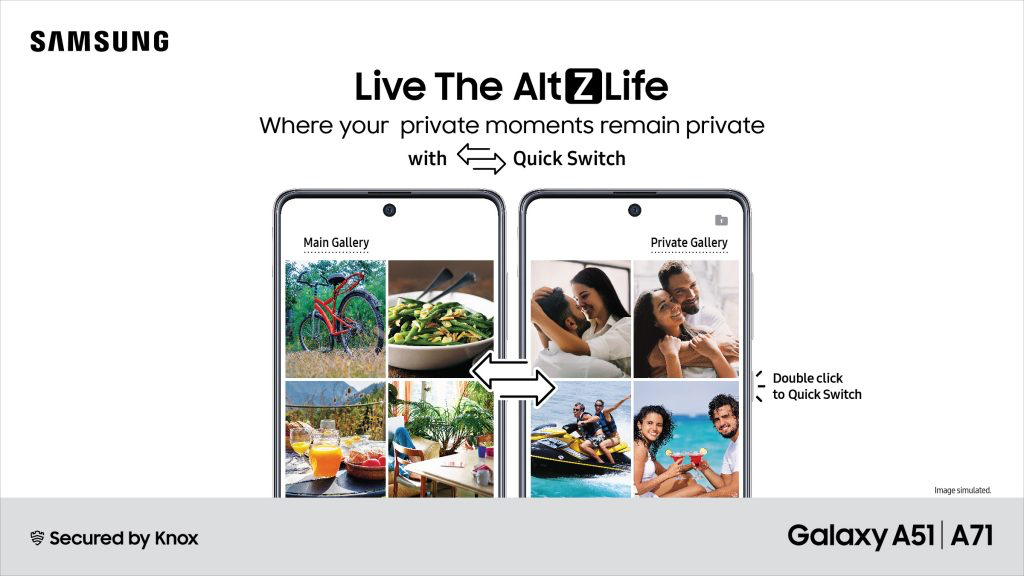 Samsung has announced the launch of a new private mode feature for Galaxy A51 and Galaxy A71 users, called AltZLife, that will let users quickly switch between normal mode and private mode (via Secure Folder) on their smartphone. AltZLife is a solution created by Samsung's "Make for India" initiative, and it contains two features  — Quick Switch and Content Suggestions.
The first feature, called Quick Switch, will let users easily switch between normal and private mode instances of the same app with the simple double click of the power button. When entering Private mode, authentication will be required, ensuring that unauthorised users cannot access sensitive data. The private versions of these apps are stored in the Secure Folder which is secured by Samsung Knox.
The second feature is an AI-based app inside the Secure Folder called Content Suggestions. It will automatically suggest users to move private images of pre-selected categories to the Secure Folder. Users can tag faces or types of images that they want moved to private folder after which the smartphone will use the on-device AI engine to make suggestions.
The AltZLife feature will be available to all users of the Galaxy A71 and Galaxy A51 smartphones via a software update that will begin rolling out today.
Commenting on the launch, Manu Sharma, Senior Director, Mobile Business, Samsung India, said:
An industry first innovation, this intelligent feature has been designed keeping in mind the inherent need of consumers, especially Gen Z, for enhanced privacy when it comes to storage and access of content on their smartphones. This helps eliminate the anxiety that consumers usually face while also sharing their smartphones with someone.