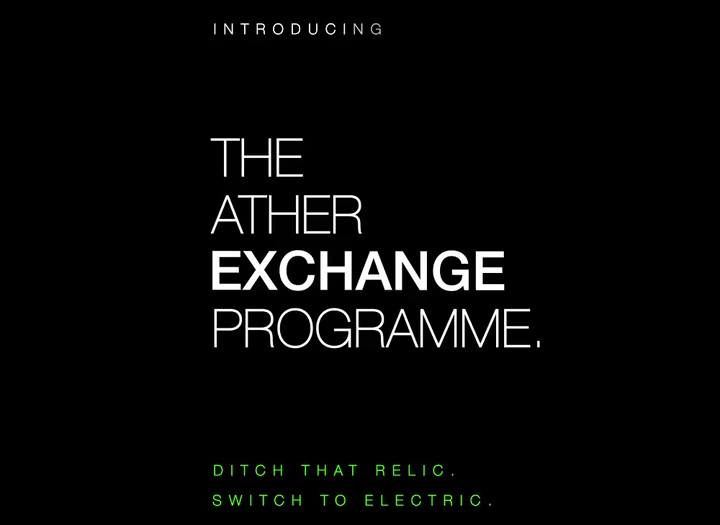 Ather Energy, the makers of the popular Ather 450 electric scooters has launched new Ather Exchange Programme  in partnership with CredR so that you can exchange your old two-wheeler for a new Ather 450 electric scooter.
You can take your old two-wheeler to Ather Space along with original RC, 2 Photocopies of address proof, 2 Photocopies of ID proof, and the original Insurance, test ride the Ather 450 and find out the exchange value of your vehicle, instantly, says the company.
Once the physical inspection of the old two-wheeler is done by Ather Product Specialists, you get a quote. CredR then runs a final check for the quote approval, so Ather will keep the vehicle for the next few days. Once it is done you need to pay the difference amount and get the Ather 450.
The company says that it might expand the exchange programme to the upcoming Ather 450X when it launches later this year. It is now live in Chennai and Bengaluru. Ather planned to launch its electric scooter in other cities Pune, Hyderabad, Delhi & Mumbai, but it has been delayed to current lockdown situation.
Ravneet Singh Phokela, Chief Business Officer, Ather Energy said:
Since our launch in 2018, we've constantly been looking for new and innovative ownership models for our vehicles, and this is another step in that direction. This exchange program makes the entire process more seamless for owners and reduces the stress of personally trying to sell their vehicles. CredR has been doing a great job with second-hand two-wheelers and offering extremely competitive rates, making the whole purchase experience transparent and easy, while reducing the total cost of ownership.
Sasidhar Nandigam, Chief Strategy Officer, CredR stated:
We've transacted over 3 lakh used two-wheelers in the last 5 years and no one understands the used two-wheeler market better than us at this point. With over 20 lakh data points and pricing intelligence, we provide the best value for any two-wheeler seller. After having worked with all leading 2W manufacturers, we're embracing the new EV manufacturers in the same way. With many consumers now becoming EV inclined, this partnership seemed like a great channel to scale our supply infrastructure.