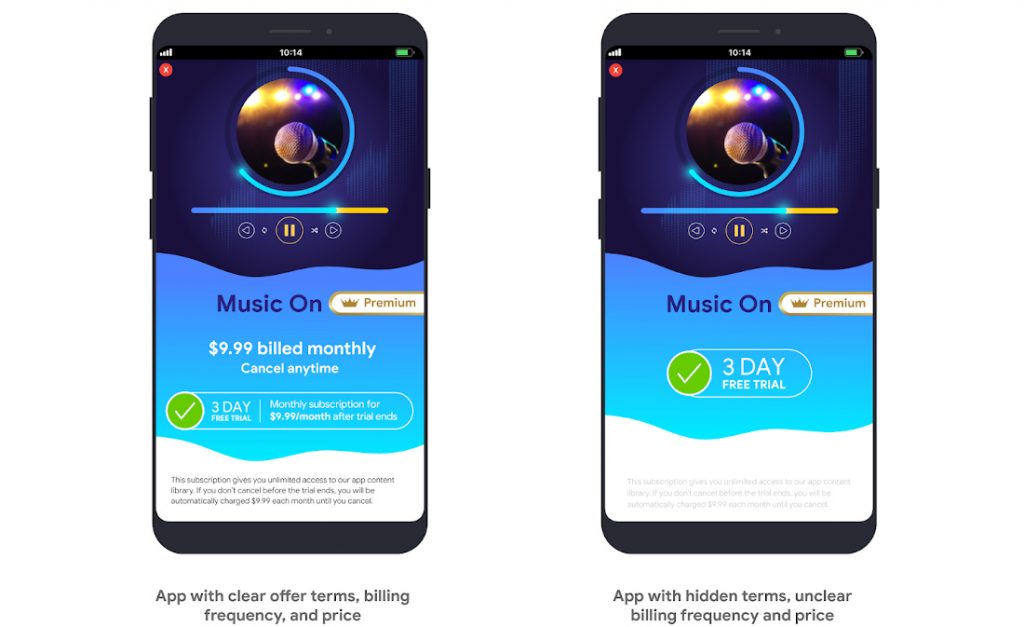 Often when signing up for subscription in Android apps, user do not clearly know what they are signing up, leading to mistrust or an increased chance of feeling cheated. To improve the situation, Google is introducing a number of changes for developers to follow and ensure that the user will clearly understand the terms of the subscription service before singing up.
The two highlighted changes to Google's policy is tighter limits to location access and clearer, transparent subscription offers. In February, Google announced that they will manually review whether an app really benefits from accessing the user's location. They have extended the deadline for this compliance to help developers review their need for location access and will not face any action until August 2020 or existing apps until November 2020.
The second and arguably more important change is that Google will require app developers to be extremely clear about their subscription terms. For example, Google recommends informing the user on :
Whether a subscription is required to use all or parts of the app. If a subscription is not required, users should be able to easily dismiss the app's subscription offer.
Cost of the app's subscription
Frequency of the app's billing cycle
If the app has free trials and introductory offers, then developers must inform the user on:
Duration
Pricing
What is included with free trial or introductory offer
When a free trial will convert to a paid subscription
How a user can cancel if they do not want to convert to a paid subscription.
From Google's Play Store side of things, they are also making a number of improvements like:
Improvements to the checkout cart to increase transparency and improve the user experience.
Emailing mail users a reminder before their free trial or intro price ends.
Emailing users subscribed to 3-month, 6-month or annual plans a reminder when their renewal is coming up.
Notification for active subscribers who uninstall the app that uninstalling does not automatically unsubscribe them from the service
Developers have time till June 16, 2020 to bring their apps into compliance with the new policy. All of these changes are definitely a step in the right direction, reducing the chances of malicious app to appear in the Play Store and increase the user's trust.