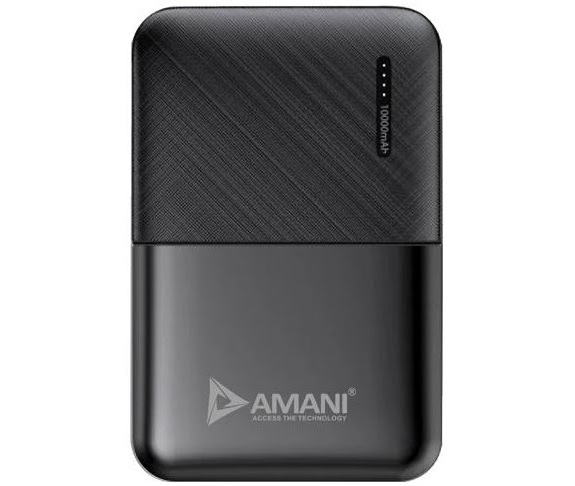 AMANI, a mobile accessories manufacturer is launching a new power bank in India with the name ASP-AM-108. It has a capacity of 10000mAh, enclosed in a compact design with 2 USB Type-A outputs that are capable of 18W fast charging one at a time.
The ASP-AM-108 10000mAh power bank has a hard ABS plastic exterior with a claimed 9 layers of advanced protection to protect it from accidental fall damage. There is a LED light to indicate the level of charge and it comes with protection circuits that can prevent short circuit, over-voltage, over-current and more. The power bank can output either at 5.1 V/2.4 A or 9 V/2 A.
The AMANI ASP-AM-108 power bank is available for a price of Rs. 1279 on amanimart.com.
Commenting on the launch, Tarun Bhutani, Managing Director at AMANI said:
As a commitment to deliver best-in-class products, we strive to offer innovative products that are stylish and meet the needs of our customers. AMANI ASP-AM-108 powerbank is for the people, who stay outdoors, travel most the time or need more battery back up to sale through their busy everyday schedules. With 10,000 mAh of battery backup ASP-AM-108 they can charge smartphones as much as 4 times. This Power Bank is intended for today's generation seeking to be connected to their friends and family, work, chat, surf or share content on social media without worrying about the battery backup.