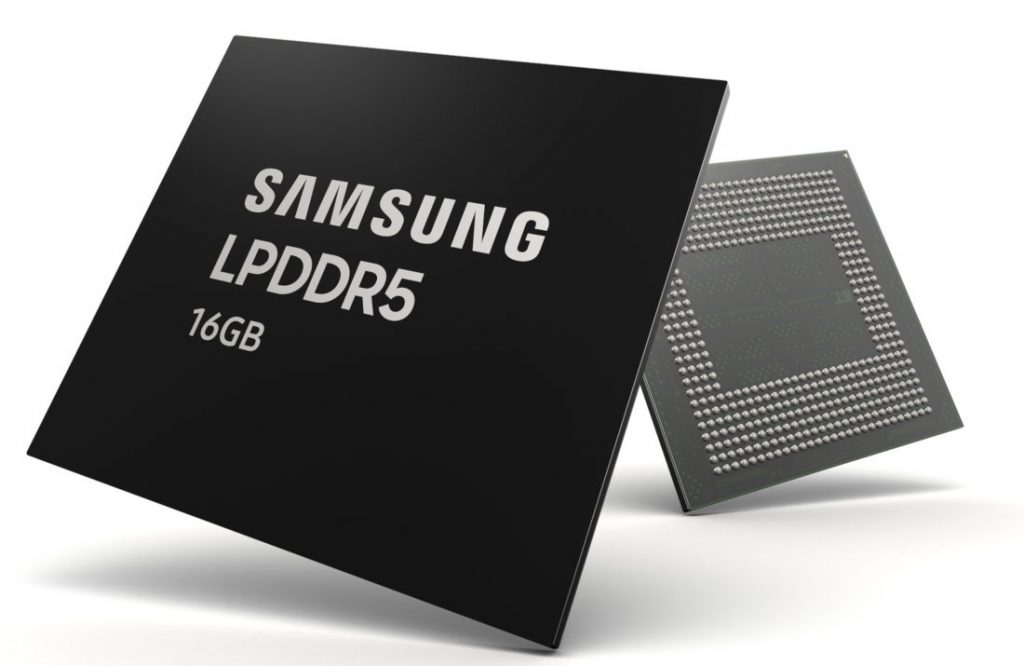 Samsung today announced that it has begun mass production of the industry's first 16-gigabyte (GB) LPDDR5 mobile DRAM package for next-generation premium smartphones. This comes after the first 12GB LPDDR5 DRAM mass production in July, 2019.
Offers data transfer of 5,500 megabits per second (Mb/s), approximately 1.3 times faster than the previous mobile memory (LPDDR4X, 4266Mb/s).
Consists of eight 12-gigabit (Gb) chips and four 8Gb chips, equipping premium smartphones with twice the DRAM capacity found in many higher-end laptops and gaming PCs today
Compared to an 8GB LPDDR4X package, the new mobile DRAM delivers more than 20-percent energy savings while providing up to twice the capacity
"As Samsung continues to expand LPDDR5 mobile DRAM production at its Pyeongtaek site, the company plans to mass-produce 16Gb LPDDR5 products based on third-generation 10nm-class (1z) process technology in the second half of this year, in line with the development of a 6,400Mb/s chipset," said the company.
Even though it's not mentioned, the latest 16GB LPDDR5 DRAM should be the one used in Samsung Galaxy S20 Ultra that was introduced earlier this month.
Samsung Mobile DRAM Timeline: Production/Mass Production
Date
Capacity
Mobile DRAM
Dec 2019
16GB
10nm-class 12Gb+8Gb LPDDR5, 5500Mb/s
Sep 2019
12GB (uMCP)
10nm-class 24Gb LPDDR4X, 4266Mb/s
Jul 2019
12GB
10nm-class 12Gb LPDDR5, 5500Mb/s
Jun 2019
6GB
10nm-class 12Gb LPDDR5, 5500Mb/s
Feb 2019
12GB
10nm-class 16Gb LPDDR4X, 4266Mb/s
Jul 2018
8GB
10nm-class 16Gb LPDDR4X, 4266Mb/s
Apr 2018
8GB
(development)
10nm-class 8Gb LPDDR5, 6400Mb/s
Sep 2016
8GB
10nm-class 16Gb LPDDR4X, 4266Mb/s
Aug 2015
6GB
20nm 12Gb LPDDR4, 4266Mb/s
Dec 2014
4GB
20nm 8Gb LPDDR4, 3200Mb/s
Sep 2014
3GB
20nm 6Gb LPDDR3, 2133Mb/s
Nov 2013
3GB
20nm-class 6Gb LPDDR3, 2133Mb/s
Jul 2013
3GB
20nm-class 4Gb LPDDR3, 2133Mb/s
Apr 2013
2GB
20nm-class 6Gb LPDDR3, 2133Mb/s
Aug 2012
2GB
30nm-class 4Gb LPDDR3, 1600Mb/s
2011
1/2GB
30nm-class 4Gb LPDDR2, 1066Mb/s
2010
512MB
40nm-class 2Gb MDDR, 400Mb/s
2009
256MB
50nm-class 1Gb MDDR, 400Mb/s