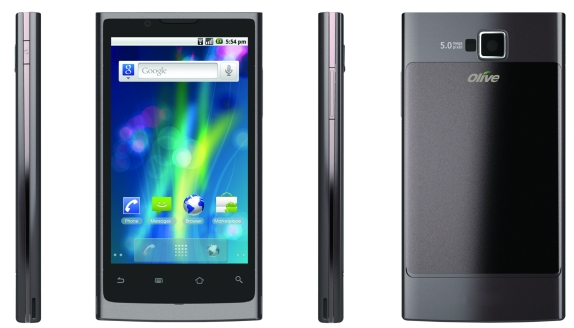 Olive Telecom has kept it's promise of delivering an Android smart phone for India. The company today announced  the launch of the OliveSmart  VS300 which happens to be India's first HSPA+ phone and also the first phone to launch with the latest version of Android – 2.3 Gingerbread.

The device is powered by a Qualcomm Snapdragon MSM8255 1GHz processor  and sports a 4.1 inch capacitive touchscreen. It also packs a Adreno 205 Graphics engine. It supports 3G HSPA+ networks and WiFi (b&g) .It has a 5 MP camera which does 720p HD Video too.
You can find the complete specs here
Launching the device, Mr Arun Khanna, Chairman, Olive Telecom said, "We are pleased to introduce a breakthrough convergence device which is more than a conventional smartphone and offers cutting edge services that will appeal to generation-Y. This device promises to be a game-changer with its rich looks and advanced features like 3G HSPA+, Android Gingerbread, Adobe Flash (10.1), DLNA, HD video and surround sound. With our sizeable R&D investments in the Olive Convergence range of mobile computing and communication devices, we are well-positioned to compete with the world's leading brands."
We told you Qualcomm and Aircel were launch partners for this event. This is what they had to say.
"Qualcomm is pleased to work with Olive Telecom and Aircel to launch the first 3G HSPA+ smartphone by an Indian brand," said Kanwalinder Singh, President of Qualcomm India and South Asia and senior vice president of Qualcomm. "Powered by Qualcomm's second generation Snapdragon mobile processor, OliveSmart packs GHz processing power with a high performance graphics engine and crystal clear HD voice; and offers blazing fast HSPA+ wireless speeds that utilizes best-in-class 3G HSPA+ networks in India. Qualcomm is committed to the success of the Indian brands with 3G and will continue to work with its customers to bring world-class experiences to Indian smartphone users."
Mr. Gurdeep Singh, COO, Aircel, said, "Aircel is delighted to enter into a Preferred Partnership with Olive wherein Olive Customers will enjoy exclusive data plans and a rich bouquet of content and value added services. This alliance reinforces our drive to grow Smart Device penetration on our Smart Network."
The device is expected to be priced below Rs.20000 and expected to hit India soon !