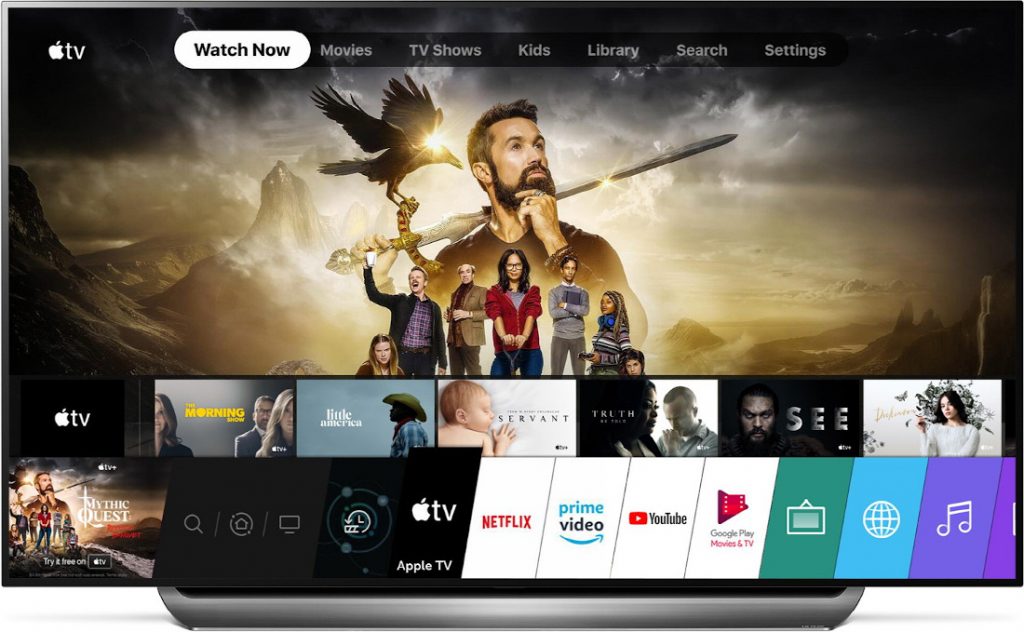 The Apple TV+ app was announced in March of 2019, claiming that it will offer support on LG and other TV's later in the future along with Airplay 2 support. Now with an OTA update, the Apple TV, Apple TV+ and Airplay 2 in now available on select 2019 LG TVs.
The update will be available for over 80 countries for the 2019 LG TV models. Support for the Apple TV+ app, Airplay 2 and Homekit will come to all LG's 2019 OLED TVs, NanoCell TVs (series SM9X and SM8X) and later this month, the Apple TV app will roll out on select UHD TVs ( UM7X and UM6X).
The Apple TV app gives users access to Apple TV channels with direct subscriptions to premium video services available both online and offline, ad-free and on demand. There is also support for Dolby Vision titles, which is perfect for the 2019 LG TVs. Apple Airplay 2 allows users to share or mirror content from their iPhone, iPad or Mac directly to an LG TV. Users can also play music on the TV and sync it with other AirPlay 2 compatible speakers anywhere in the home.
Commenting on the rollout, Park Hyoung-sei, president of the LG Home Entertainment Company said:
LG continues to offer the best home entertainment experience through technological innovations that support the delivery of high quality viewing and user convenience. By bringing the Apple TV app and Apple TV+ to even more TV models, we are once again demonstrating our determination to meet consumers' needs and add value to our products.