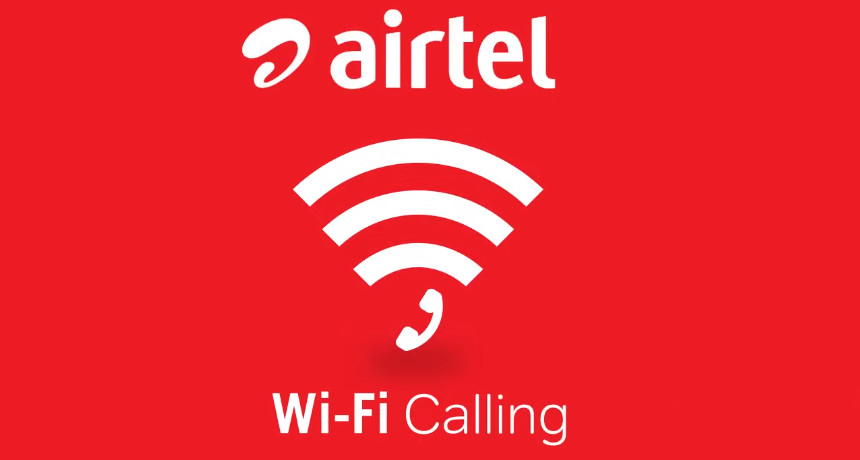 In recent days, the term VoWifi has been trending all over the Internet! At present, two major telecom operators, Airtel and Jio have rolled out Wi-Fi calling for its users officially. What's the difference between Airtel and Jio's VoWifi? Nothing, except the number of device supported.
What is VoWifi?
Voice over Wi-Fi is a term to describe the delivery of telephone services using Voice over IP (VoIP) technologies from mobile devices connected across Wi-Fi. In simple terms, VoWiFi is a technology that allows customers to make and receive calls over a Wi-Fi network using their existing Airtel phone number.
According to Airtel, this will offer improved indoor coverage, faster connectivity and crystal clear conversations as if you are next to each other.
Prerequisites
Wi-Fi Calling-Capable Handset
4G SIM (Airtel)
How to enable VoWiFi?
To enable this feature, you need to enable WiFi calling or VoWiFi on your phone.
Step 1: Connect your smartphone to WiFi
Step 2: Go to Settings -> Dual SIM & Cellular Network (depends on the phone)
Step 3: Tap into your Primary SIM option
Step 4: Enable WiFi calling
Smartphones supporting Airtel VoWiFi
Airtel Wi-Fi Calling is available nationally across all circles (Except J&K) on all broadband providers
Apple
iPhone 6s
iPhone 6s Plus
iPhone 7
iPhone 7 Plus
iPhone SE
iPhone 8
iPhone 8 Plus
iPhone X
iPhone Xs
iPhone Xs Max
iPhone 11
iPhone 11 Pro
iPhone 11 Pro Max
iPhone XR
OnePlus
OnePlus 6
OnePlus 6T
OnePlus 7
OnePlus 7T
OnePlus 7 Pro
OnePlus 7T Pro
Xiaomi
Xiaomi POCO F1
Redmi K20
Redmi K20 Pro
Redmi 7
Redmi 7A
Redmi Note 7 Pro
Redmi Y3
Redmi 8
Samsung
Samsung Note 10 Lite
Samsung Galaxy Note 9
Samsung A50s
Samsung Note 10 Plus
Samsung Note 10
Samsung M30
Samsung A30s
Samsung S10 Plus
Samsung S10
Samsung S10e
Samsung M20
Samsung J6
Samsung On 6
Samsung M30s
Samsung A10s
Nokia
Nokia 9 PureView
Nokia 8 Sirocco
Nokia 8.1
Nokia 7.1
Nokia 7 Plus
Nokia 6.1 Plus
Nokia 6.1
Infinix
Infinix Hot 7
Infinix Hot 8
Infinix S4
Infinix S5
Infinix S5 Lite
Infinix Note 4
Infinix Note 5
Infinix Smart 2
Infinix Smart 3
Tecno
Tecno Phantom 9
Tecno Spark Go Plus
Tecno Spark Go
Tecno Spark Air
Tecno Spark 4-KC2
Tecno Spark 4-KC2J
Tecno Camon12 Air
Tecno Spark Power
Micromax
Micromax Infinity N12
Micromax N8216
Micromax B5
OPPO
Coolpad
Coolpad Cool 3
Coolpad Cool 5
Coolpad Note 5
Coolpad Mega 5C
Coolpad Note 5 Lite
Mobiistar
Mobiistar C1
Mobiistar C2
Mobiistar C1 Lite
Mobiistar C1 Shine
Mobiistar E1 Selfie
Mobiistar X1 Notch
Gionee
XOLO
Spice
Note: Some phones that support Wi-Fi calling might not be in the official list, if your phone that supports Wi-Fi calling is missing, let us know in the comments below.