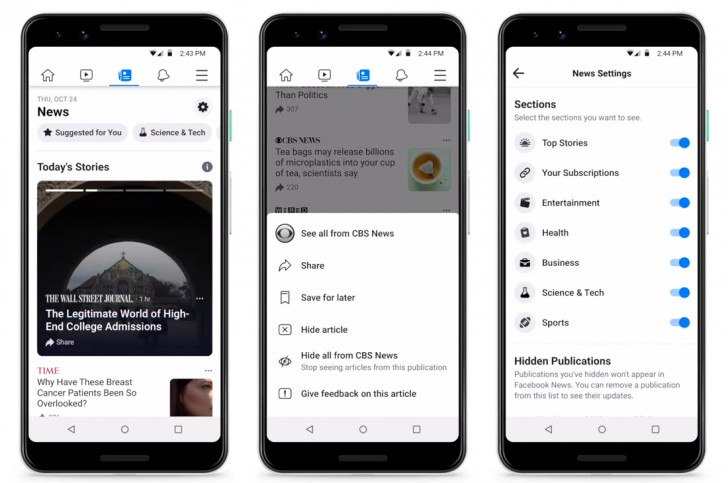 Facebook has announced that it has started testing Facebook News in the US, giving people more control over the stories they see, and the ability to explore a wider range of their news interests, directly within the Facebook app. "It also highlights the most relevant national stories of the day, said the company. Facebook News articles will continue to appear in News Feed as they do today.
Today's Stories chosen by a team of journalists to catch you up on the news throughout the day
Personalization based on the news you read, share and follow, so you can find new interests and topics and Facebook News is fresh and interesting every time you open it
Topic sections to dive deeper into business, entertainment, health, science & tech, and sports
Your Subscriptions, a section for people who have linked their paid news subscriptions to their Facebook account
Controls to hide articles, topics and publishers you don't want to see
Facebook said that it will take to rely on machine learning alone to provide a quality news destination, and aims to serve both people and news publishers. It will continue to expand the algorithmic selection of stories driving the majority of Facebook News.
Facebook News will feature a wide range of content across four categories of publishers: general, topical, diverse and local news. It will soon offer entertainment, health, business and sports news, based on people's feedback. It is also working to add video capabilities in early 2020.
During the initial test, Facebook News will offer local original reporting by surfacing local publications from the largest major metro areas across the US, beginning with New York, Los Angeles, Chicago, Dallas-Fort Worth, Philadelphia, Houston, Washington DC, Miami, Atlanta and Boston. In the coming months, it will include local news from Today In, its local news and community information tab, which recently expanded to over 6,000 US towns and cities.