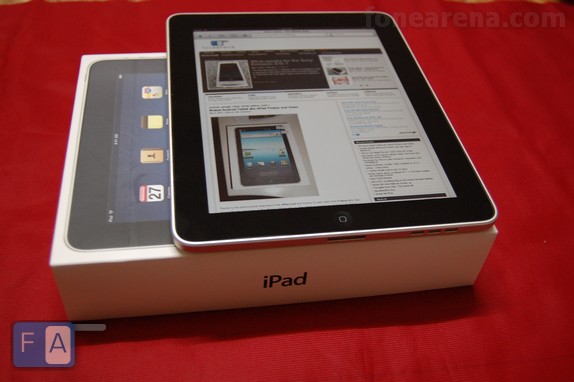 We finally have news that Apple is planning to launch the iPad in India on Jan 28th. iPad was launched on April 3rd 2010 for the US Market, it took them almost close to 9 months for launching this device.
Some specs about the device.
Apple's own 1 GHz Apple A4 chip
16 – 64 GB of Flash storage
Bluetooth 2.1
802.11n
10 hours of battery life
Speaker, microphone and 30-pin connector
Fully multi-touch
9.7 inch IPS LED backlit LCD
Half an inch thick
Accelerometer and Compass
3G UMTS/HSPDA and GSM/EDGE data (optional)
Assisted GPS and Digital Compass (3G version only)
3.5mm headphone jack
VGA out support or AV out via dock connector and converter cable
Both WiFi and WiFi+3G models are coming to India. While the WiFi (16GB) version starts at Rs.26000 the 3G version is expected to cost Rs.33000.The iPad will be sold only at Apple's Premium Retailers ie the Apple Store.
C'mon Apple
Yes, there comes the remaining lot of the iPad to India. And Apple is launching the iPad at a throw away price of Rs.26,000 (considering Apple's pricing scheme). This price sounds too good to be true and its true. Hope they don't ship the refurbished ones. We'll they don't do that usually. One of the main reasons why they are shipping this product to India is to make way for the iPad 2, so where do they actually sell the left overs? India.
And the iPhone 4 is yet to be launched here. Don't worry, just when the next gen iPhone launches in the US, Apple will launch the iPhone 4 to the Indian market.
Source : TheTelegraph