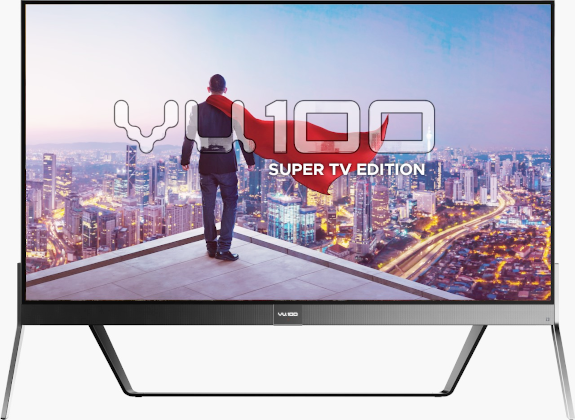 In 2018, Vu technologies had launched the company's first 100-inch 4k HDR TV with full metal design and Android Oreo 8.0. Now, the company has announced it will be launching an upgraded and improved version of the same, the VU 100 Super TV edition.
The VU 100 Super TV will come with both Windows 10 and Android TV (based on Android 8.0) built-in to give consumers the choice of using their preferred OS. Running on Intel's Core i3/i5 platform, the TV will come with a 120GB SSD + 4GB RAM to run the in-built PC.
It is designed to be an all-in-one entertainment system with a TV turner, optional Skype Videoconferencing for meetings, wireless QWERTY keyboard with an air mouse for ease of access.
It will also come with a 2000 Watt JBL Soundbar with Dolby and DTS audio support built in. The TV will come with 3 USB ports, Bluetooth 5.0 and HDMI, AV, YPbPr, RF connectivity.
The VU 100 Super TV is expected to be priced starting at 8 lakhs and should go on sale soon.
Commenting on the launch of Vu Super TV and 4k TV lineup, Devita Saraf, Chairman, Vu Televisions said:
The Indian market demands a perfect mix of innovation and technology at the right price point. Today, a television is not just a device for viewing entertainment content but is a go-to screen for work, fitness, and socialising. We understand the evolving needs of our consumers and have stayed relevant all along with our unique product offering. Today, this celebration of our leadership across the large size TV and the most sought-after 4K TV category is a testimony of our strong reach across a diverse segment of audiences and we'll continue to innovate on this path of consumer centricity as we move forward.