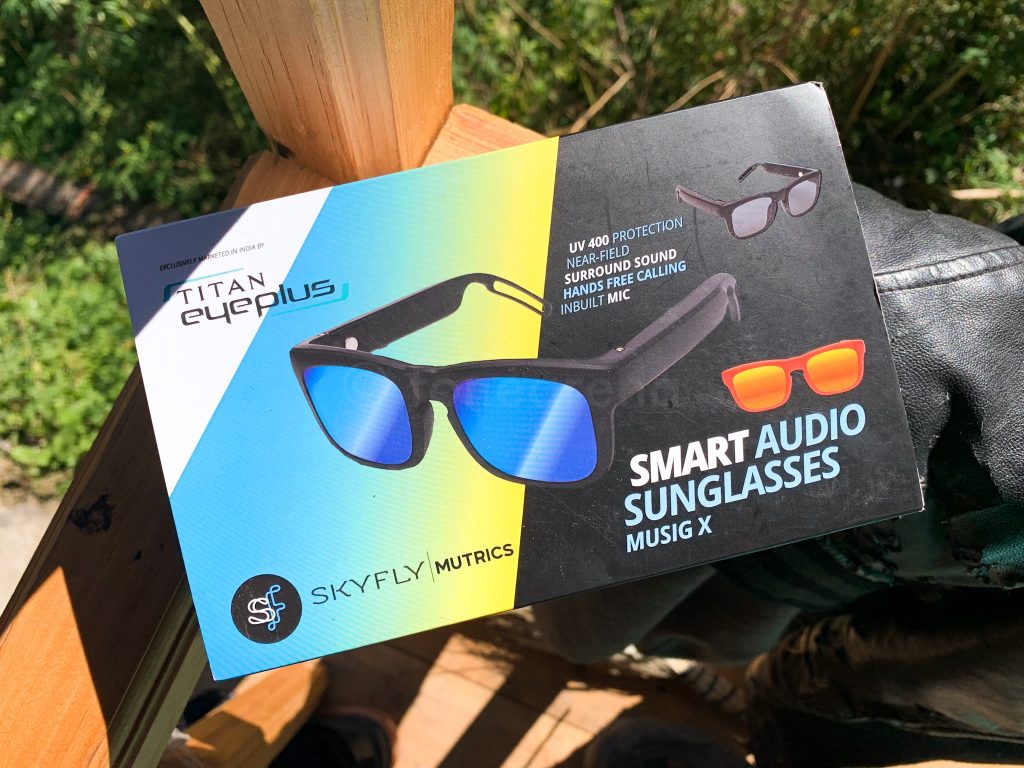 Solutions to stereo wireless audio on-the-go have taken many forms before but this is the most comfortable unobtrusive solution I've used so far. You can not only escape the harsh light of the sun but the nagging feel of something on/in your ears as well, while still enjoying music/podcasts or answering calls. This is Titan Eyeplus' first foray into the tech, with the Smart Audio Sunglasses Musig X, made by SkyFly in partnership with Mutrics and what you'll be reading further is my first impressions of a fascinating new category in the world of wearables. Let's go.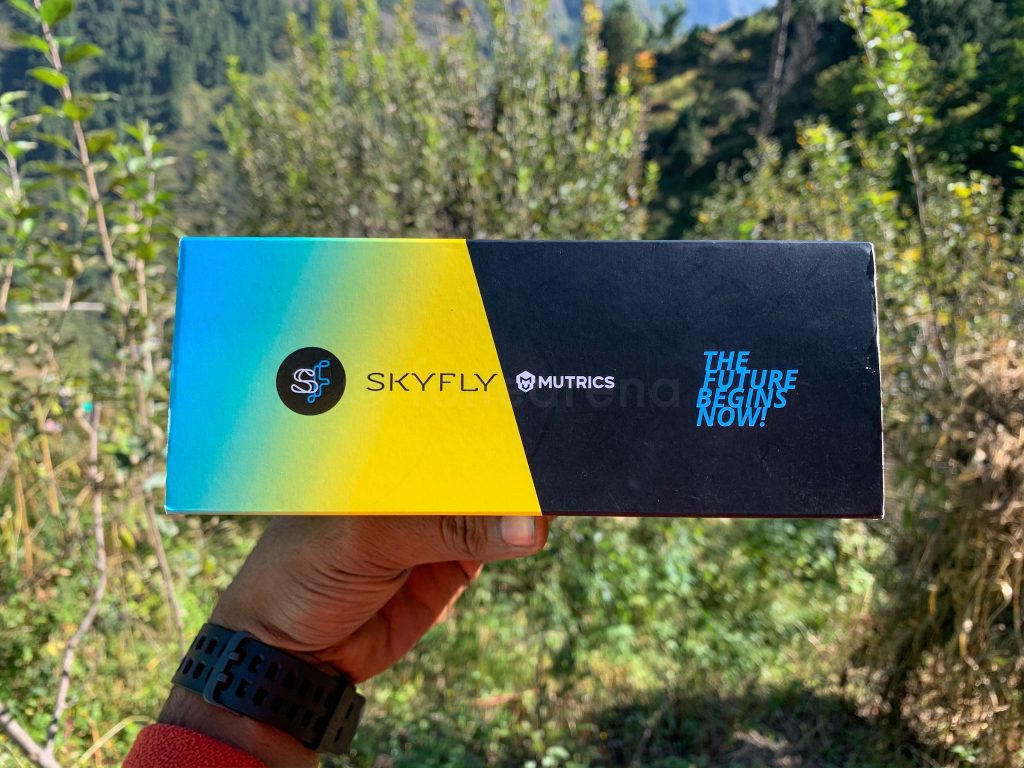 "The future begins now!" says the marketing print and I completely agree. Beyond whether it is true or not in terms of the product is something we will see in the full review but in terms of the concept, yes, it is absolutely true and do note that the future "begins" now, so it is a product for early adopters. SkyFly is an Indian company which has partnered with Mutrics, a Chinese company to make these glasses.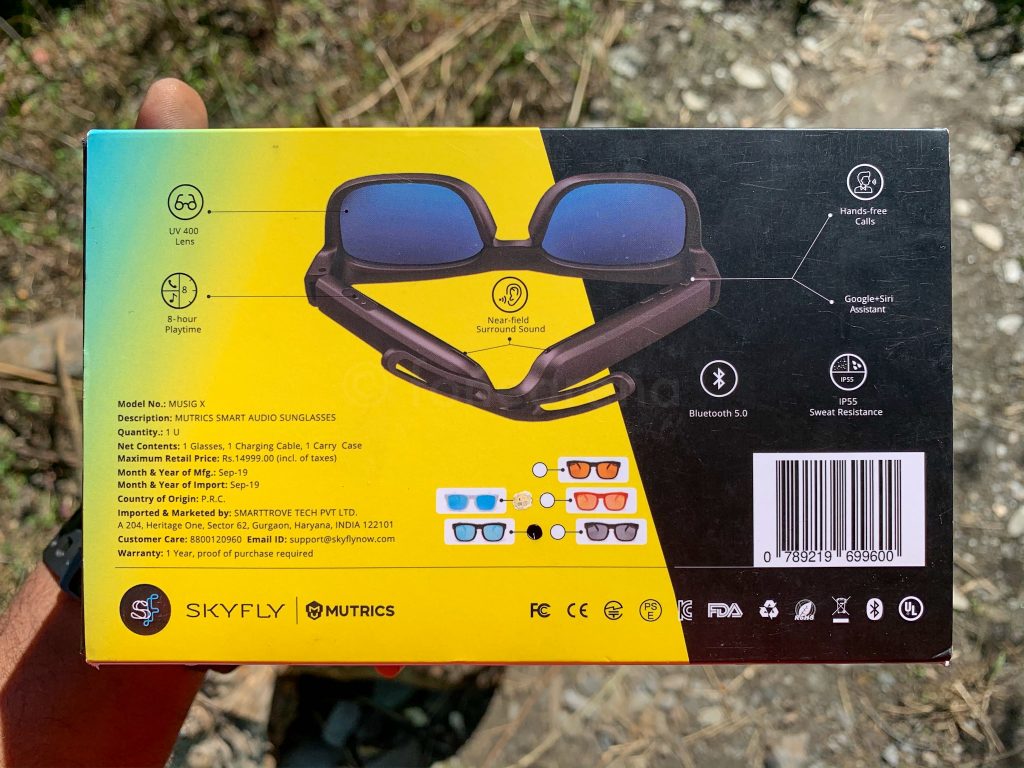 A quick look at the specs of this device –
UV 400 Lens
8-hour playtime (140 mAH)
Near-field Surround Sound
Google Assistant/Siri support
Bluetooth 5.0
Hands-free calls with built-in mic
IP55 rated sweat/rain protection
Price – Rs. 9,999/-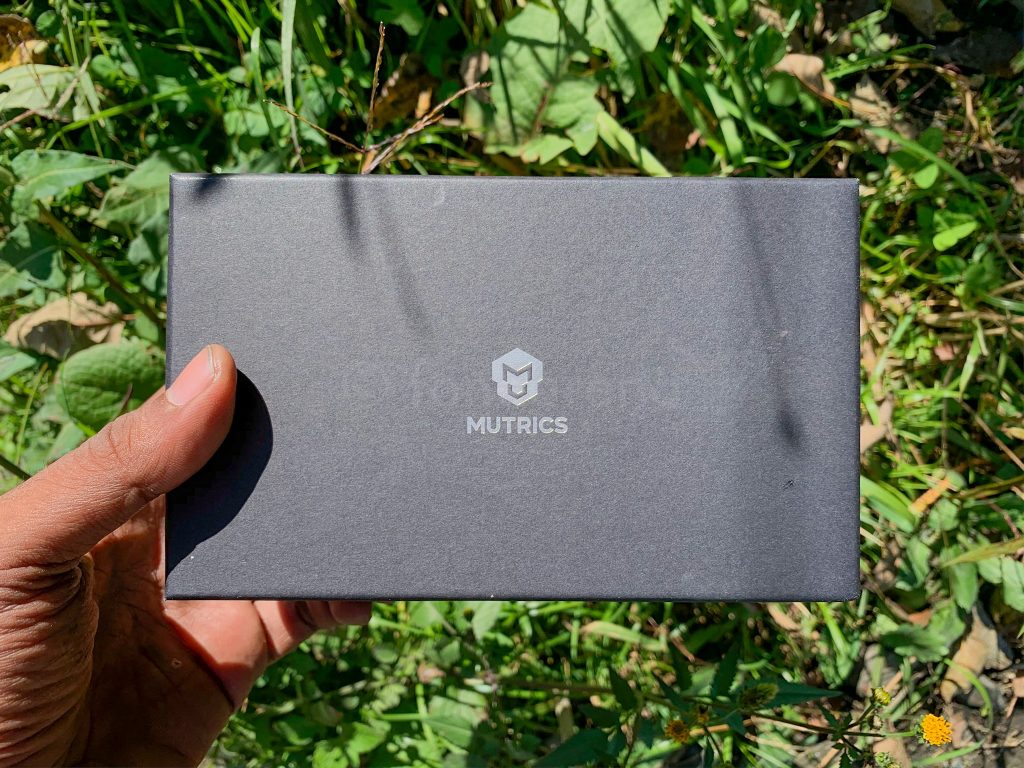 You are greeted with a nice box once you go past the marketing material outside it.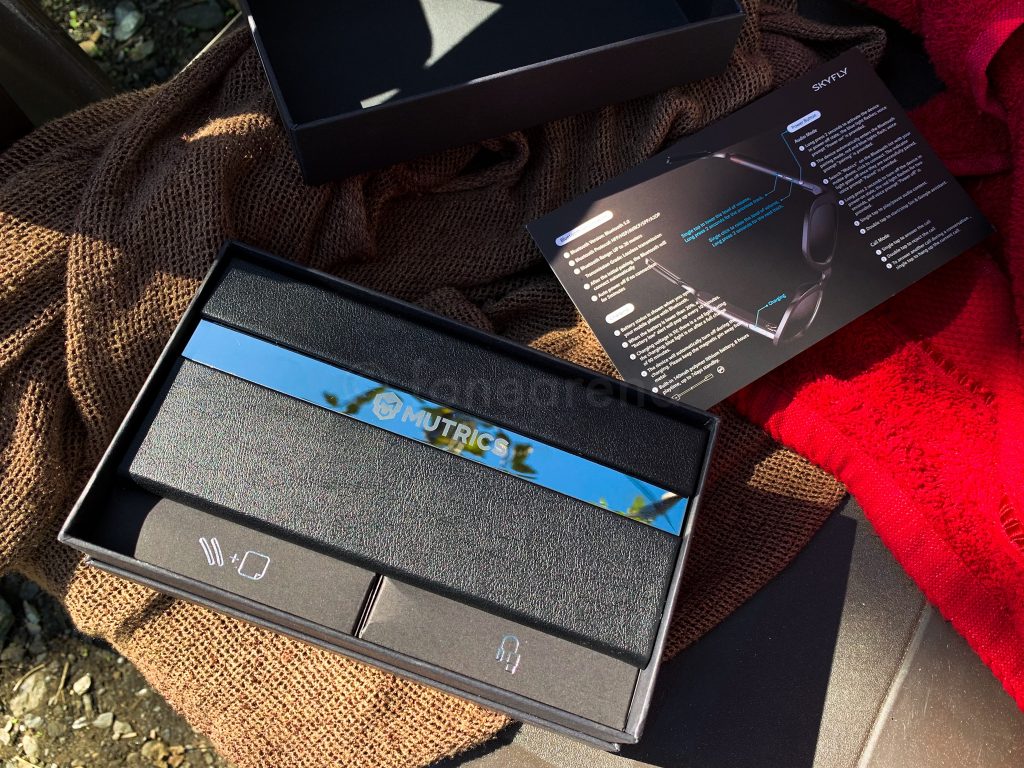 Inside it you find a carry case, along with two other boxes for accessories, a nice manual card and that's it.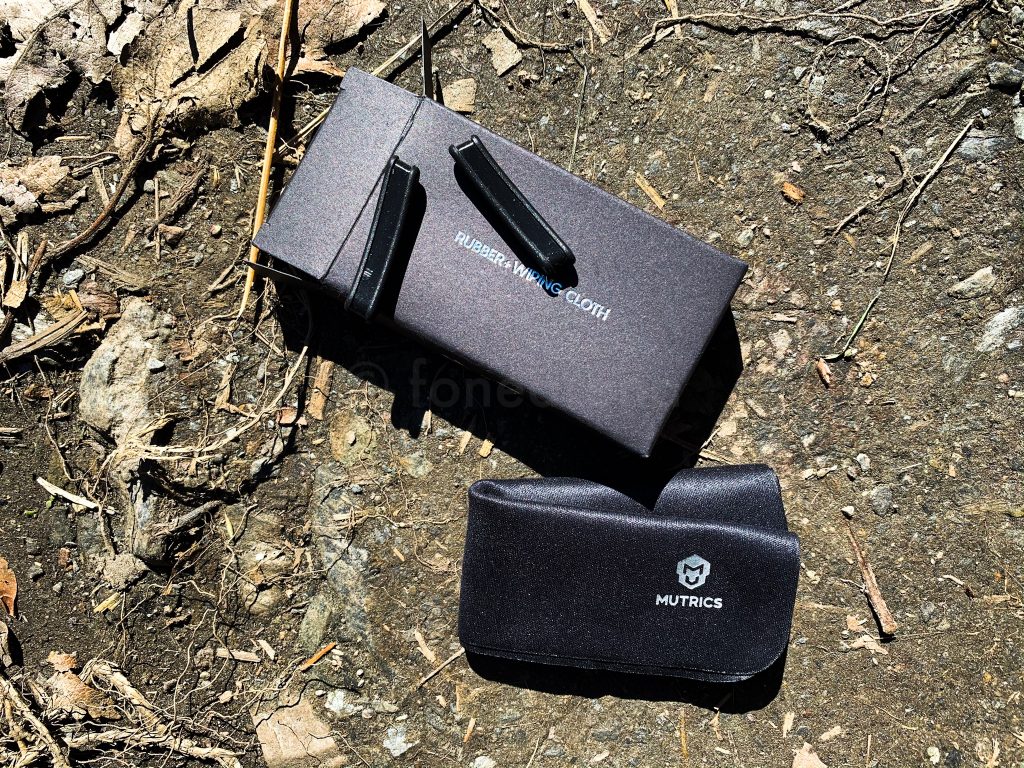 Inside the first small box you get rubber and a wiping cloth. Standard accessories that are required for a sunglass. We'll see where those rubbers fit.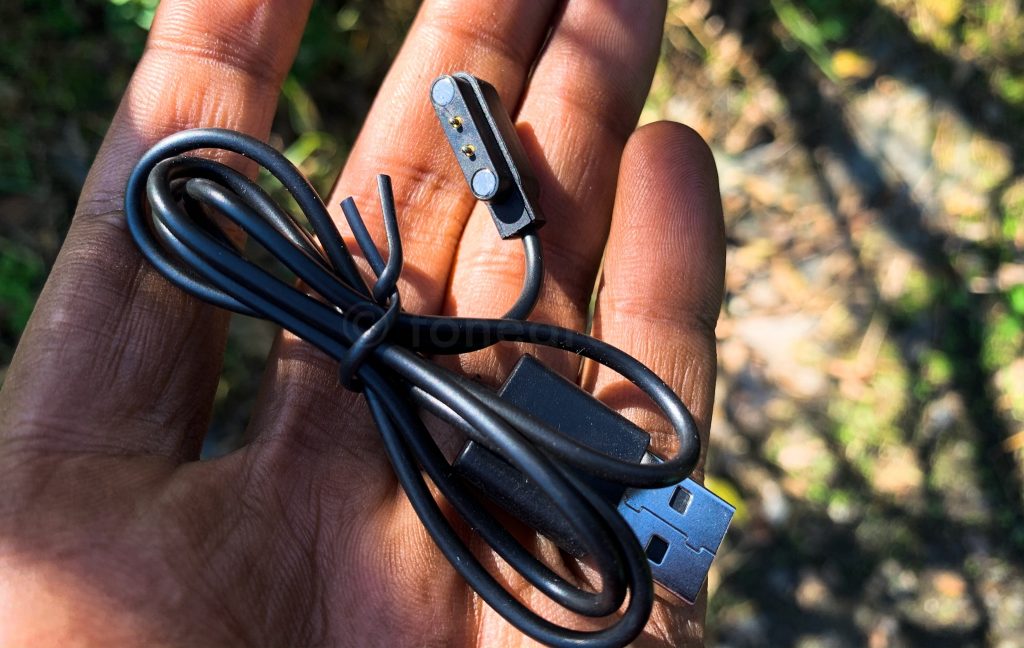 In the other box, we find a USB charging cable with a proprietary port that will connect to the glasses.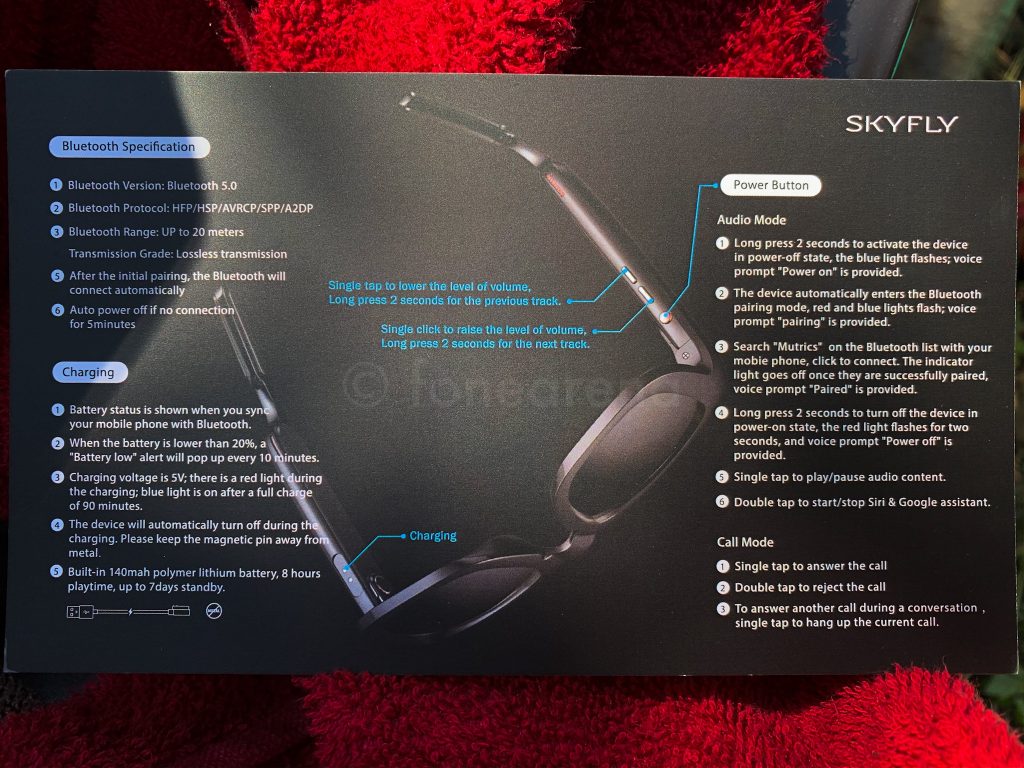 The operation manual tells you everything you need to know about the Bluetooth specs, the charging details and of course everything that is concerned with the operation of the device.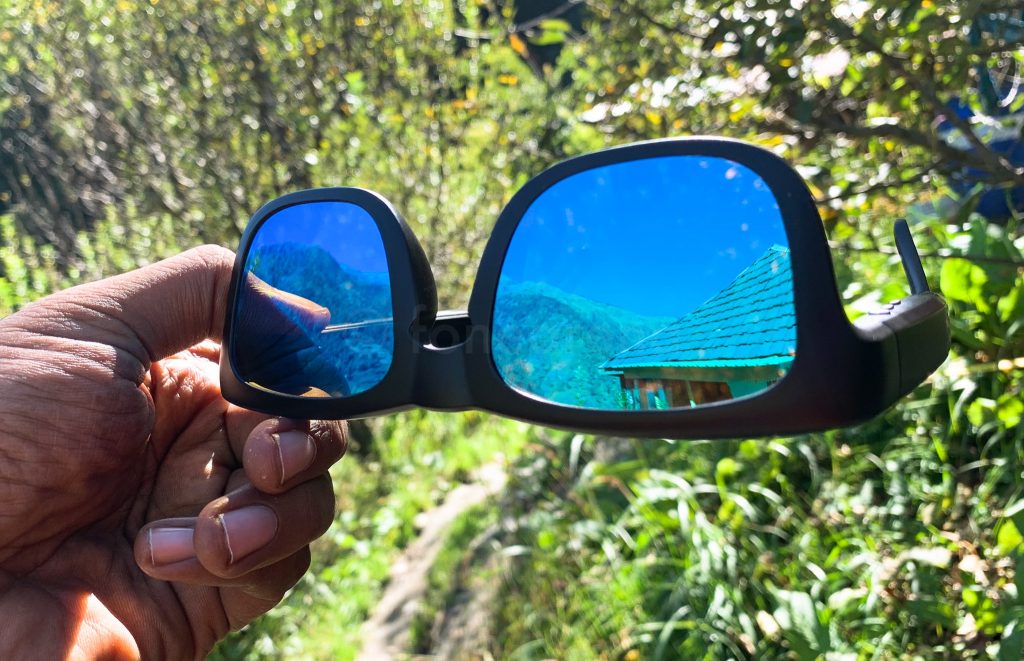 This is how the Musig X Smart Audio Sunglasses look out of the box. You might think it looks pretty normal, because it is (for those who like thicc sunglasses) but there is more.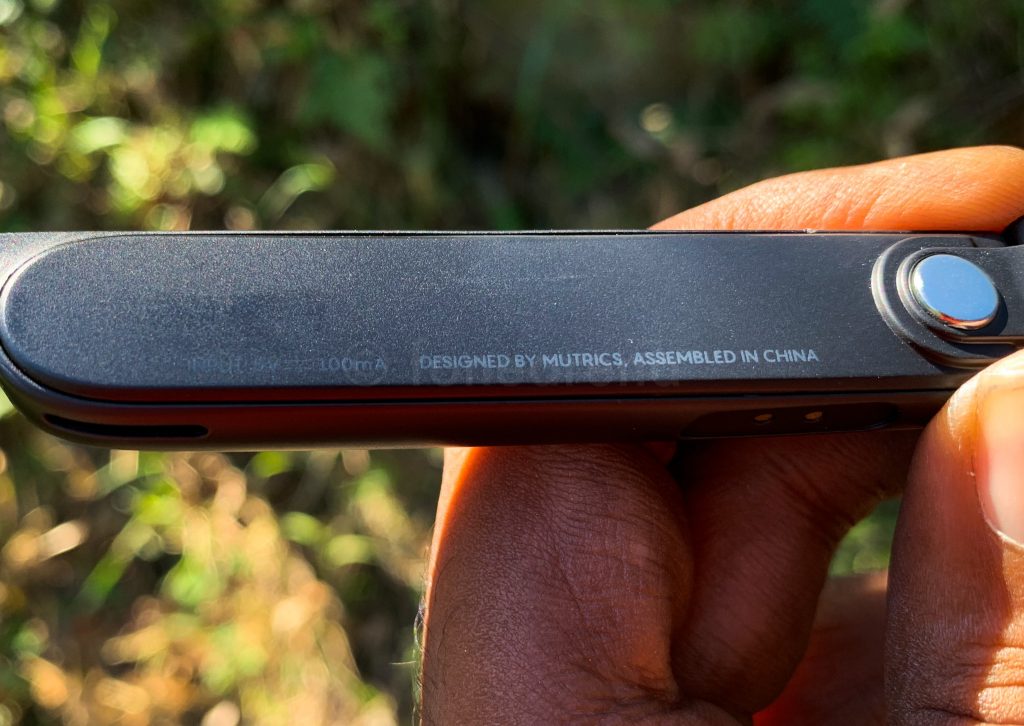 The sides of the glasses house all the circuitry, the battery, the speakers and controls and is designed by, you guessed it, Mutrics and assembled in China. You can already see a bit of a sweat-smear on the side since I had already used it, what's hidden there is "Input 5V == 100 mA", the charging rating.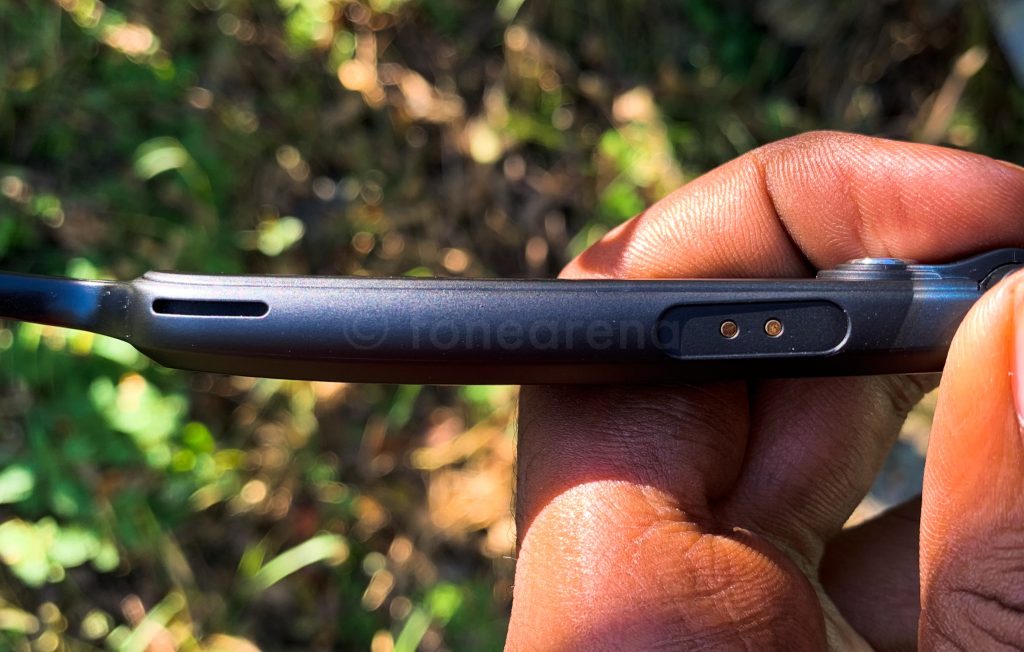 Right below these words we have the charging connector and one of the stereo near-field surround sound speakers. This is on the left side of the glasses.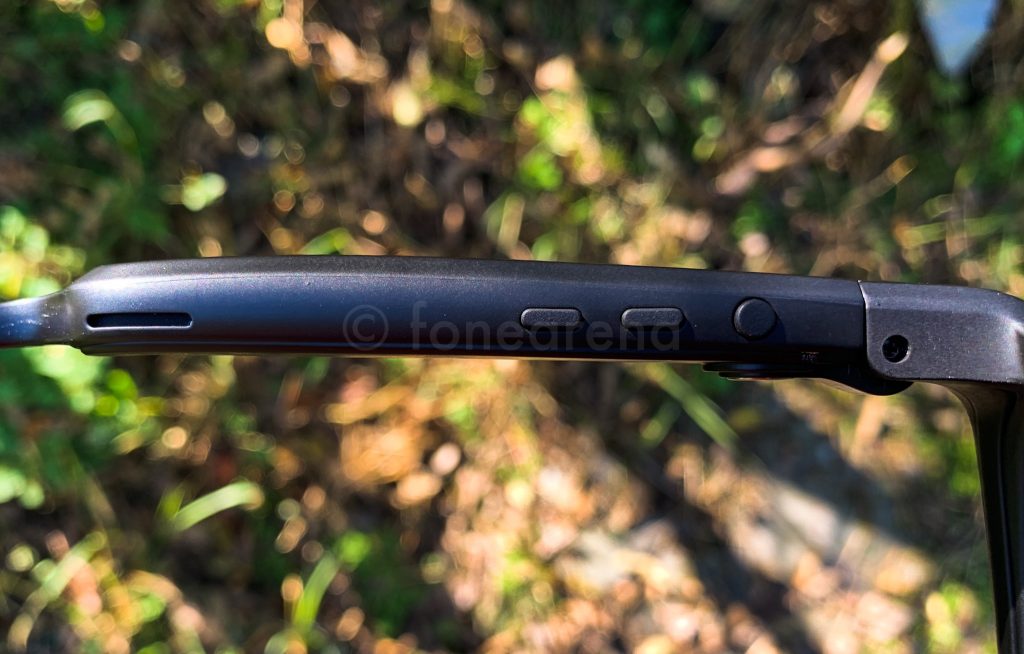 On the right side, the bottom houses the main controls – Power/pair button and the volume up/down buttons. The other near-field speaker is visible here of course.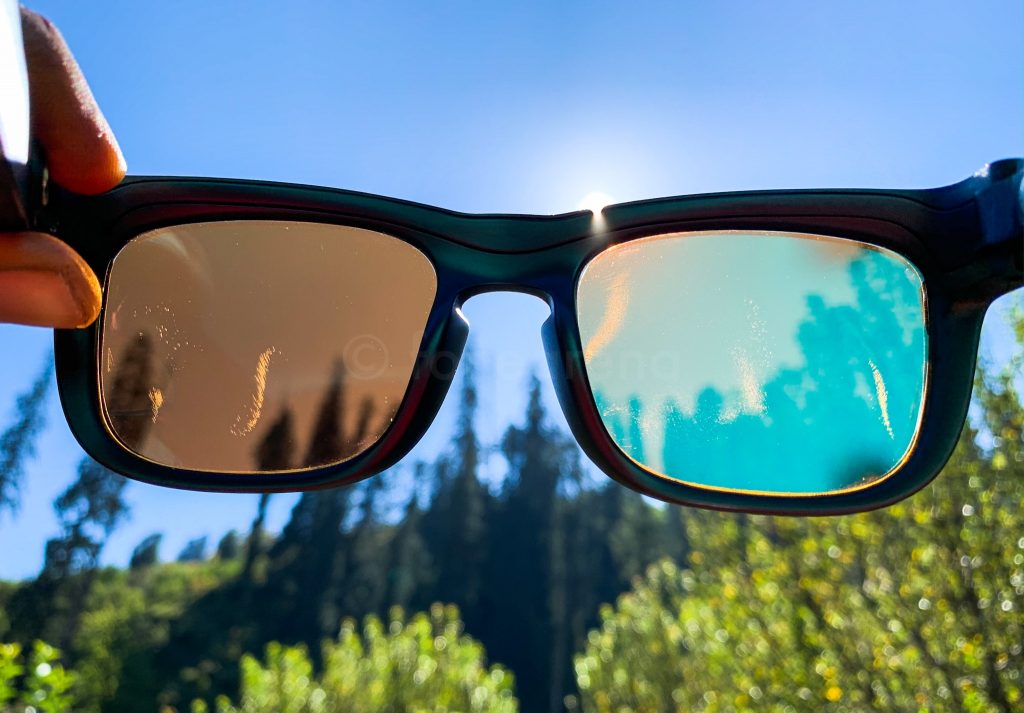 UV400 protection, various color options, the sunglasses are pretty much what you'd expect. In terms of shape, you have only one option since it's early days to say whether there will be additional shapes or not, but I guess that will be a demand once this device category takes off.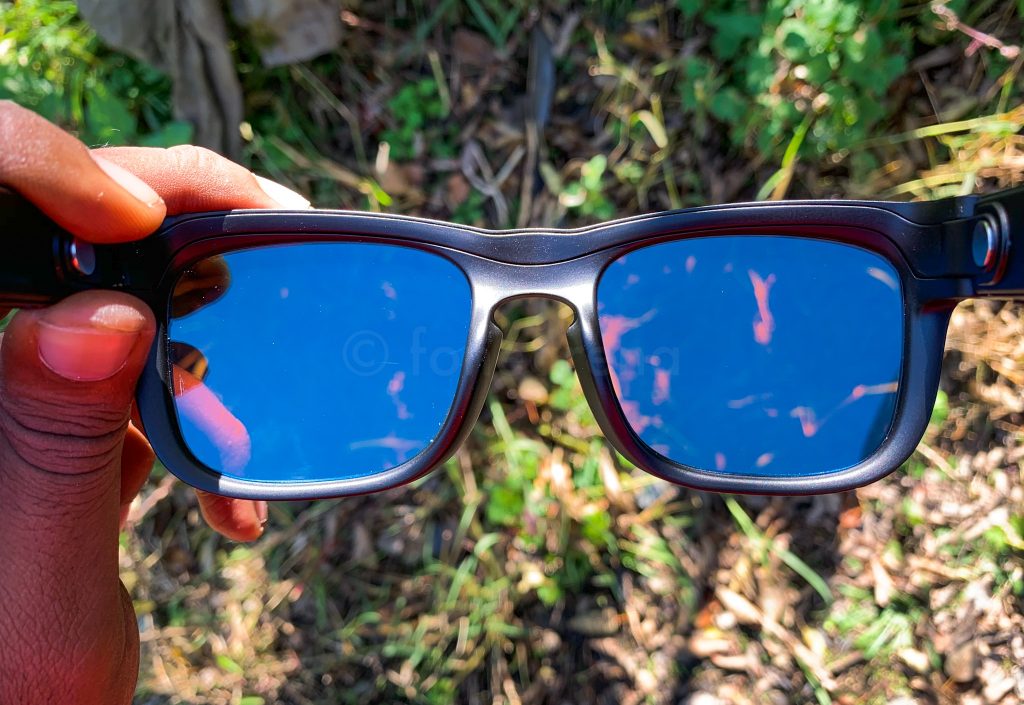 The inside of the sunglasses, this is how they look. There is a grippy addition to the top of the insides which makes the wearing more comfortable and a very decent curve for the nose grip as well. It was quite comfortable for me to wear.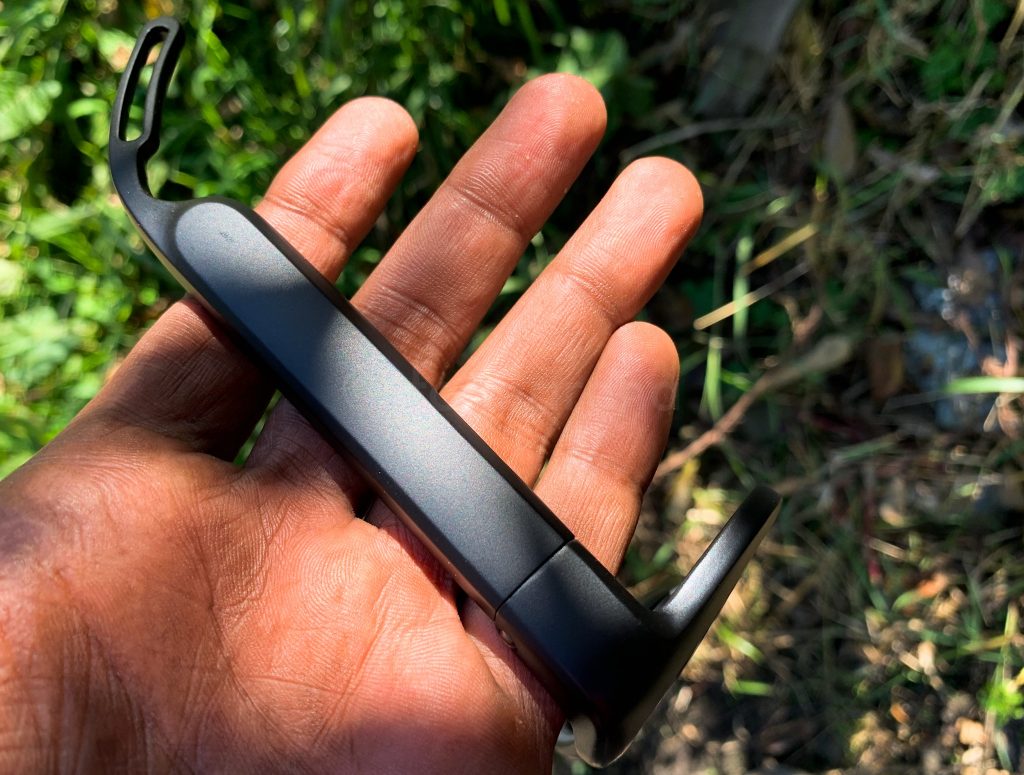 To get a sense of the thickness of the sides, here it is in my hands. While there are plenty of normal sunglasses that are as thick, they do provide a full protection in the front, this one just looks thick when removed because when you wear them no one tends to notice.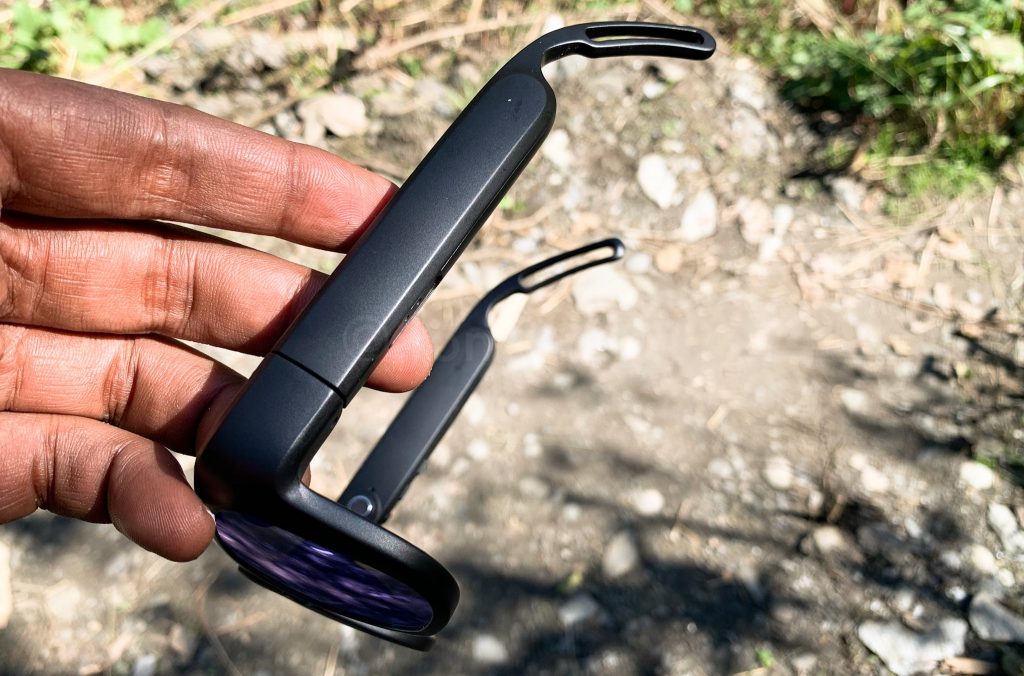 You'll also find it a bit heavier than the usual glasses. I mean, come on, it has Bluetooth audio. Here you can the ends of the sides as well. Remember the rubber in the box? This is where you put them for additional grip.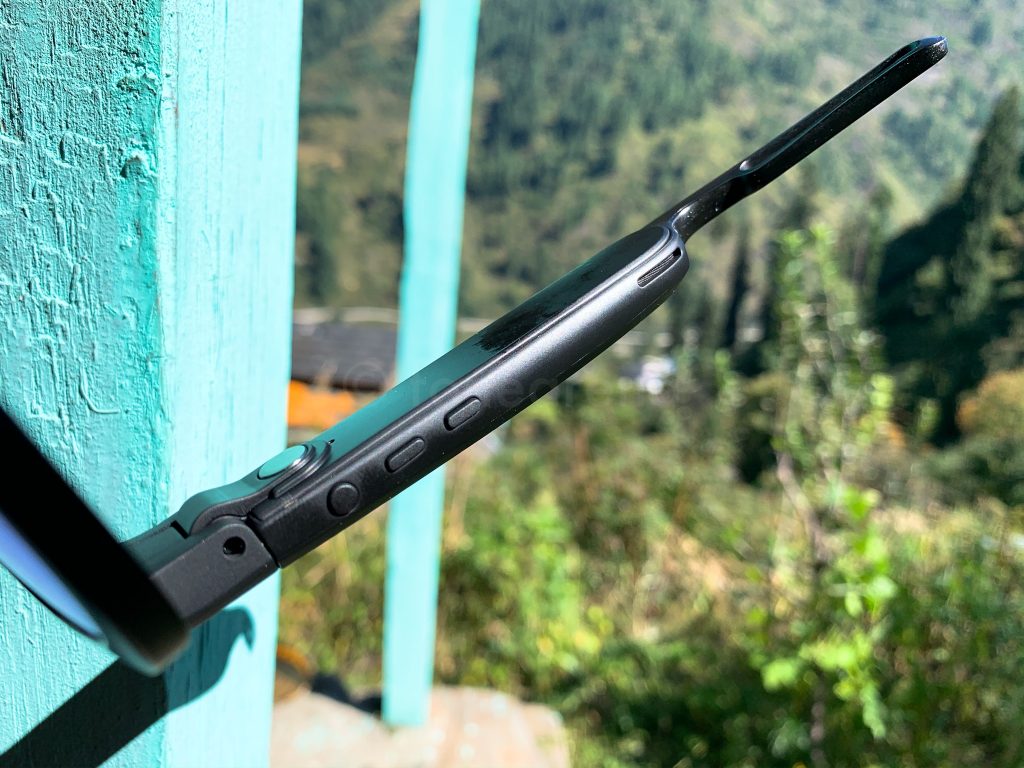 I must say, the thickness is mostly only on the side face of the glasses because the bottom is not that thick however a slimmer profile would be more beautiful to look at.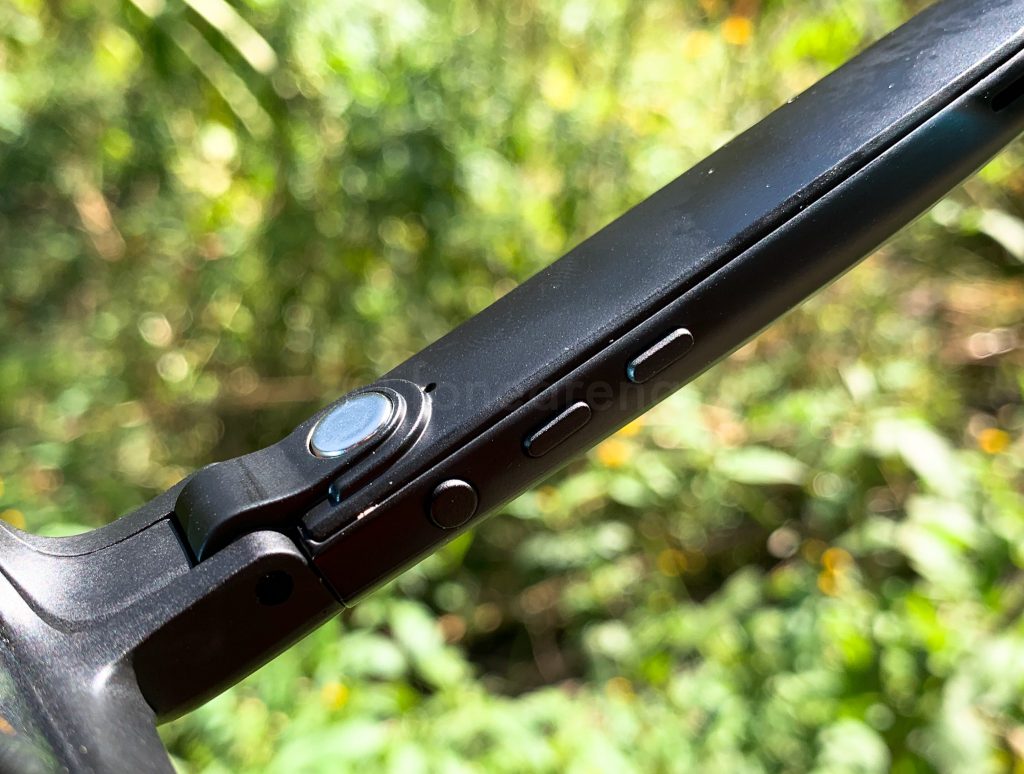 That small hole besides the "joint" is the in-built mic we'll use to take calls or give voice commands to our virtual assistants. When it comes to the quality of the materials used to make these glasses, I'm not sure we can call it high quality with just the looks and feel. There is IP55 rated water resistance for sweat and little bit of rains but I have no idea what to do if/when it breaks but it is definitely a modular setup which can hopefully be replaced fast.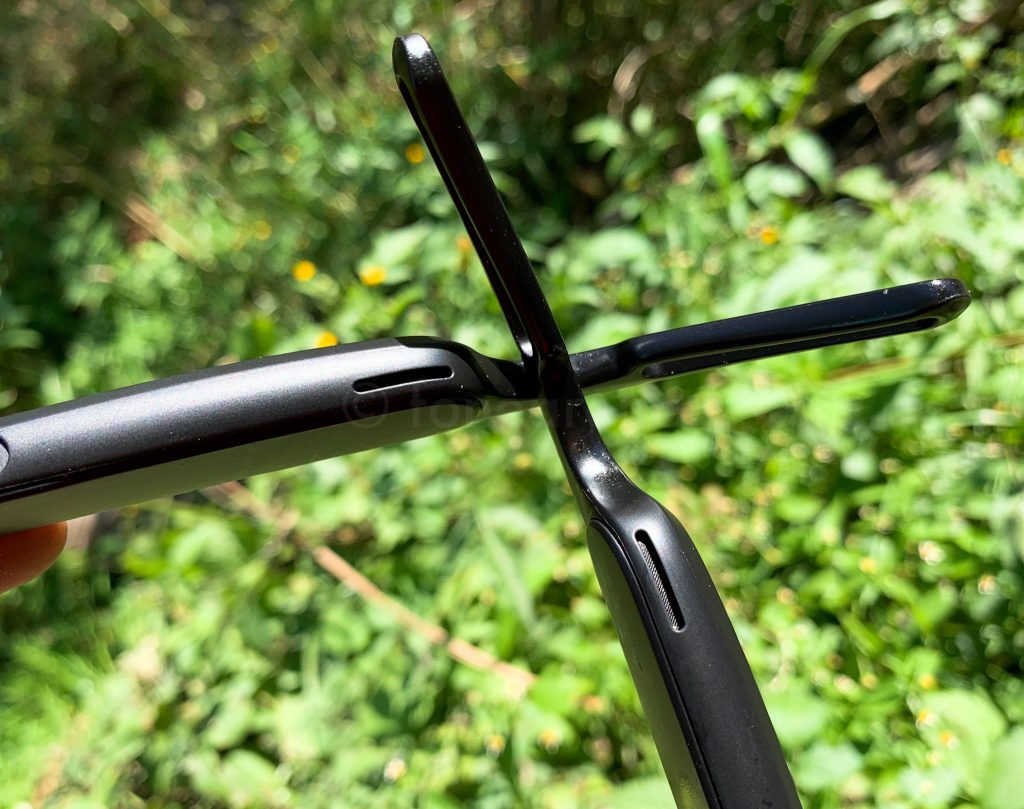 Everything aside, these are the most important parts of this product. The near-field surround sound speakers are surprisingly good for something that does not cover the ears. When you wear them and start playing music, even at just 70% it is loud enough in average noise environments and plenty enough for responding to calls. Of course, you don't get as much "bass" as the in-ear or the over-ear solutions but what you get is comfort and simultaneously you can have a tab on the outer world as well. Imagine listening to music and not missing a word your friend says at the same time.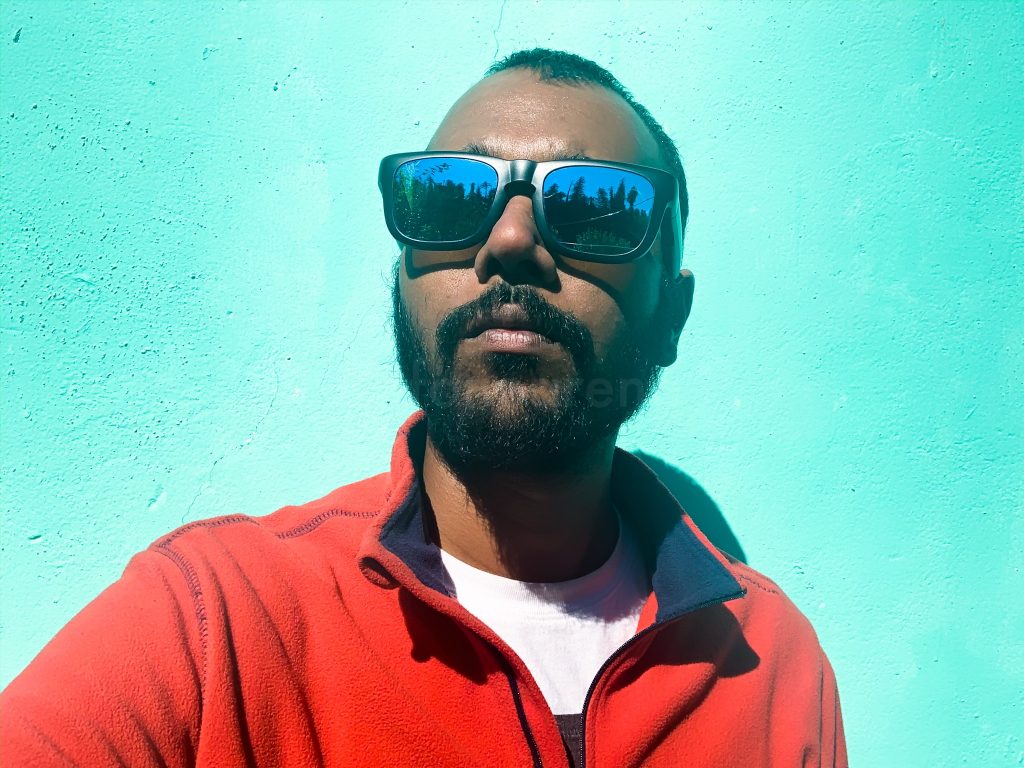 Honestly, I felt and I still feel very comfortable wearing these glasses. This is how they look under the sun and on my face.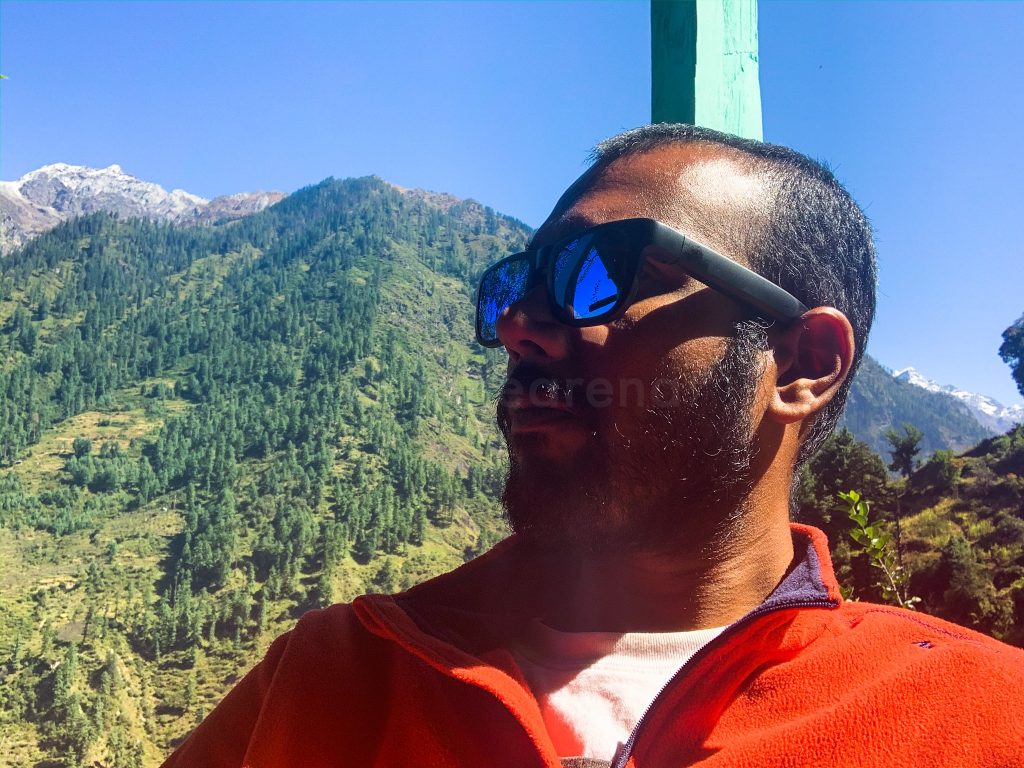 The side profile here looks pretty normal right? May be in my hands it would have looked big, but on my face it definitely looks normal sized which was a pleasant surprise for me when I looked at these photos.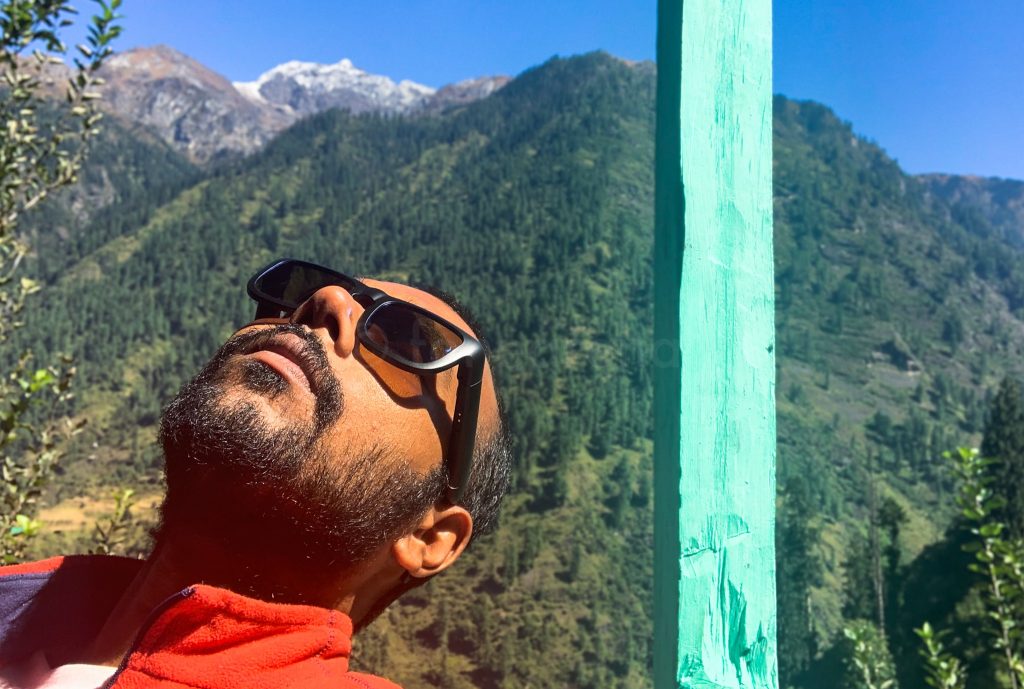 Listening to music wirelessly, under the sun, without a single damn wire or anything inside my ears, literally a dream come true for me personally because I wear glasses 24×7 thanks to myopia.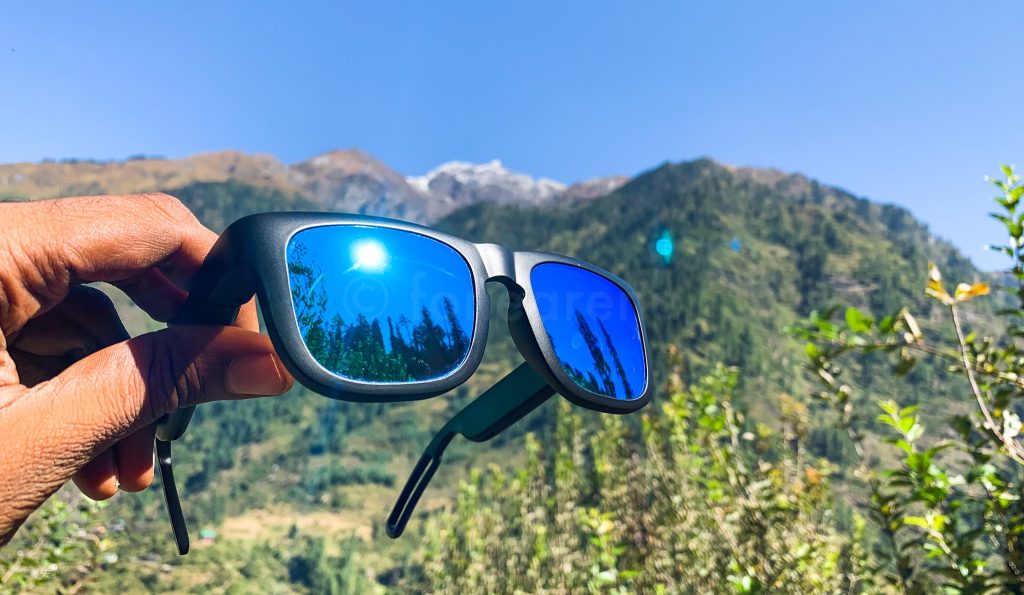 In the end, that's the idea that remained with me after my first few days with the Titan Eyeplus Smart Audio Sunglasses. It's a great solution for under 10K because I know sunglasses are not cheap. I never used to buy them because once I bought them only to lose them. They had no purpose except giving my eyes some shade but these ones I'm gonna keep and use as regularly as possible because I listen to a lot of podcasts and take a lot of calls. During transit in the metro, I listen to a lot of music as well and guess what, I can clearly hear the announcements as well now thanks to no-earbuds. For a guy like me, a tech early-adopter who has to wear glasses all the time, the Musig X sunglasses are a dream come true solution for Stereo Wireless Audio. As far as the product goes, my first impressions can be summed up in a word "great" but as we all know, a new category will always come with its caveats. We early adopters are the ones that will improve the product and take it to the masses. With that responsibility, it is my duty to discern the pros and cons of buying this product in my full review. Until then, if you have any questions, do post them below.