Here is the FoneArena Motorola Defy review – a rugged Android phone which is available for purchase in UK, USA and hitting India soon.The phone drew plenty of attention worldwide because it's not only rugged but also smart !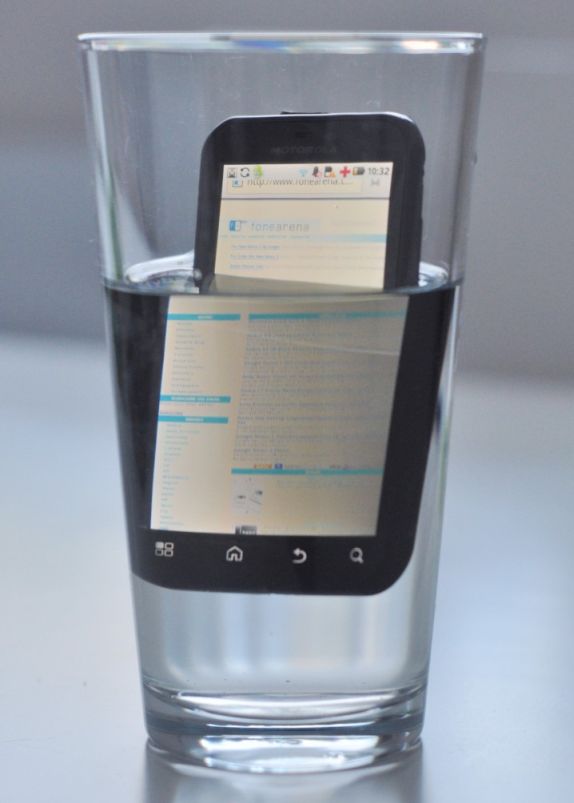 The DEFY is a rugged smartphone. It is marketed as a complete smartphone solution for social savvy people with the added bonus of being dustproof, scratch-resistant and splash-resistant. Motorola calls it the lifeproof phone. I don't disagree.
The DEFY is a rare breed in smartphones. Not only is it a smartphone, it is also capable of withstanding the daily abuse that life throws at it – and it does so stylishly.
When I first heard of the Defy, I expected to be greeted with a smartphone equivalent of a Panasonic Toughbook laptop, but no – the Defy looks like any normal smartphone. It is even smaller than my Nokia N8! It won't take any design awards home as far as physical aesthetics is concerned, but it isn't something you would be embarrassed to own. In fact it looks rather cute!
The Motorola DEFY comes in an eye catching compact box. Inside you will find the DEFY, a large 1540mAh battery, microUSB cable, 2GB microSDHC card, headphones and USB wall charger.
As a rugged smartphone, the DEFY is surprisingly small and light. It looks nothing like most rugged phones I have ever laid my eyes on. Hat tip to Motorola engineers for creating a rugged smartphone that not only looks normal but in fact stylish even.
The capacitive touchscreen is incredibly sharp. The DEFY packs a 3.7″ LCD with a resolution of 480×854, and is covered by a Gorilla Glass ensuring that it is as scratch-resistant. Multi touch is supported. Colour rendition is accurate and not oversaturated as you would normally find on an OLED screen. Contrast could be better.
Just below the display are four capacitive touch-sensitive soft buttons. Personally I've never been too keen on touch-sensitive buttons as they are too sensitive, and thus prone to accidental presses.
On the top of the phone you will find the small power button and 3.5mm audio jack. The volume rocker resides on the right side of the phone, while on the left the microUSB port. A reassuringly large 1540mAh battery can be found behind the battery cover. The microSDHC and SIM card slots can be found below the battery. A 5 megapixel camera with VGA 30fps video recording and LED flash resides close to the top of the back.
Looking around the Defy it is evident how Motorola managed to make it water-resistant. Not only is the battery door sealed well, the microUSB port and headphone audio jack are covered by protective flaps. But what truly surprises me was how small and light the DEFY is.
With a thickness of 13.4mm, it is barely thicker than my Nokia N8 but also significantly lighter (118g vs 135g). The lightness can be attributed to Motorola's decision to use plastic. Some may see this as a bad thing, but I've seen no evidence that the built-quality is compromised by the use of plastic material. Overall the DEFY is smaller than the N8, but has the added advantage of having a bigger and more importantly, removable battery.
The DEFY is powered by Android 2.1 (Eclair) and Motorola's own custom homescreen MOTOBLUR. The homescreen actually looks and feels like a normal Android homescreen.
The MOTOBLUR integration comes in the form of widgets. There are plenty of widgets to choose from, including Social and Status (for Twitter and Facebook), Weather, Contacts, RSS, Music Player etc. While the widgets are resizable, they are rectangular in shape, which makes them rather unattractive to look at.
The technical specs of the DEFY are modest. It runs on a 800Mhz TI OMAP3610 ARM Cortex A8 processor. The relatively slow processor (both in clock speed and out-dated architecture) coupled with Android 2.1 is evident when using the DEFY. I've shown a couple of HTC Desire owners the DEFY, and they've all commented on how laggy the DEFY felt.
512MB of RAM is available so you wouldn't have any issues multi-tasking. There's also 2GB of on-board storage for installing applications. A 2GB microSD card is also bundled with the phone. In addition to that, the DEFY packs quad band EDGE, dual band HSDPA, WiFi, Bluetooth with A2DP, built-in GPS receiver, accelerometer – basically almost everything you would expect in a 2010 phone.
Like many modern smartphones, the DEFY has two microphones, one which is used to cancel out noise. Motorola dubs this the CrystalTalk technology. In-call quality is good and clear while I never encountered any issues with reception. Smart dialing feature is missing, though I didn't find that I miss it at all.
The phonebook is brilliantly social savvy. You can link each contacts with their own Twitter and Facebook accounts, thus giving you an easy way to view any of your contact's latest social updates. Linking the contacts is easy and painless, though isn't as straight forward as Microsoft's approach with Windows Phone 7.
Messaging is easy with the DEFY. Threaded messaging is here, and the built-in Swype support makes composing texts and emails a relatively painless process. Gmail is unsurprisingly supported and works in a way that you would expect it to, including option for push e-mail, labels and archives.
Web browsing is a breeze thanks to the high resolution screen. Despite running on Android 2.1, Flash is included. Zooming can be done via either double tapping or pinch to zoom. While multiple tabs are supported, text reflow isn't.
Most modern smartphones are very well capable of replacing dedicated DAP (MP3 players), and the same can be said of the Defy. The music player, while basic, is intuitive. The audio quality is very good with overall good frequency response. It isn't as good as the iPod Touch or N8, but most people wouldn't be able to tell the difference unless they invest in $200 headphones.
As the DEFY comes with built-in GPS receiver, you can use Google Maps as a SatNav device. Google Maps is preloaded, though if you want the latest and greatest you can always grab the latest Google Maps 5 via the Android Market.
The DEFY comes with a standard (in 2010 terms) 5 megapixel camera with LED flash. Video recording is limited to VGA resolution, which is disappointing but hardly surprising – Motorola never set out to make the DEFY a cameraphone. Still for a social phone you would expect better.
Unfortunately because the DEFY does not have a physical camera shutter button, it was impossible to take pictures underwater. I tried, but because the DEFY uses a capacitive screen, water makes it difficult to operate the screen. So forget about using the DEFY for cool underwater shots.
You can also forget about low light photography as the DEFY is poor at that. With good amount of lighting available, the DEFY managed to capture some decent pictures with good amount of detail. The camera UI is simple to use, with a handful of options available to the user (nothing manual).
So is it worth your time? Geeks will unlikely taken by it – the DEFY is slow compared to its other Android cousins and the lack of Froyo/Gingerbread will no doubt put some people off. But it isn't without its charm. The DEFY is a competent smartphone competing in a category that has no competitors. There are no other rugged or semi-rugged consumer smartphones that looks as stylish as the DEFY on the market. If you are in the market for a clever social phone with the ability to keep up with your hectic lifestyle, then the DEFY is for you.
Good
+ Small and stylish
+ Water, scratch and dust resistant
+ Good battery life
+Social networking integration
Bad
– Slow , might be android upate might fix things
– Android 2.1
– Clunky looking widgets