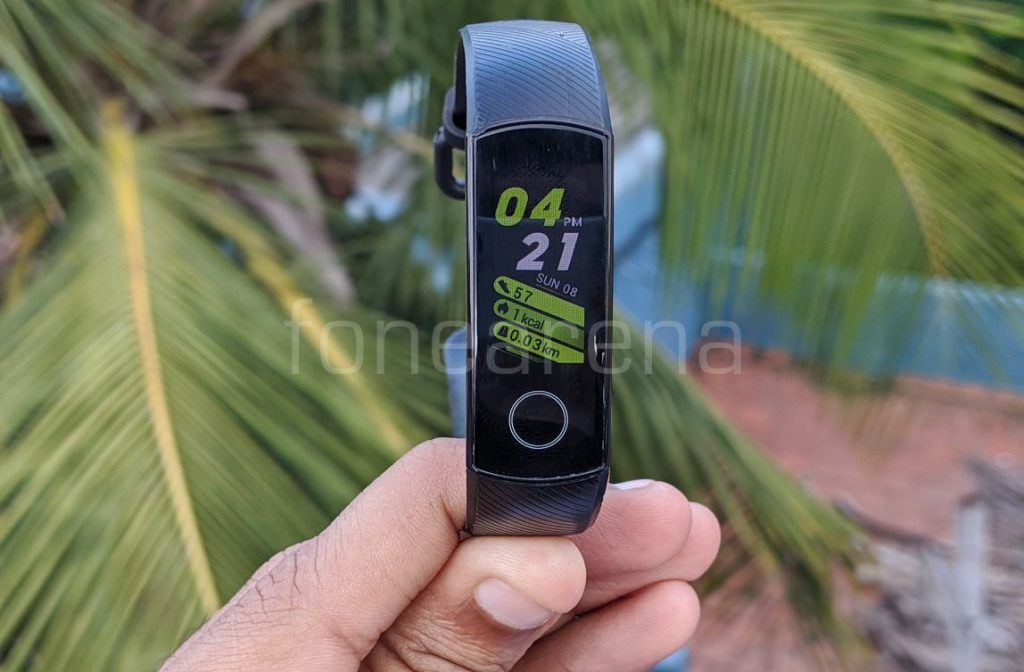 Wearable bands seem to become the new fashion accessory these days, and as a result, this segment is seeing dramatic sales growth. Be it calories burnt, tracking your sleep, or counting steps, the fitness bands across many companies offer people more insight into the details of their lives.  
Showing no signs of slow down, wearable technology is developing swiftly in the Indian market with offerings from HONOR, Xiaomi, Fitbit, and much more. According to some reports, the fitness band market is forecast to generate a revenue of $48.2 billion by 2023.
In this regard, Huawei's sub-brand HONOR has already covered a decent ground in India in the last few years, making its presence felt in the wearable sector. Taking that forward, HONOR launched its Band 5 in India last month at Rs. 2,599 in Midnight Blue, Meteorite Black, and Coral Pink colors. We have used it for a good period and come up with a review.
Design and Hardware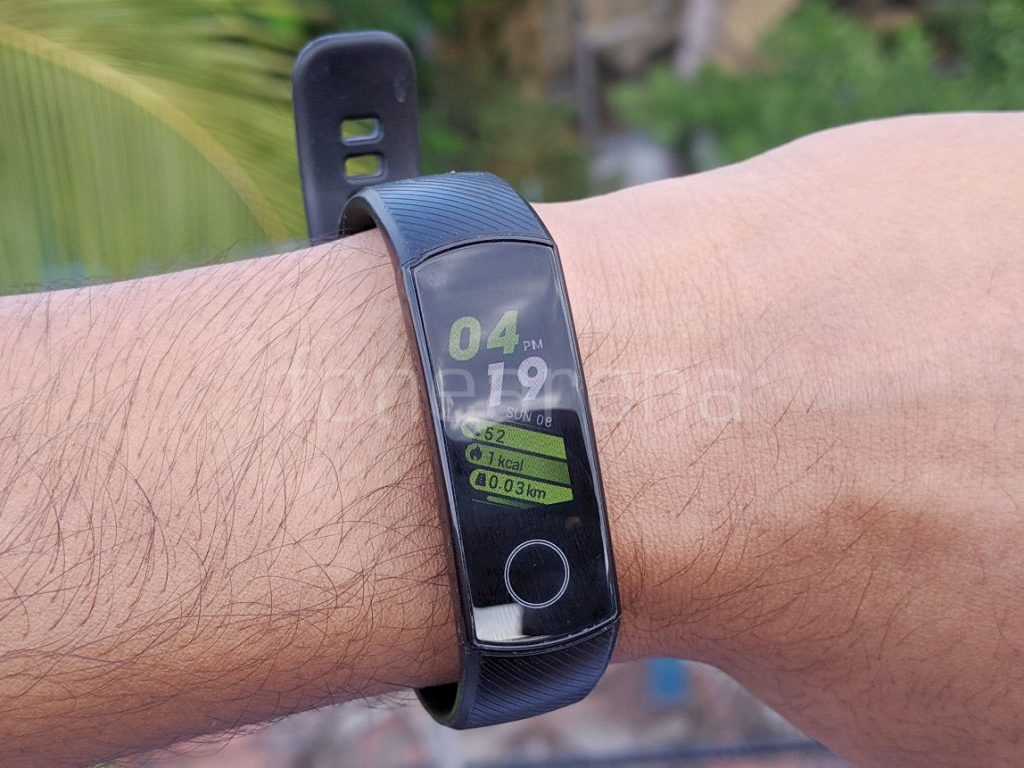 The Honor Band 5 sports a 0.95-inch AMOLED touch color display, with customizable clock faces. It shows all the information related to heart rate monitoring, workout sessions, running, cycling activities, and smartphone notifications.
The display is clear and bright enough to see under direct sunlight and tends to consume very little power as well. You can view all the stats by swiping up or down on the touch display. Notably, scrolling through the interface to see the stats is smooth, crisp, and clean. The band does wake up in the first attempt when you twist your hand.
The HONOR Band 5 is pretty light as it measures 43 × 17.2 × 11.5 mm and weighs just 22.7g. On either side of the display module, it is attached with a high-quality strap made of thermoplastic polyurethane, which is comfortable to wear even though hands are sweaty.
There is a buckle on one end of the band that goes into the holes that are present on the other side. Unlike Mi Bands, you cannot remove the module alone as it attached to the strap. Talking about the sensor, it comes equipped with 6-axis Accelerometer, Gyroscope; infrared wearing detection sensor.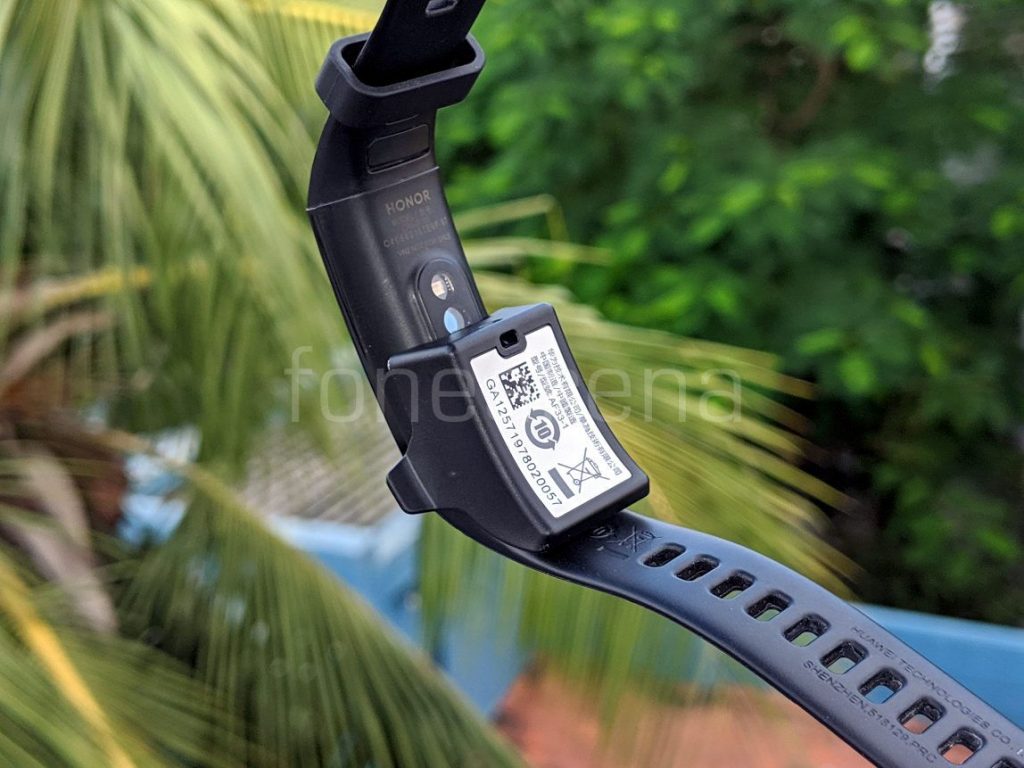 Talking about the placements, the HONOR Band 5 has a heart sensor at the back, and we have two pogo pins for charging just below it. To charge this device, we need to place the band on the cradle correctly so that two pins touch the other two on the cradle.
Software, performance, and connectivity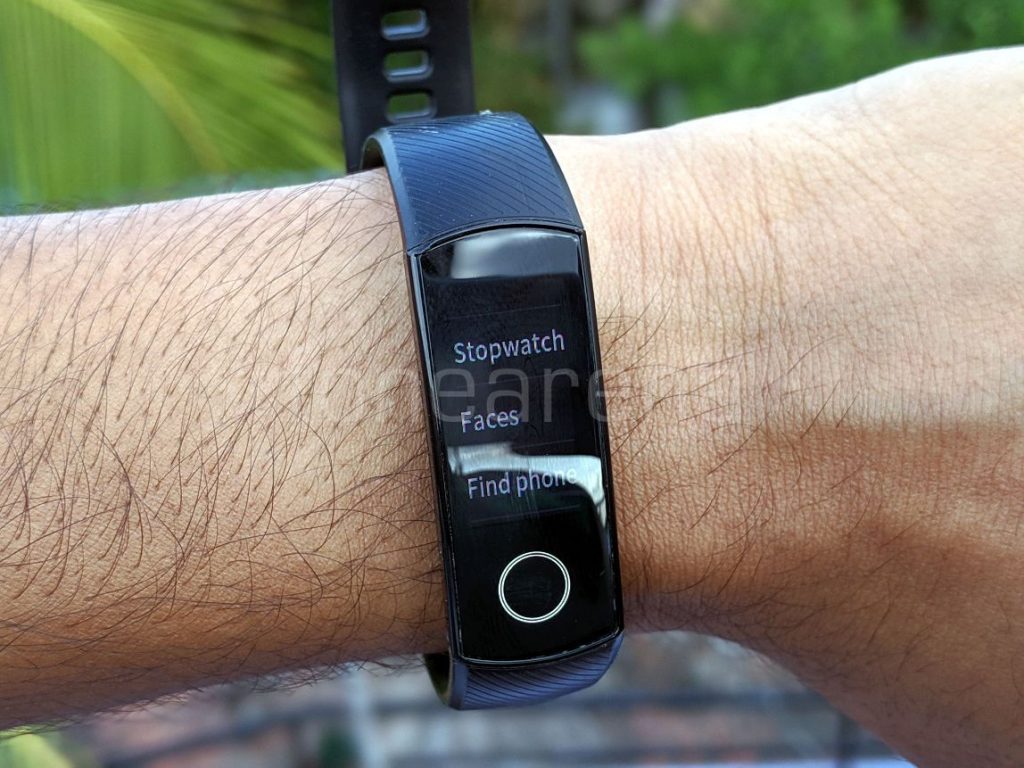 To pair the device to your mobile phone, you need to install the Huawei Health app from Google Play Store. It uses Bluetooth 4.2LE to connect to iPhones running iOS 8.0 and above and Android phones running Android 4.4.
Connecting the Honor Band 5 with the app was smooth and straightforward. In the app, you can switch on the activity reminder toggle, which reminds you by vibrating when you sit in one place for an hour.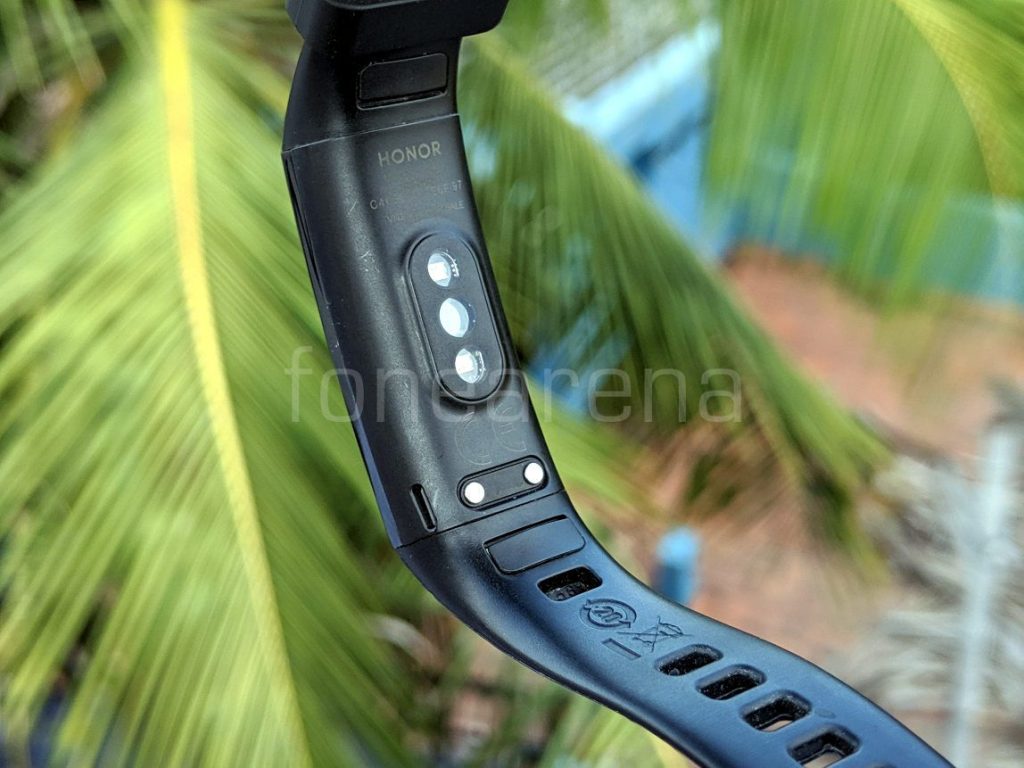 By default, the automatic heart rate measurement will be 'Off' as it affects battery life. You can turn it on from the app to monitor your heart rate 24 hours per day.
Moreover, it also has an option called 'Alarm' that wakes you up earlier than your specified time if it detects you are in light sleep. You can set a maximum of 5 alarms in your band itself. Also present is the notification management toggle, which sends push messages to the notification panel if you switched on the toggle for specific apps.
There are other options present in the app, including — Raise the wrist to wake the screen, Rotate to switch the screen and wearing preference. To see your fitness data, it takes you to Huawei Health app directly.
In real-world usage, the step counting is not accurate at all as it shows more steps than what I took. I used it during my running session alongside the Nike Run app to double confirm the accuracy. Unfortunately, the details provided by the band were not accurate to a large extent. It's worth mentioning that this issue persists right from HONOR Band 3. We hope the company notice this and come up with a solution as soon as possible. 
When it comes to heart rate monitoring, it takes around 6 to 8 seconds to show the heartbeat in rpm. Since it is water-resistant, it can be used when swimming and has a custom swimming mode that tracks swim times, calories burned, and more. 
The band has TruSleep technology that uses cardiopulmonary coupled dynamics spectrum (CPC) to monitor complete sleep structure, including deep sleep (REM) to analyse sleep and offer personalized sleep recommendations. 
The sleep tracking on the band is pretty good where, it shows deep sleep, light sleep, and awake option. In addition to fitness and sleep monitoring, it also offers notifications and alerts for calls and messages and also has an incoming call mute function.
The Band 5 is powered by a 100mAh battery with up to 14 days of usage time, 20 days standby. But in reality, we got around 12 days on a single charge, which is pretty impressive. It takes easily around 1.5 hours for charging from 0 to 100%.
Conclusion
The HONOR Band 5 fails when it comes to accuracy be it steps counting or activity tracking (running in my case). The primary purpose of the fitness band is to provide accurate results, and Band 5 falls short.  
Furthermore, Band 5 may not be a significant upgrade on design but offers some new and useful features, including TruSleep technology. Additionally, the Indian variant does not support the SpO2 sensor as well.
If you want to get an overview of your day-to-day fitness regime without having to invest too much, HONOR Band 5 is a decent option. We would suggest you wait for Mi Band 4 since the launch is around the corner.
The HONOR Band 5 comes in Midnight Blue, Meteorite Black and Coral Pink colors, is priced at Rs. 2599 and is available from Flipkart.