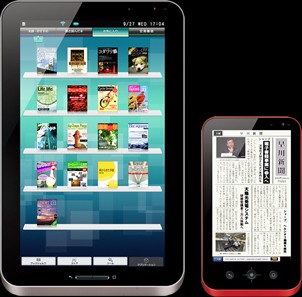 Sharp's Android Tablet range – Galapagos is set to be launched outside Japan. The device was launched in Japan few weeks ago and I even managed to briefly play with one when in Tokyo. The device is available in 2 variants a – 5.5 inch and 10.8 inch version and we might see WiFi only and 3G models being launched. A Japanese newspaper talks about Sharps plans to launch the device and the Galapagos e-book service in USA first and then in India ,China and Brazil
Here is a video the device from Akihabara News from the Japan launch.

The price of the devices in Japan are 485 USD for the 5.5 inch version and 668 USD for the 10.8 inch version
We should be hearing about this tablet and the global launch during CES this week.
Source: Netbook News | mainichi.jp