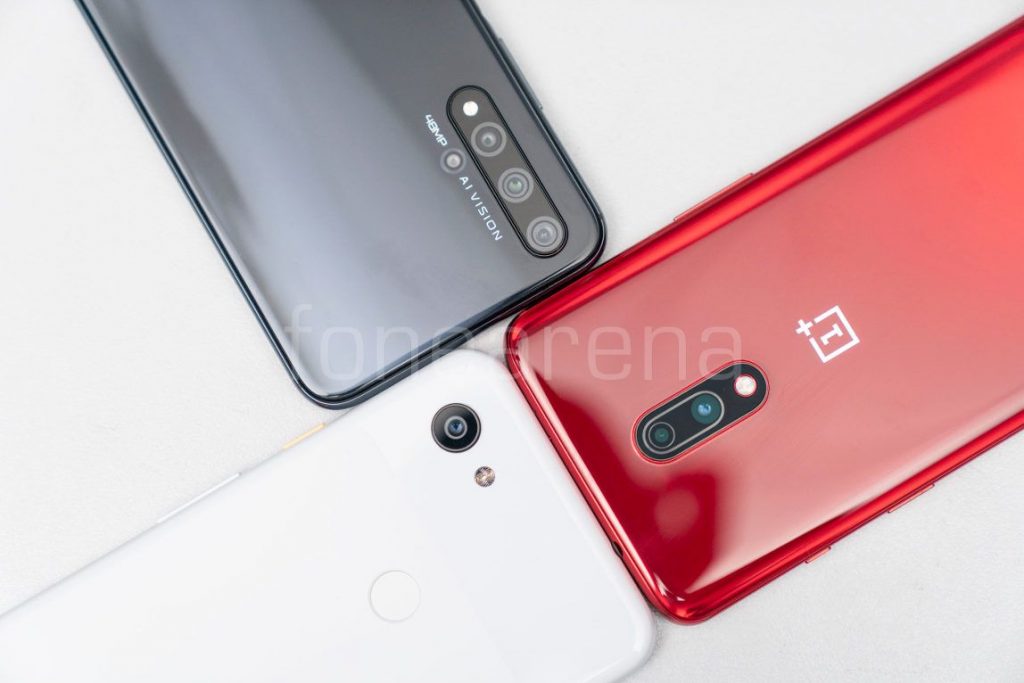 Smartphones camera are getting better and smarter each and every day. Its now more capable, versatile, and gives you reason to leave your DSLR in your home. In this regard, we have compared the camera capabilities of three smartphones launched recently — the OnePlus 7, Honor 20 and Google Pixel 3a XL.  Check it out and let us know your opinion in the comments below.
Normal selfie
Here, the OnePlus 7 image looks crisp. Over all, it has great highlights and shadows composition. While the Pixel 3A XL is good, it is noisy. On the other hand, Honor 20 has a weird effect with muted colors.
Portrait selfie
Even though Pixel 3a XL image has a nice bokeh effect, it suffers a stitching problem near the ear if you zoom it. Meanwhile, OnePlus image looks great compared to all with perfect bokeh effect and color. Having said that, the Honor 20 portrait looks kind of dull.
Indoor
Image shot on Pixel 3a XL showcase a cooler tone while other two are warmer. Notably, the OnePlus 7 didn't blow out the highlights in the lights on the side. The Honor 20 has a good noise reduction compared to other two.
In this shot Honor 20 output looks good but with aggresive noise reduction and sharpening. Oneplus 7 is good but bit noisy
Here the OnePlus 7 image composition looks good, while Honor 20 has the perfect color balance but too sharp again. The Pixel 3a XL again retains the cooler tone.
Here, the Pixel 3a XL takes the cake. The OnePlus 7 is too bright
Comparatively, the Pixel 3a XL looks dull whereas the OnePlus 7 looks good with great colors.
Normal closeup
The Honor 20 produces fine image with good detail, color and has less noise compared to others.
Portrait closeup
In this the Pixel 3a XL bokeh looks great. The Honor 20 is brighter and looks the same as the above image as the portrait mode doesn't work for objects.
Low-light
In this picture, the image shot on OnePlus 7 looks good, while the Honor 20 output looks it underwhelmed due to loss of detail, thanks to aggressive noise reduction. The Pixel 3a XL is super noisy too.
Night mode / Nightscape
Pixel 3a XL  all the way.
Portrait
OnePlus 7 image looks brighter and good. However, the Pixel 3a XL is cropped compared to other devices. Additionally, the Pixel 3a XL image is also sharper. The Honor 20 is too dark here.
Macro
The Pixel 3a XL retains a cool tone while the other two exhibits warmer tones.
With inputs from Siraj