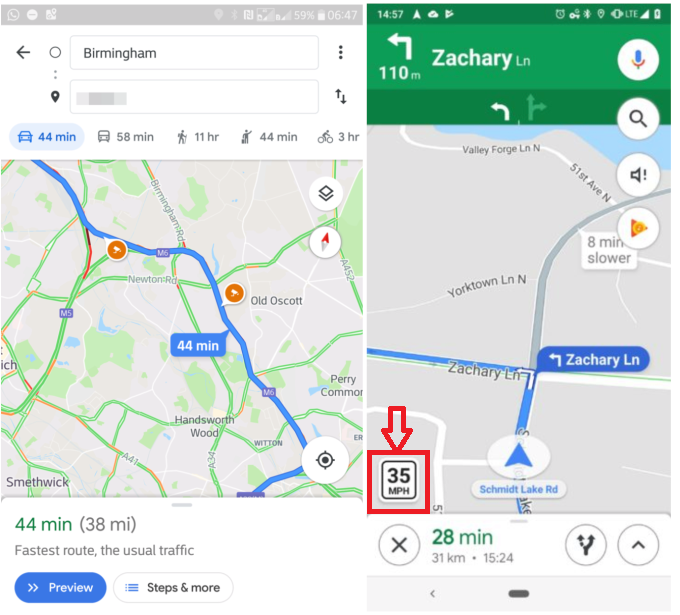 Google was testing speed limit warnings, speed cameras, and fixed and mobile radar locations in Google Maps for some time in the US and other countries. After limited testing, the US tech giant is finally rolling out these features in over 40 countries. Google Maps users in over 40 countries including India will start to see speed limits, speed cameras, and mobile speed camera soon.
In the new update, Google Maps users will be able to see speed limits in the bottom corner of the app and the speed traps will show up as icons on the roads themselves. In countries like France, Switzerland, and Germany, users likely won't be able to see speed traps as such features are illegal in those countries.
The new features are rolling out to iOS and Android, but Android users will also be able to report mobile speed cameras and stationary cameras which iOS users cannot as of now.
The new features are available in countries including Australia, Brazil, U.S., Canada, U.K., India, Mexico, Russia, Japan, Andorra, Bosnia and Herzegovina, Bulgaria, Croatia, Czechia, Estonia, Finland, Greece, Hungary, Iceland, Israel, Italy, Jordan, Kuwait, Latvia, Lithuania, Malta, Morocco, Namibia, Netherlands, Norway, Oman, Poland, Portugal, Qatar, Romania, Saudi Arabia, Serbia, Slovakia, South Africa, Spain, Sweden, Tunisia, and Zimbabwe.
Google has borrowed these features from its own GPS navigation software app, Waze and these new features are likely to appeal to users who want similar functionality that is present on Waze app but not satisfied with its user interface or routes.
Users might not be able to see the new features right away as Google is gradually rolling it worldwide.