Earlier this month,  I was off to Japan on invitation from NTT Docomo as a part of the Tata Docomo 3G Life activity. Sounds like fun right ?  Excitement is an understatement.  I have always been amazed by the Japanese mobile market. Almost all of the products are not available outside the land of the rising sun.I have been very interested in NTT Docomo ever since I saw them at MWC and CommunicAsia. Stuff like Separable Phone and Eye controlled earphones are not something you would expect to see everyday. As you all might know NTT DOCOMO is one of the leading mobile operators in Japan with over 55% market share. The company holds 26% stake in Indian telecom operator Tata Docomo which sparked of the per second billing revolution and became the first private operator to launch 3G services.
I would like to share some interesting moments about the journey to NTT Docomo's Headquarters in JapanI had to catch an afternoon flight to Delhi to board a night flight to Tokyo in Japan. Reached Delhi a bit late due to bad weather and barely caught the flight to Tokyo. The Air India flight was pretty smooth and we landed in Tokyo in around 7 hours.

We checked into the awesome Hilton Tokyo hotel at Shinjuku-Ku and soon after headed for lunch at an Indian restaurant Bombay Club !
NTT DOCOMO Headquarters – Sanno Park Tower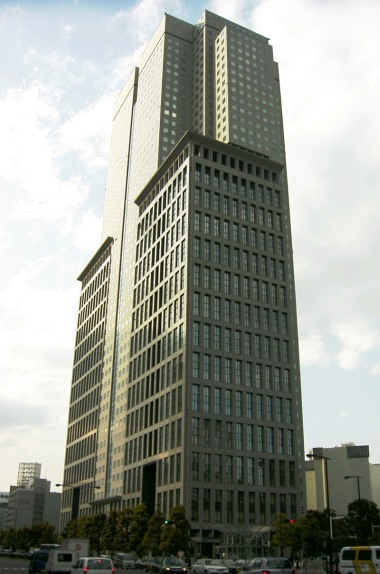 We then headed to the NTT DOCOMO Headquarters which is in a building known as Sanno Park Tower and we headed to the 27th floor to find some pretty ladies at the reception of the office.
We were greeted by Murat Karadeniz who took us to one of the top most floors of the building for the first round of meetings.
We met Yuji Yamamoto,Keisuke Yoshizawa and Takafumi Ito and had a general introduction. We then headed to the Train station for a Osaifu-Keitai field trip
Osaifu-Keitai Mobile Wallet Service
Osaifu-Keitai can be called a Mobile Wallet service offered by NTT DOCOMO. It was launched as early as July 2004
We were provided with Mobile phones which had chips inside capable of handling mobile payments. We first went to a shop to load our phones with some yen to use the service. We tried the Edy(Mobile Money) and Suica (Railway fare payment) services and it was simply mind blowing.
Check out the video below in which I pay for my train ride using my phone.
httpv://www.youtube.com/watch?v=AOLFW6ed4jA
We also used it at McDonalds to buy some burgers and paid for it using just the phone.
Also check our the Japanese stowing their baggage in a hi-tech locker
httpv://www.youtube.com/watch?v=mQ3sG8bv6fc
Towards the  end of Day 1 we were provided with a local phone and a pocket internet router. It is similar to a MiFi but it kept running for almost 1 day before it ran out of battery. I could achieve speeds of 4-5Mbps on the road easily. Infact my laptop and iPhone were using this router for internet connectivity.
Day 2 started pretty early and we had our breakfast and headed to the Docomo Headquarters in Sanno Park Tower.
We were given an overview of the service offered by NTT Docomo in Japan such as i-mode , i-concier. i-bodymo, Otayori (Photo sharing service). Will try to cover these in a separate post soon.
Augmented Reality Glasses !
We also managed to get a nice view of Mount Fuji from the 41st floor.
Future Station
We headed to the Future Station where we were first given a overview about the Heart Vision  2020.
httpv://www.youtube.com/watch?v=X-_aPjFk40k
Story of Yuki a 16yr old japanese girl
An awesome video about a connected world. The story of how our lives might be in 2020.
httpv://www.youtube.com/watch?v=Z4jO6mrzk9I
We then got to see the company's portfolio of phones and products
Kids Phone
Sound Leaf so that you hear through your bones and it worked !
Raku Raku Phone 7
Touchwood phone
They care about used handsets too !
LTE service (Xi) upto 75Mbps download speeds
NTT DOCOMO is rolling out LTE this month in select areas in Japan with speeds upto 75Mbps (down). The service is called Xi (read "Crossy") and we were given a overview of how LTE can change lives.
We then got into a awesome 3D Virtual Reality experience were we made a Kimono
Augmented Reality Golf Course on Android
Some nice little Docomodake mushrooms at the office !
Darth Vader at the NTT Docomo office.
It was time to say good bye to our friends at the Docomo office as we headed for lunch.
Docomo smartphone lounge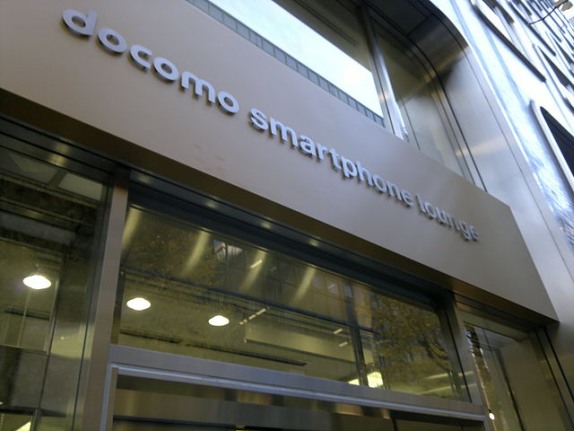 We then headed to the Docomo Smartphone lounge which showcases all the handsets currently available in the market.
Sharp Lynx 3D Phone
The Samsung Galaxy Tab
The Toshiba REZGA Phone
After that we headed to the NTT Group showroom NOTE which is a Futuristic showroom showcasing some interesting services. We saw demos of services like Telemedicine, Home Networking, IPTV, Cisco Telepresence.
The best part of this showroom was the t-Room which is the future of Educational services. You might have heard of Virtual Classrooms, but the t-Room takes it to the ultimate level ! Students get to interact with a Teacher present in a remote location and get to see each other face to face. The t-Room is a circular room filled with cameras and large flatscreen TVs.
Watch the video below courtesy of our friends from Crunchgear to get an idea of how it works ! It was unbelievable .
httpv://www.youtube.com/watch?v=w6q4TxLiNCA&feature=player_embedded
Akihabara – Gadget Heaven – almost got lost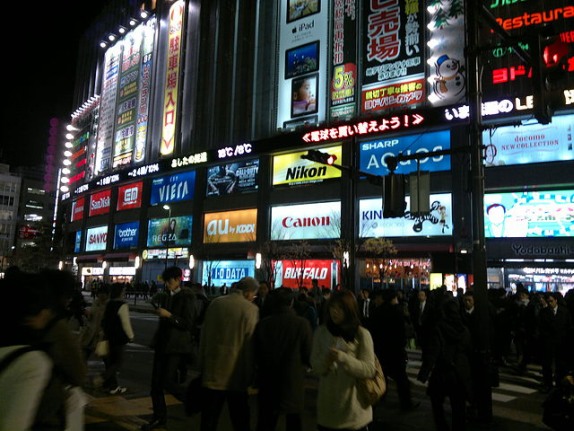 Akihabara is one of the largest electronics markets in the world. It's a big chain of multi-storeyed electronic malls and one can easily spend days here ! I spent just few hours just at one shop Yodabashi and picked up some gadgets and almost got lost on my way out.
Thanks to my iPhone and internet , i found my way outside !
Sayonara
Dinner was hosted by NTT DOCOMO Team at a nearby Indian restaurant and I certainly enjoyed the conversation more than the food.
And it was awesome meeting folks who traveled along with me. It was a great mix of people who were part of the trip – Harshal from Tata Docomo , Puneet from MobiGyaan , Tarun from TelecomTalk , Vivek from Qualcomm , Ashwin who is still in school , Yoganandh who is an engineering student, Swaminathan who is pursing his PhD
A big thanks Tata Docomo and NTT Docomo for making this trip possible. They certainly took great care of us and also made this trip a very memorable one.