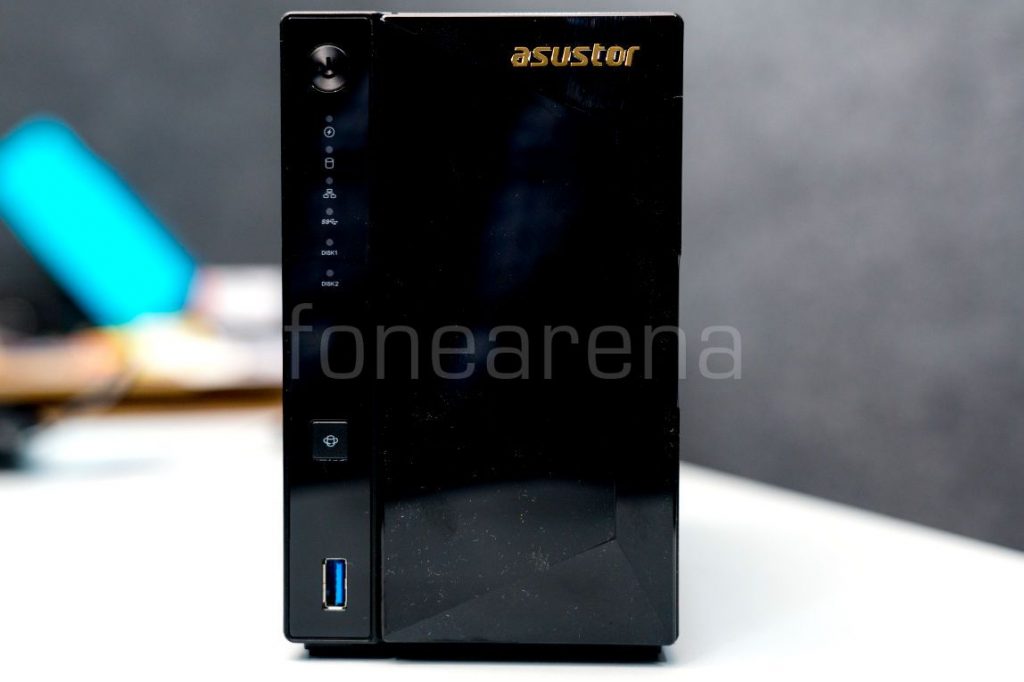 Last year ASUSTOR announced a NAS device — AS4002T first consumer NAS that integrate 10gb Ethernet with an RJ45 connector. The AS4002T is one of the world's first NAS containing a Marvell Armada Cortex-A72 64-bit dual-core processor. When compared with previous generation devices, it offers three and a half times more computing power as well.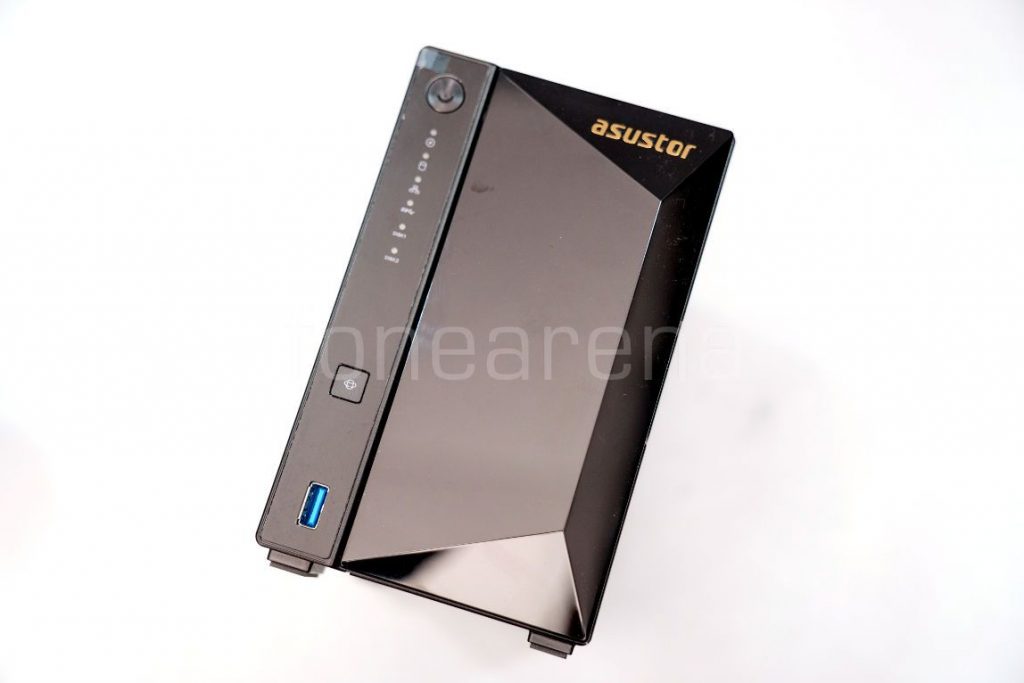 Talking about the design, the AS4002T comes with a refreshing yet trendy appearance. The aesthetically pleasing front has a removable crystal black magnetic pane (four magnets), which also dust-proof. By the way, no screws or any tools needed to open the front panel. Just place it in front of the NAS and let the magnetism take over. Right next to the panel, we have a power button, LED notification for power, system status, hard drive activity, network activity, a one-touch backup button and a USB 3.1 port.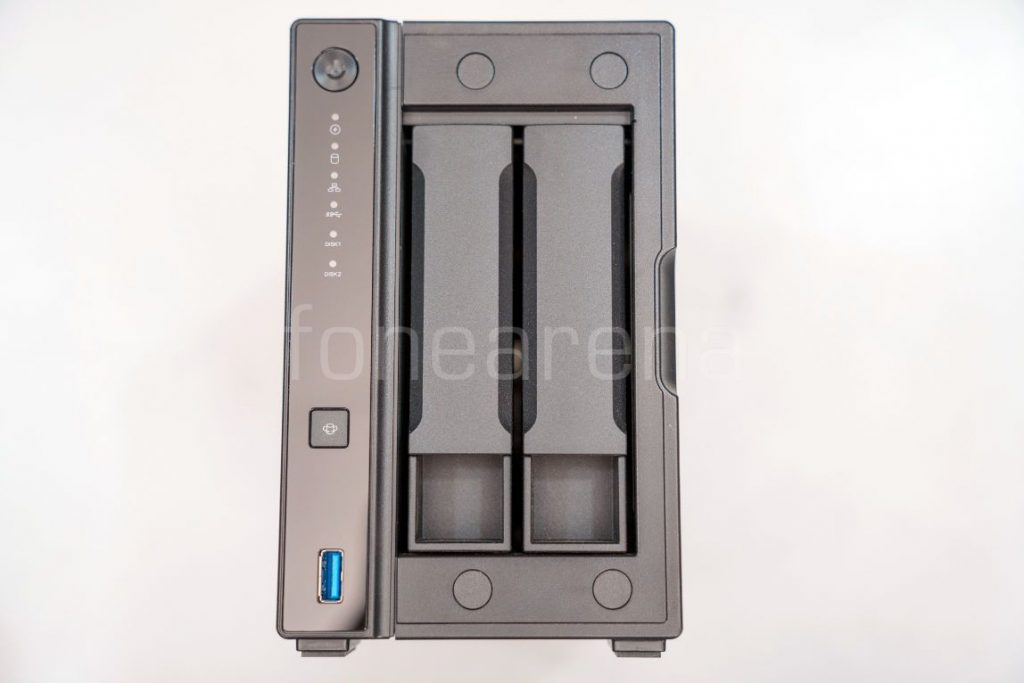 When the panel is removed, we have two bays, where the hard disks are protected with caddy. Furthermore, the hard drives can be quickly installed or replaced, no tools needed. Turning back we have an 80 mm fan which ensures adequate airflow across the NAS components. Besides that, we have two Gigabit Ethernet ports, a 10Gb Ethernet port, and a second USB 3.1 port.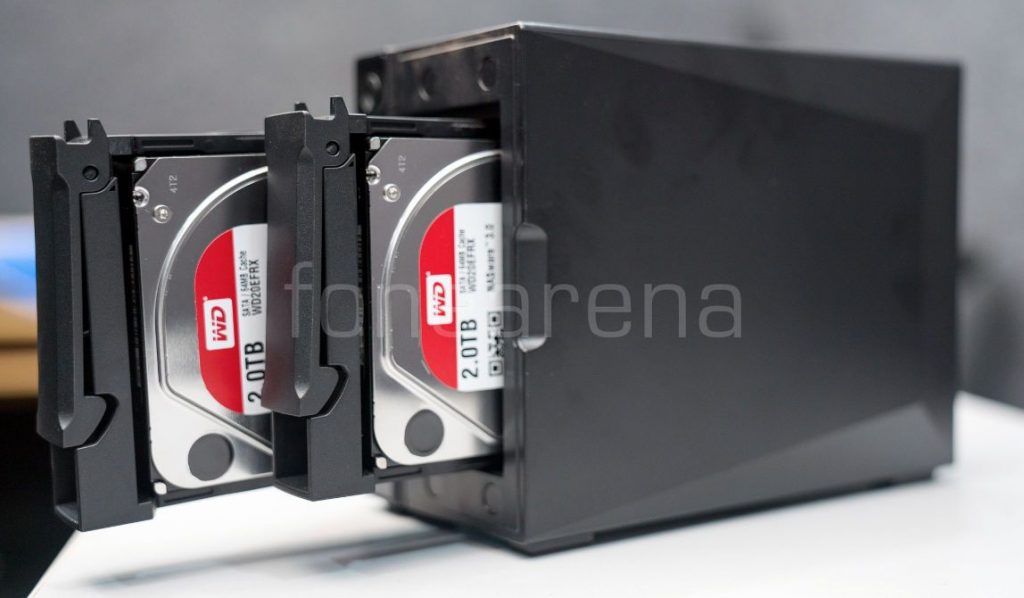 The AS4002T NAS is powered by a Marvell Armada-7020 dual-core CPU running 1.6GHz, 2GB of DDR4 memory (not expandable), and 512MB of flash memory. It uses the EXT4 file system, supports Single Disk, JBOD, RAID 0, and RAID 1 configurations, and can be populated with two 2.5-inch SATA drives and two 3.5-inch SATA drives with capacities of up to 14TB each.
Just like other ASUSTOR NAS, the AS4002T also uses ADM (the ASUSTOR operating system) which has web interface similar to that of a real operating system. Additionally, it has mobile apps available on both iOS and Android for viewing the mobile video, managing the NAS and other functionalities. With the desktop application, users can configure network settings and RAID volumes, create and edit folders, format drives and much more.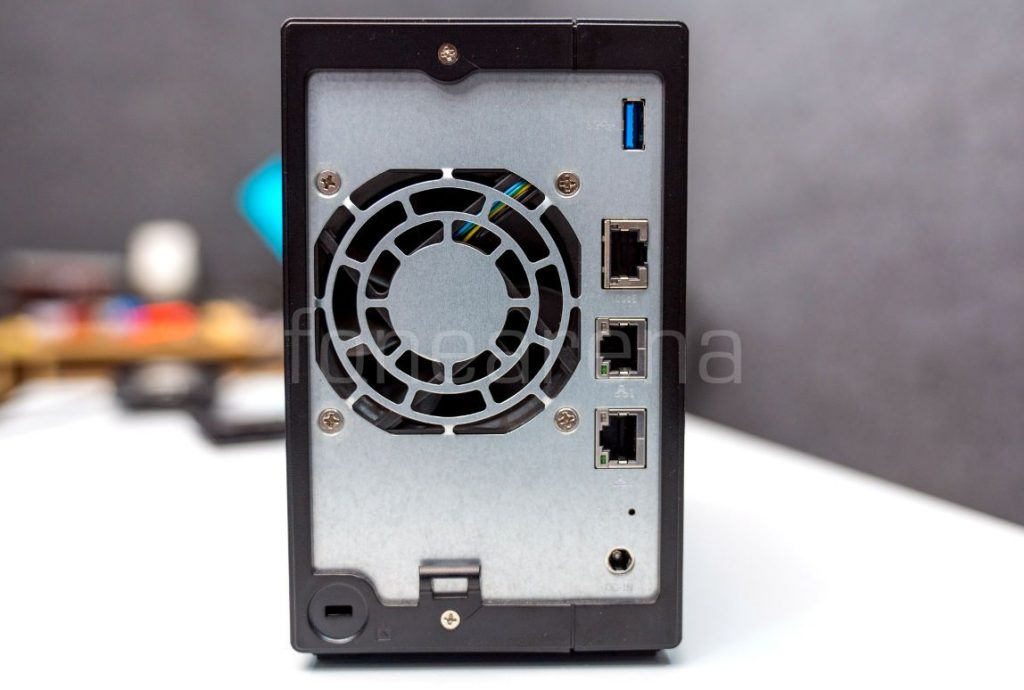 One of the most crucial factors in ADM is 'App Central'. It lets users download around 145 apps including those for backup and sync, surveillance camera station, home automation, multimedia and more. Additionally, it also has iTunes, Media Cast, MiniDLNA, and BubbleUPnP media server apps as well as mail server, VPN server, and cloud server apps
On the whole, the interface is neat, responsive and provides smooth user experience as well. And the best part here is that you can run multiple apps at the same time and most app launches almost instantly.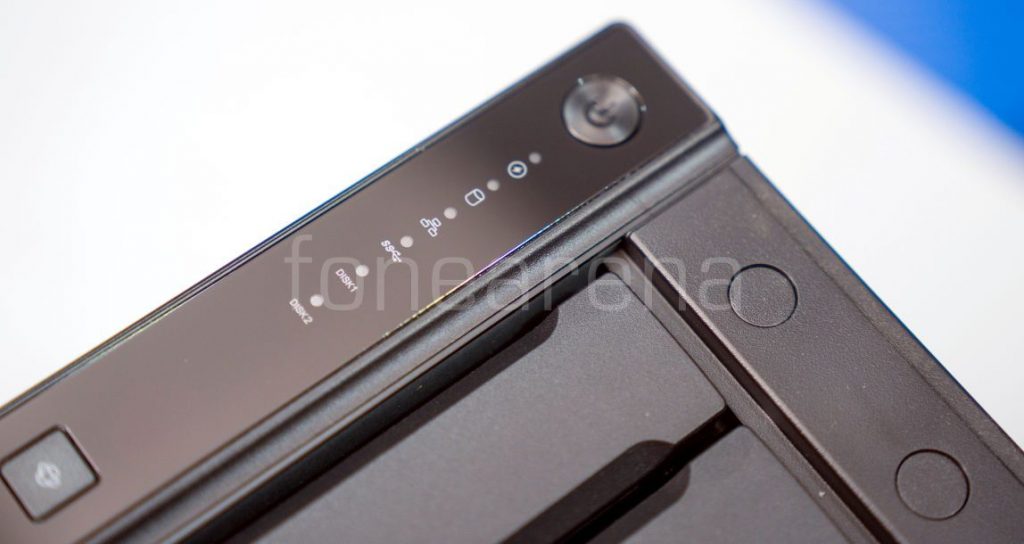 The installation was relatively easy and in our testing, the AS4002T performed well and consistently as well. Overall, the ASUSTOR AS4002T is fast, reliable, and fared in all essential network storage functions. With the refreshing tool-free design, easy swap support, healthy app support and good performance, this NAS is a solid package.
Priced at $259.99 (Rs. 18,020 approx.) in the US, it is also available in India from distributors offline, and the price might vary.
Photography by Siraj