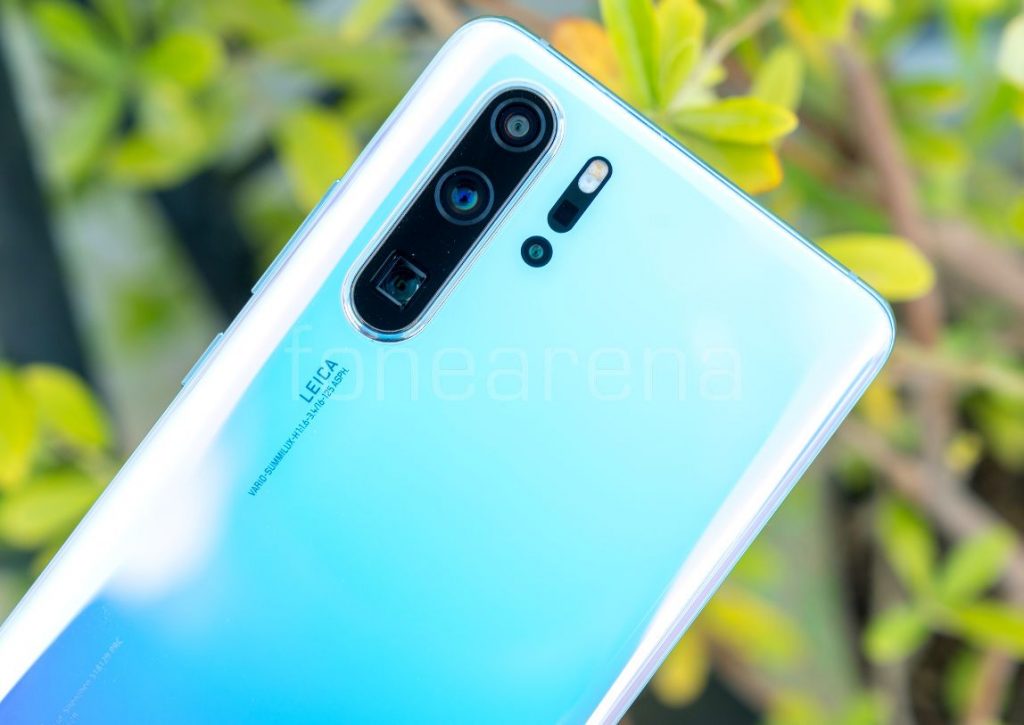 Imagine the speed at which technology has evolved if in the last hundred years, we have gone from silent B/W films shot on celluloid to audio-rich 4K HDR videos shot on smartphones. Even if the camera and the computer had their own distinctly separate evolutionary paths, in the recent years, they have started to merge in very interesting ways. 2019 marks the second year of "computational photography" as the computer and the camera come together once again, on the Huawei P30 Pro, to push the limits beyond what's possible on smartphones. In our extensive time with the latest camera flagship from Huawei, it is clear that in very key areas of photography, the P30 Pro has taken a visible leap forward in smartphone camera technology. But is that good enough to persuade the professional into buying the Huawei P30 Pro? Is it just for the photographers or is it for everyone? This is our review.
There are 5 cameras on this phone, 4 at the back and one at the front. These, along with Huawei's software innovations on top, form the centerpiece of the P30 Pro experience. You'll spend a lot of time with the camera if you're buying this phone, irrespective of whether you're a professional photographer or not. To understand better, take a look at our earlier video in which a complete detailing of the camera system is available, based on the information available to us at that time. However, in this review, I'll focus on how the results of this brand new camera system look.
The main sensor, which is a fundamentally redesigned upgrade from the P20 Pro, retains the same 40 MP megapixel count but is radically more sensitive to light than almost any other sensor right now. In the pixel-binned 10 MP format, the sensor exploits the light gathering capability of super-pixels and gives you the ability to the push the ISO to a crazy 409,600. In fact, you don't even need to do anything, just point and click to see what's not visible to the human eye. The experience of shooting photos is absolute darkness and getting to see detail where none exists is absolutely not possible on any other smartphone till date.
Yes, the P30 Pro can see stars as well, that too in the automatic mode. This is purely power of hardware and software combined. The sensor is definitely more capable of pushing its ISO beyond any traditional smartphone sensor so that it can see in the dark with faster shutter speed. With additional software tricks like pixel binning and noise reduction algorithms, what the P30 Pro is able to do in the dark should be the envy of competition. Truly beyond the limits of human vision.
Credit goes to Huawei R&D because the Night Mode on the P20 Pro was one of the biggest trend-creating features of smartphone photography last year and this year, the P30 Pro takes it to the next level in which a photographer who knows how get around exposure and focus can now take photos of stars using just a smartphone. I seriously didn't think Google's Night Sight would get outdated so fast and on the P30 Pro you don't even need the Night Mode to see in the dark. It is just a jaw dropping experience. Remember, it's not just the sensor, it's the pixel binning and noise reduction as well, amazingly coming together to create low light images.
The next amazing thing about the camera system is lossless optical zoom, enabled by periscopic arrangement of a 5x zoom lens on a sensor placed inside the phone. A prism reflects light onto the long lens and the 8MP sensor creates a 5x photo in good lighting conditions. The results are stunning. You can get so close to a subject without moving, it has never before been possible on a smartphone. Even in professional cameras, 5x telephoto lenses are big and bulky. To have this kind of engineering made possible on smartphones is no small feat.
The flatter perspective, the much different kind of framing that is required, all this creates a lot of versatility in your story telling. For a professional, the 5x will be a great tool for story telling minus the bulk of a real camera. Personally I enjoyed using the 5x lens a lot. This is the first time I have felt the need to use a telephoto lens really because the awkward 2x or even the 3x didn't feel that close but a 5x jump is a major change when it comes to perspective and framing. I took a lot of pictures in the full screen mode of the camera so that using this 5x lens I can create some wallpaper like content. Even in low light, when 5x lens kicks in the results are great but most of the times, the main sensor is preferred and a 5x of that is not detailed at all. This change, which is fully in control of the system in the auto mode, is frustrating when you are looking to just take a photo. The constraint of the smaller aperture and a much smaller sensor shows, in comparison with the main sensor.
Same goes for the wide angle sensor as well, which btw is an absolutely great sensor with auto focus at macro distances. The 20 MP count makes all the wide angle pics look really detailed and generally fantastic but somehow even though there is no distortion, I felt the lens could have been wider. The wide angle sensor is also, in no way, as sensitive as the main sensor and that shows in low light conditions. But again, the versatility of having a much bigger field of view to tell a story is great. The quality is really good and to any traveling professional, a wide angle is a much needed lens option in the kit. The Mate 20 Pro was one of the first phones to have this kind of an arrangement in its system, which the P30 Pro advances.
The fourth camera is a special little unit for depth sensing. It uses the time of flight technology to identify depth at much longer distances than the traditional depth sensors. Using ToF depth sensors, calculating depth is faster and more accurate, which the algorithms then use to create the perception of depth akin to a professional camera. We don't see depth except when software creates a blur. Whether the algorithm is good or not is a different question but whether the ToF sensor has great potential is unquestionable. For example, it is so fast that depth mapping in real time on video is a feature on the P30 Pro. You'll be shocked to see how good it is, in separating the subject from the background in real time. There is a color separation mode as well and both these features demonstrate the importance of fast and accurate depth calculations put into use.
If you're wondering why such features exist, it is purely to serve the purposes of a professional artist. The background blur, the color separation, filters, super slow motion mode at 960 fps, time lapse and all the modes that you can download and install, all of them are at the service of the artist who wants to tell a rich story. With the Huawei P30 Pro, you can tell the most versatile story possible on a smartphone but of course, there are some compromises you have to live with.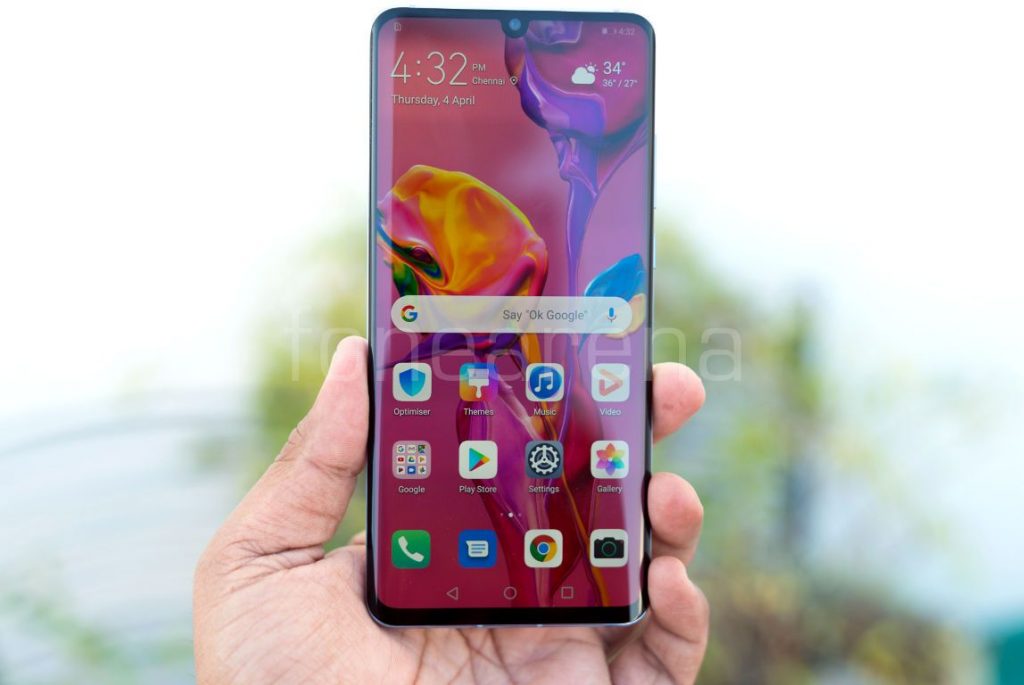 Huawei's software is unreliable in terms of design and performance. Particularly when it comes to the camera, the icons in the UI are very disorienting or unreachable, it's just not easy and overall, it just doesn't look good, with the use of the fonts and everything. If you try to forget the looks and start using the camera, there will be performance road blocks and UI settings navigation to get used to. For example, switching between the lenses is fast but not seamless. AI is very jumpy as it constantly recalibrates the metering, the focus, there is a constant refresh that doesn't inspire confidence is using the camera. While it definitely brings out the results well but identifying objects and scenes with a good amount of precision, it does seem to me that we are still 2 years away from a good AI. So, get ready to face a buggy camera, which handles really really complicated hardware and software from multiple sources. It's a compromise for versatility.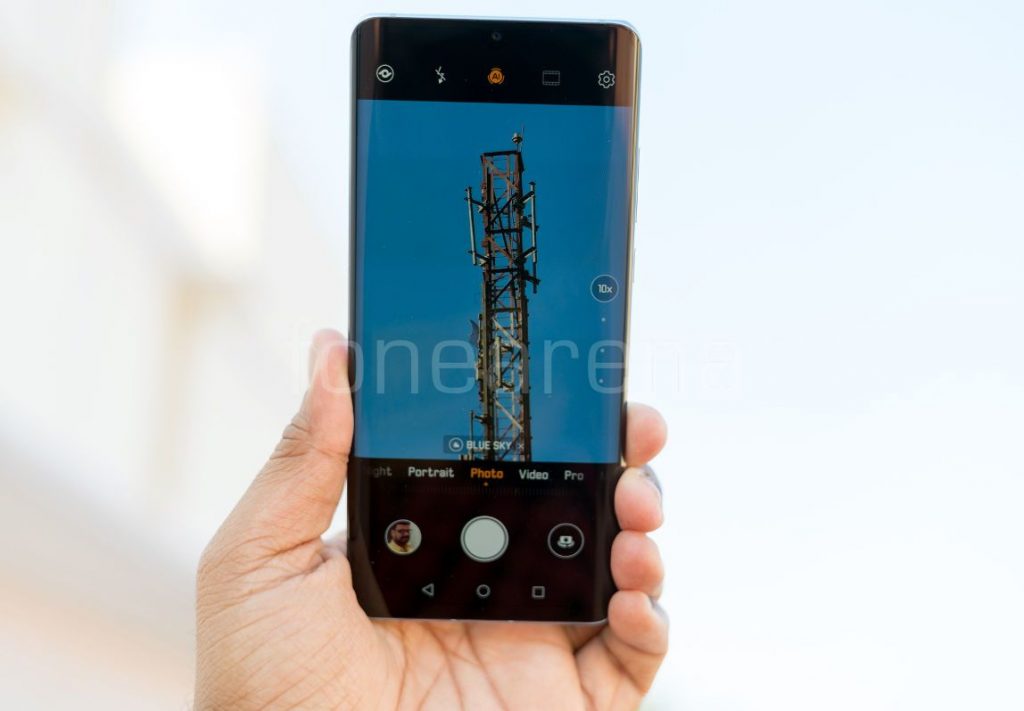 When you're used to the quirks of the camera system, using it starts to become a breeze. Two hands are absolutely necessary to reach all the UI elements, especially the lens switcher but once accustomed, it will be easy. Videos are rich and detailed, with dynamic range rivaling the competition but sharpness and a bit of over exposure has been Huawei's favorite default filter for its cameras. That could be toned down, especially in video. Beauty mode is another that could be toned down by default with options to increase it later, if needed. Saturation could be toned down in processing algorithms as well, sometimes there is a bit too much green in the photos.
It's very interesting to note that between the different sensors, the green is more visible in both the telephoto and wide sensors whereas the main sensor pushes a lot of yellowish greens due to the nature of the pixel arrangement. This was visible evidently when pictures were compared between the different lenses of the same frame. The front facing camera is good enough for vlogging and HDR selfies. So, overall, when it comes to the cameras, which are most important for the P30 Pro, if you can show some compromise on the software front, you, along with Huawei, are taking a versatile leap forward in camera technology, ahead of everyone else in the world. If this is going to be the primary reason why you buy this phone, the Huawei P30 Pro is highly recommended. But if you're looking for just a very good phone, with high performance, great cameras, amazing design and battery life, the P30 Pro is still recommended but there are other options that do the same things, sometimes even better.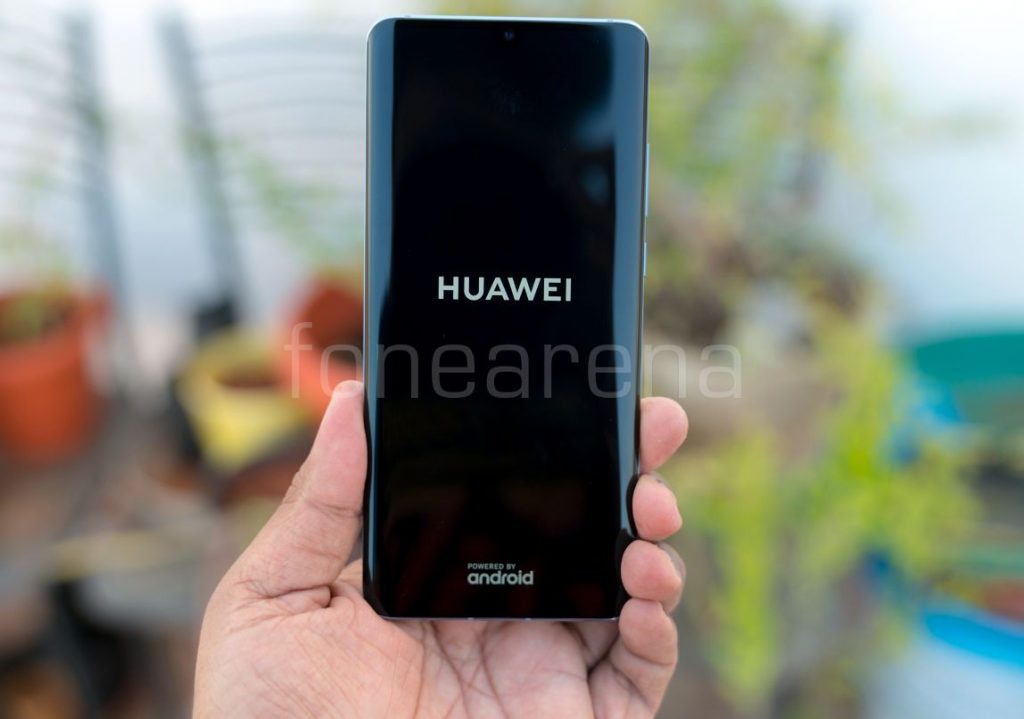 The design in hardware to design in software, some things could have been avoided. The curved edge screen and an actually curved display makes for a real bezel-less experience, no doubt, but since the P30 Pro houses a larger 6.47inches screen compared to the 6.39inches on the already big Mate 20 Pro, the device sometimes feels too big to handle. The build is quite slippery as well and the easily scratch-able glass on the front does not inspire confidence. You have to be very careful while handling the P30 Pro is what I learnt from my experience. Additionally in terms of hardware, the P30 Pro comes without an ear piece so you have to press the phone to your face to listen to a call well. It's not that big of a pain but certainly you'll notice a deterioration in volume. You'll find that in the loud speakers as well, which are not that loud compared to other flagships.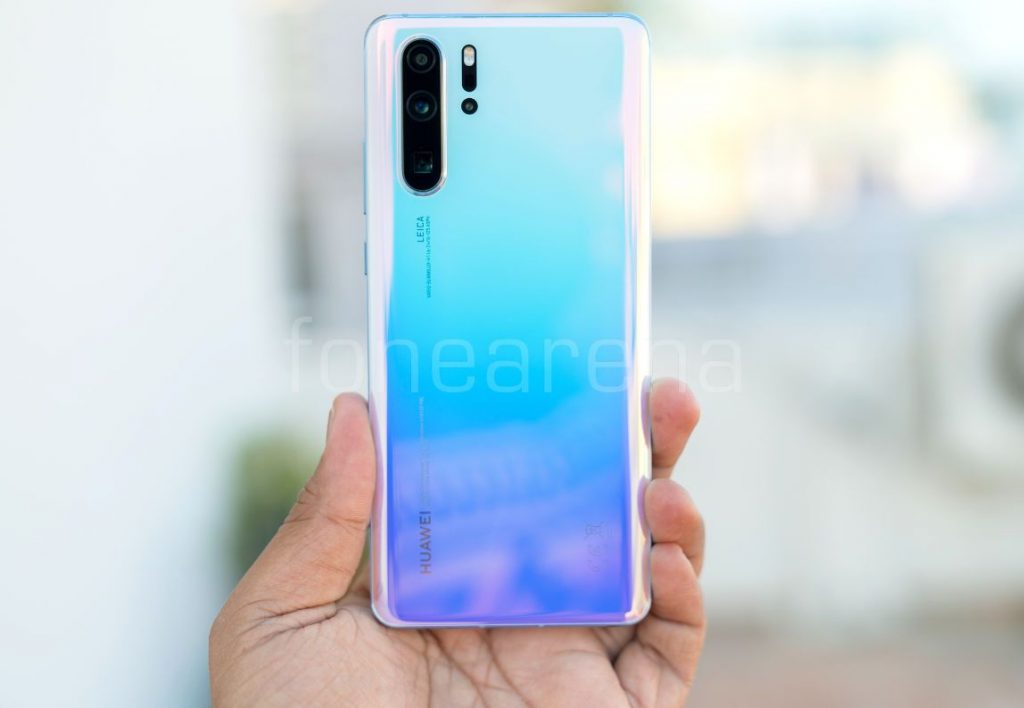 When it comes to aesthetics, the breathing crystal color variant of the P30 Pro looks elegant and very premium. Easily one of the best looking gradients on any phone, and the accent on the power switch is a nice touch as well. When it comes to the placement of the cameras, I feel that the Mate 20 Pro's square camera housing made better design sense but I understand why it has to be designed this way, considering the side-facing sensor for the 5x camera. Overall I'd say, compared to a lot of phones, the Huawei P30 Pro looks bulky. This bulkiness is visible not just in hardware, EMUI is something Huawei has to seriously consider redesigning.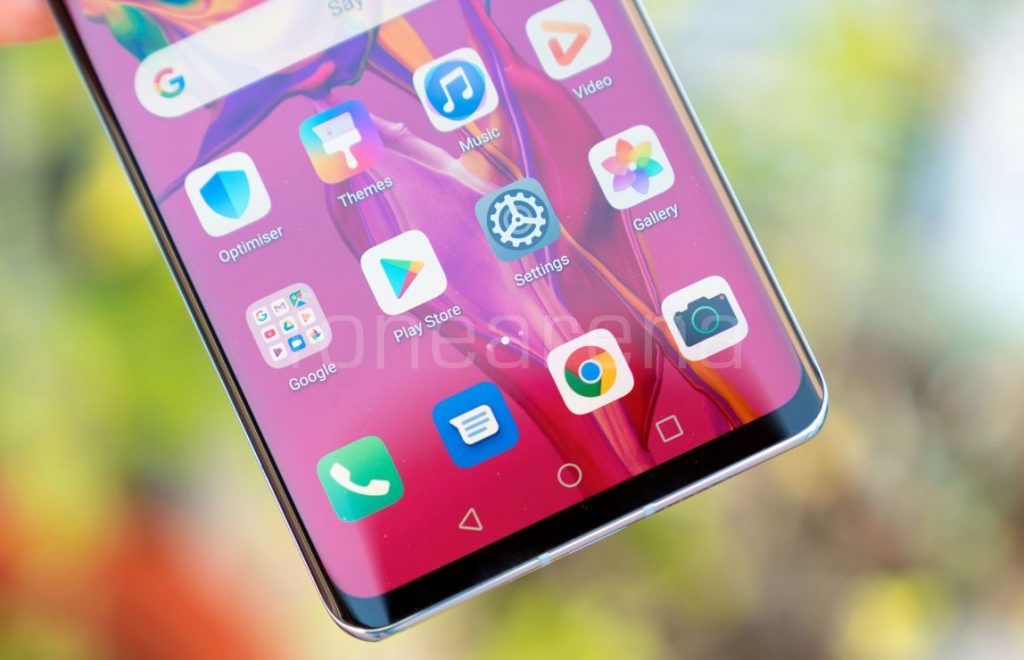 Custom skins are feature rich and highly useful for a brand's ecosystem and customer retention but EMUI and many other custom skins have problems when it comes to aesthetics, updates and to an extent performance optimization. The Huawei P30 Pro is super fast and smooth but still does not prove itself in stability of implementation, be it design of interaction or of visual elements. While fast and smooth performance is a given, thanks to the highly powerful in-house Kirin 980 chipset, software still plays a big role in letting it down. For example, there is still no good gesture implementation on EMUI that works seamlessly. You can get used to the one that it already has, but everyone knows it is far from perfect in terms of design or performance. It's sad that fully optimized custom skins on top of Android still don't exist. If Huawei fixes its design in software and brings it in sync with its hardware, the company will be unstoppable.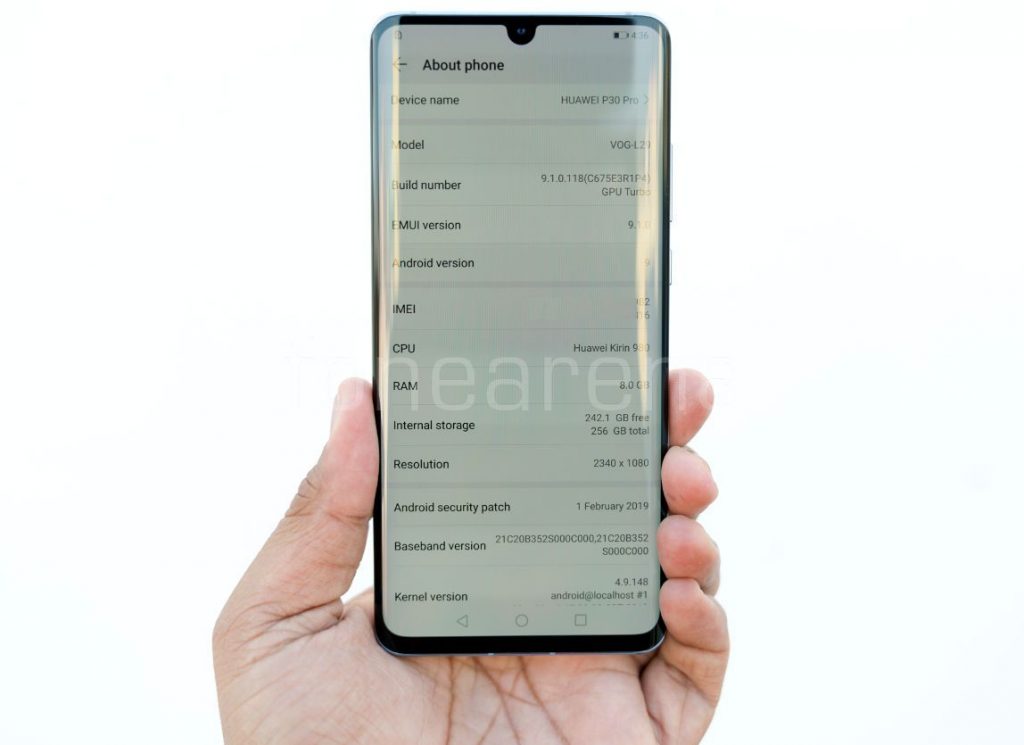 Only three companies have this kind of control over their entire supply chain, well almost. Apple, Samsung and Huawei. Huawei owns its application processor, has its own radios and doesn't depend much on other companies to source its components. No company has a 100% control but what has this led to, is software optimization in line with the hardware design. You get blazing fast charging speeds thanks to the in-built charger charging the 4,000 mAH battery which can wirelessly charge AND reverse charge other devices. 40W on cable, 15W on wireless and best of all, due to the intelligence of software, you get battery life for two days or more. Huawei Share, a direct WiFi based transfer system, a way to wirelessly project your screen and use the device as a computer, all these push the ecosystem and philosophy of the company.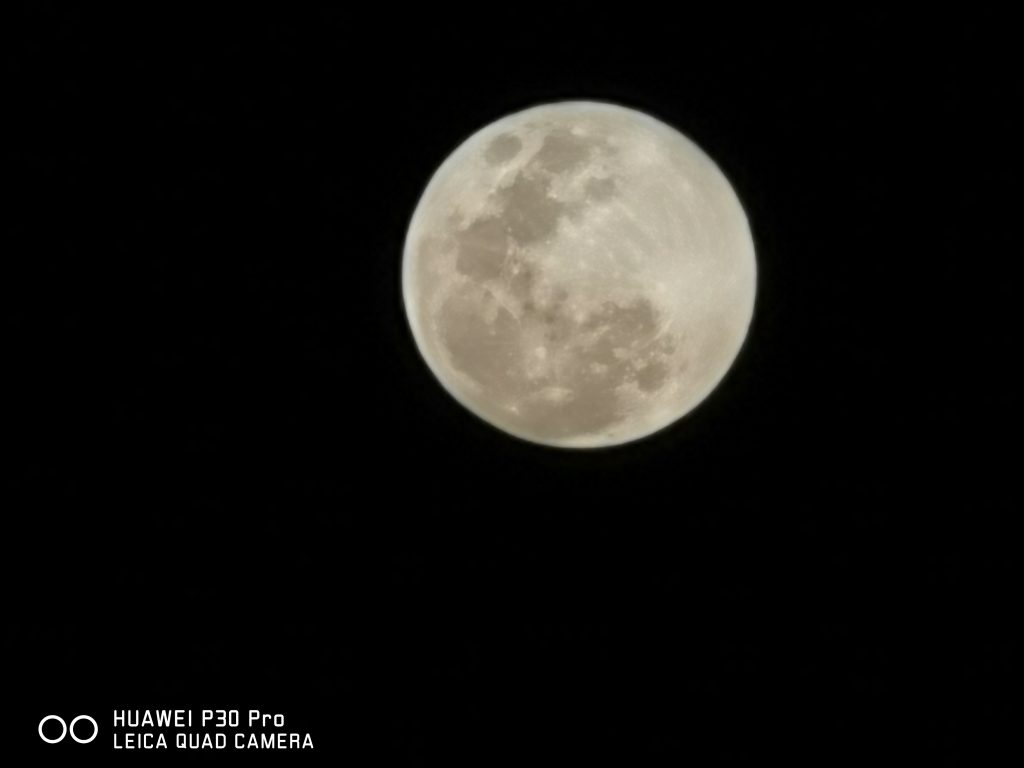 In the end, that's what it comes down to. It's the company philosophy that matters, when a decision is made. While Huawei on its end has a lot to do to demonstrate higher levels of trust with the customer, its hard efforts have undeniably brought results in the market. A lot of people are now trying out Huawei products because they are the only company to be innovating hard and growing marketshare in a declining smartphone market. They are the only company in the world to have a partnership with Leica to make the P series of phones and as it happens, they are now the world's second biggest smartphone maker, second only to Samsung, which has been fighting to keep its position intact.
While Huawei certainly did not fake the moon pictures (our own samples can testify), there is a cloud of mistrust hanging over the company for various political reasons. We all know recommending something from this company would invite questioning. Huawei knows that the only way to beat this would be to show competence in technology and that's what they have been doing for the past two years. With the P20 Pro, they showed the whole world that Huawei is very serious about smartphone photography. This year, with the Huawei P30 Pro, they have shown that Huawei is one of the few companies in the world pushing smartphone photography beyond the limits of human vision. From being just a me-too competitor a few years ago, they now stand as one of the leaders in this category and by merit, the market has decided that they deserve a chance.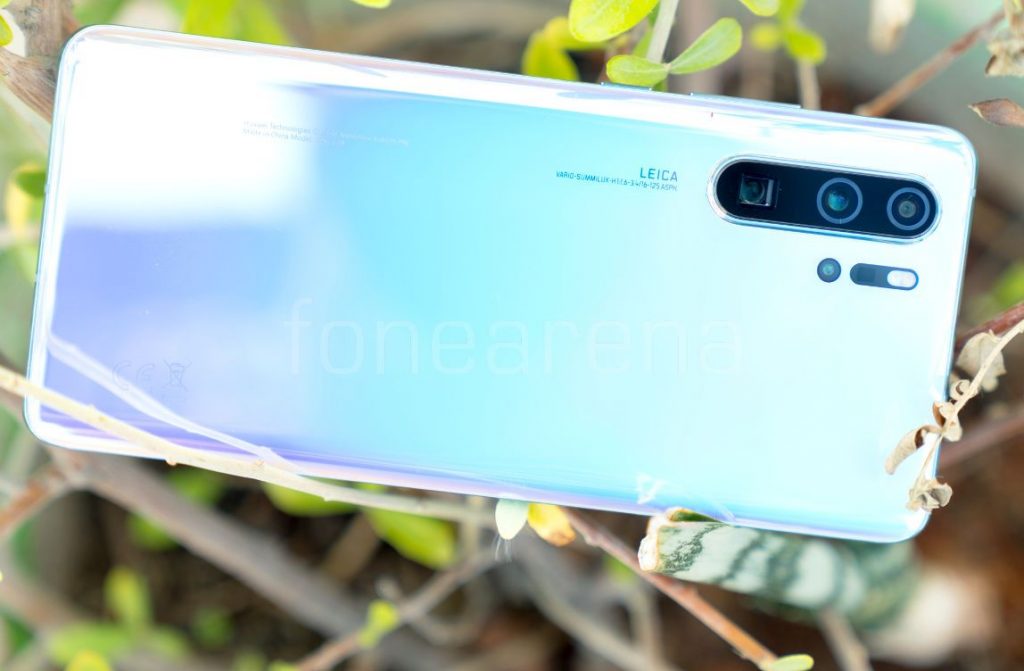 So, if you're a professional who doesn't mind a few quirks in software but is focused on using a smartphone camera as the only story telling tool, the Huawei P30 Pro is easily one of the best and the most versatile options available out there. The ability to literally see in the dark, take photos of stars, to be able to zoom 5 times or go wide without a loss in quality, or for different perspectives, high dynamic range video, accurate depth data from ToF sensor, extra ordinary image stabilization and a long lasting battery life, all of these make the P30 Pro irresistible for photographers and camera enthusiasts.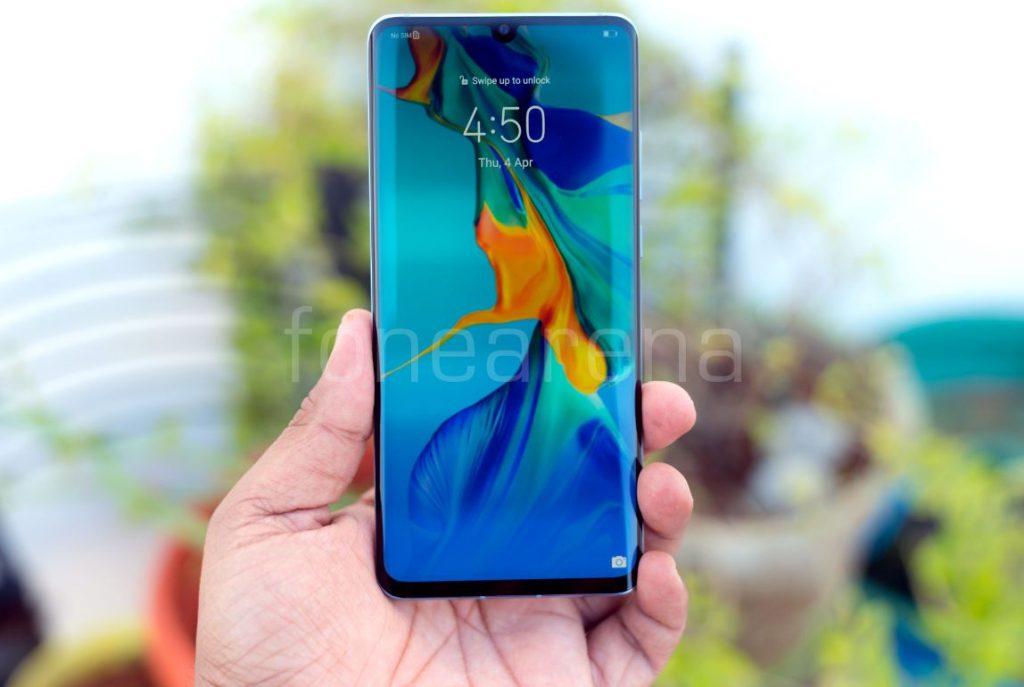 But for those who find quirks in software annoying and want to be on the edge when it comes to updates or efficiency in performance, should stay away. If Huawei manages to occupy the 2nd position in the smartphone market, it means that people are giving them a chance. Either we can join to see if Huawei manages to fix its software design, fix the update cycle and offer an optimized experience on par with the best, or wait till something better comes along. As enthusiasts who seek that mythical smartphone, this is not happening anytime soon, so if you have any specific questions, do post them in the comments section below and let us know what you think of the Huawei P30 pro.
Product Photography by Siraj
Camera Samples and inputs from Siraj, Siva and Bharadwaj