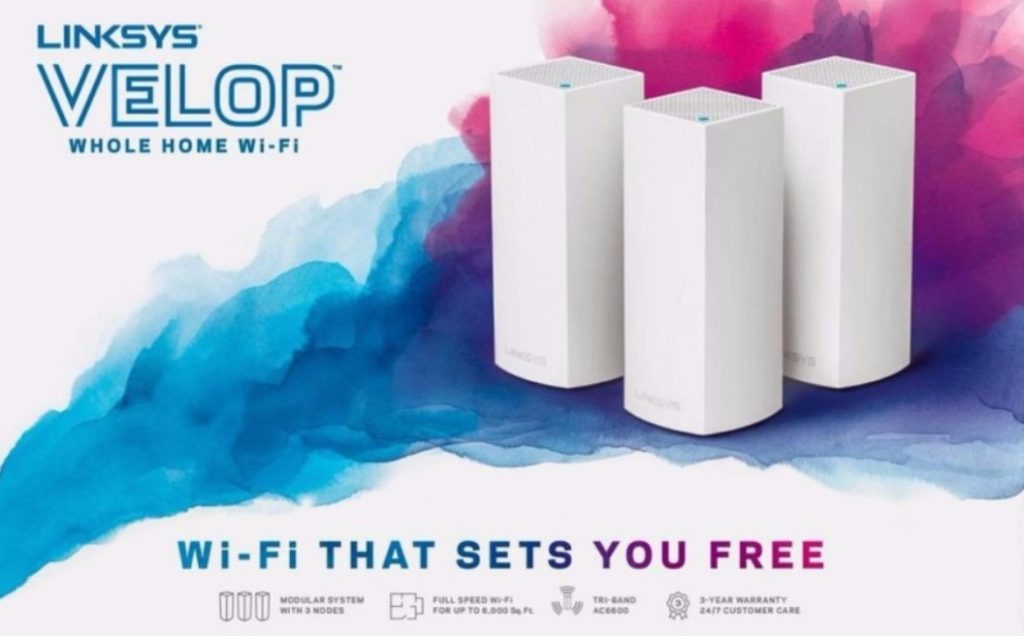 Linksys, the brand which is known for its lineup of routers and networking solutions has announced 'Velop', the whole home WiFi product in India, today. The Tri-Band Mesh WiFi System is priced starting Rs.19,999.
Velop is a Tri-Band modular WiFi solution from Linksys and is installed in different mesh configurations. The installation of various mesh configurations aims to provide fast and reliable WiFi to the edge of a home network.
How Velop Works?
The mesh network system contains individual nodes and each node in the Velop is a Tri-Band system. The Tri-Band AC2200 device will serve as a router, repeater, bridge, and an access point. Velop uses the three radios dynamically to determine the optimal path from the modem and "parent" node to each "child" node and aims to ensure the fastest speeds to all client devices, regardless of which node they are connected to.
Dynamic channel scanning algorithms evaluate the unique conditions of the wireless environment to select the best band (either 2.4 GHz or one of the two 5 GHz radios onboard) as well as the channels within each of the bands in order to improve performance between nodes and client devices.
Features
Velop is powered by Qualcomm SoC and some of the salient features of the mesh WiFi system include Dynamic Tri-Band, True Modular Mesh Design, Dynamic Channel Selection, Spot Finder Technology, Airtime Prioritization, Automatic Updates, etc.
Setup and Configuration
Linksys Velop can be configured through the company's own Linksys app and the entire setup flow happens within the app. The app communicates with the nodes and mobile devices through Bluetooth. It is available for both iOS and Android.
The Linksys Velop Whole Home WiFi available at a starting at a price of Rs.19,999 1 Pack Tri-Band System. The 2 Pack System is priced at Rs. 34,999 and the 3 Pack System is priced at Rs. 49,999. You can purchase on Amazon India at cheaper rates and Linksys authorized channel partners.
Commenting on the launch, Jenny Ng, General Manager, Linksys Asia, said:
Linksys has always been pioneers in home networking and I knew this was the team that could innovate and deliver the ultimate WiFi experience. Velop is a union of performance, design, and ease-of-use and provides what everyone wants – seamless, reliable WiFi.Linksys has set the bar for true mesh networking systems.