How good it would be if there's a system for TVs where you do not see and/or need cable anymore. For this, Samsung is said to be working on a solution in the background, in the form of a wireless power transceiver. Samsung, back in 2018 has filed a patent with the WIPO (World Intellectual Property Office) for a wireless power transceiver and display apparatus with the same.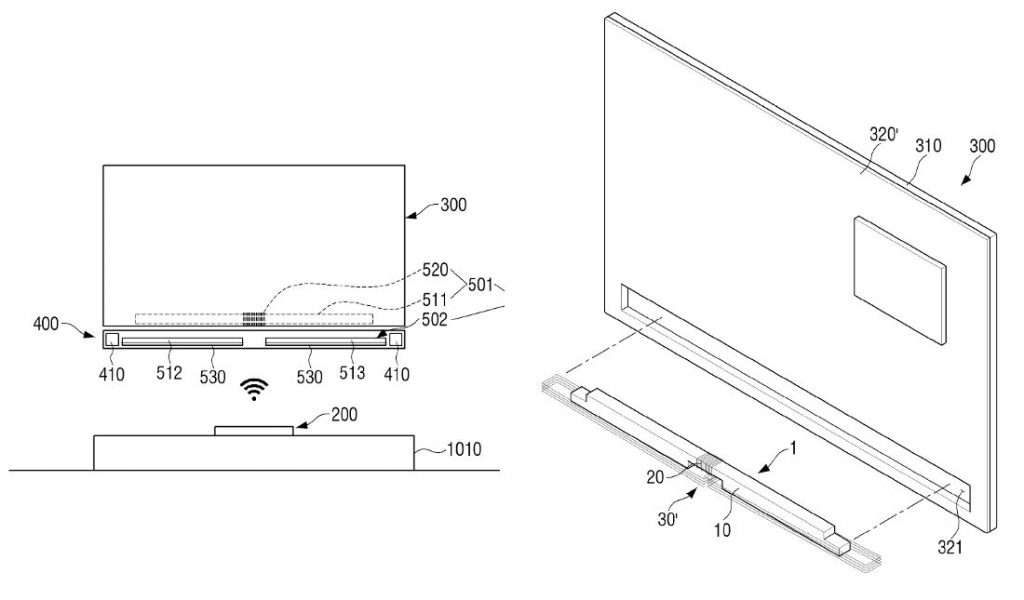 The patent was published on February 28, 2019, and describes a method to power the Samsung TV wireless. Normally this could be made possible by using a wide coil. However, TVs have become thinner in recent years, so there is simply no room in the thin housing to implement such a wide coil. However, Samsung patent reveals a television that is equipped with a wireless power transceiver in the form of a bar, which is mounted horizontally behind the television.
The wireless transceiver is magnetic and has a groove in the middle for the solenoid coil. In addition, the power transceiver is provided with a double coil, which is wound in opposite directions. The power transceiver can function as a wireless power receiver to generate power through magnetic forces emitted by a separate wireless power transmitter. Speakers are also placed on both sides of the transceiver.
The wireless power receiver is connected to a separate box, where the wireless power transmitter is incorporated. It is configured so that it can generate a magnetic field at the power receiver. The box has the shape of a soundbar and should be placed within a certain distance from the television. For now, it is unclear when the first Samsung TV will be introduced without cables, but nevertheless, it might take a few months before it becomes a reality and sufficiently developed to be used in end products.