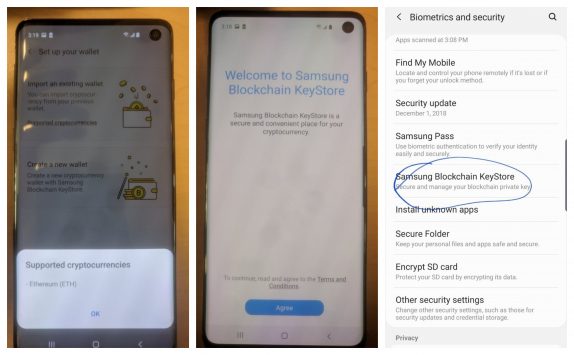 Samsung is known to be working on the Galaxy S10 flagship series which is due in February. Though we have been hearing reports and rumors about the phones, there's still a lot more to know. Before the official public launch, the standard S10 has surfaced the internet along with it brought our first look at the company's new cryptocurrency wallet, Samsung Blockchain KeyStore.
One thing that we can be sure of is the fact that the Galaxy S10 will have a punch hole "Infinity O" display with in-display camera present on the right side. Though the live image doesn't reveal much in terms of the hardware specifications, as expected the phone comes with a bezel-less design. There's a loose gap between the camera and the battery icon.
Moving along, the company's new cryptocurrency wallet as the company describes is a secure and convenient place for your cryptocurrency. Users can apparently import currency from other wallets or create a new one with the app. The current build only has support for Ethereum, but presumably, at the time of launch, it would also support Bitcoin and other popular cryptocurrencies. Another screenshot shows that the KeyStore can be secured with biometrics. That's all we know at the moment, but with launch inching closer, we don't have to wait much to learn more about the flagships.