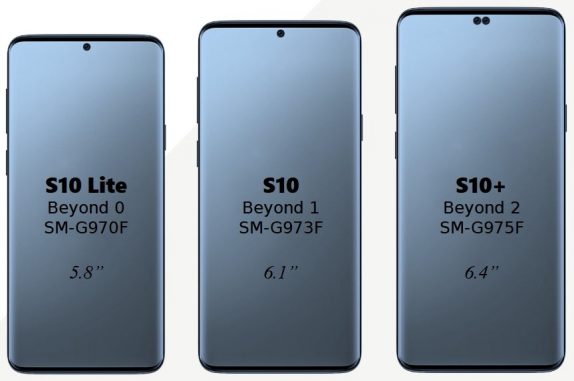 Samsung's S10-series is set to be announced in February. With the launch inching closer, there are still so many details that we aren't aware of. We hear the company is working on bringing a 5G variant in the U.S., Time-of-Flight (ToF) sensors for the first time, in-display fingerprint sensors, and even display cutouts in the devices.
We have heard a lot of rumors, leaks, but we are yet to see a device in the wild to confirm any of these reports. The latest One UI beta firmware on the Samsung Galaxy Note 9 consists evidence of one specific Galaxy S10 model, the possible colors the Samsung Galaxy S10, that Samsung is working on integrating the use of ToF sensors for assistance in biometric authentication, and details of the exact shape and size of the rumored Galaxy S10 Lite, Galaxy S10, and Galaxy S10+'s display cutouts.
The Galaxy Note 9 One UI firmware has evidence of a new device code-name that has not yet been publicized along with references to the other Galaxy S10 device code-names that have previously been rumored (beyond0, beyond1, beyond2, and beyondx). There's also a new device code-name from a file named "boltq5gvzw," suggesting that this is a 5G-capable smartphone with a Qualcomm Snapdragon chipset intended for Verizon Wireless in the United States.
Multiple U.S. carriers have confirmed that they will carry a 5G-capable Samsung flagship. The fact that "bolt" is an entirely new code-name makes us believe that it will pack some major difference between it and the Galaxy S10. The "BeyondX" will have a 6.7-inch display, dual front-facing cameras, four rear-facing cameras, and will be 5G-capable. During the announcement of One UI, Samsung's latest software release based on Google's Android Pie, Samsung announced that the One UI system theme could be set up to match the color of the device.
In the framework-res' arrays file, there is a string array called "wallpaper_device_color." It is unclear if the Galaxy S10 will be sold with all these colors. Time of Flight cameras measures depth by resolving the distance between the sensor and the object based on the "time of flight" of the light travel. Another interesting finding from the latest firmware dump is the animation used for the standard facial recognition feature which should be camera based.
In the same facial biometrics authentication service APK, there are several animation files that were built using Adobe After Effects. Beyond0, the Galaxy S10 Lite, comes with cutout dimensions of 132x132px. Beyond1, the Galaxy S10, has display cutout dimensions of 138x138px. Beyond2, the Galaxy S10+, has cutout dimensions of 132x258px as it will have two front-facing cameras.