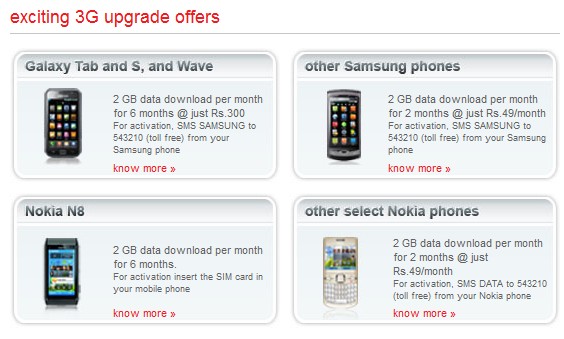 We just noticed that Airtel has published some 3G handset offers on its website. If you are using a Nokia N8 you get 2GB of Data for free for 6 months.You have to just insert your Airtel SIM into the Nokia N8 to avail this offer.
Samsung Galaxy Tab , Galaxy S and Wave
You will get 2GB of data per month for 6 months charged at Rs.300/month. for activation you have send an SMS to 543210 with the message SAMSUNG
Other select Nokia phones and Samsung phones get 2GB of Data per month for 2 months at Rs.49 /month. No idea what users will do after 2 months. You have to send an SMS to 543210 with the message DATA from your Nokia phone or SMS SAMSUNG to 543210 from your Samsung phone.
While we are not sure about the accuracy of the information as the links on this page are broken , we wanted to share it with you as Airtel is yet to roll out 3G Services. We are expecting the roll out to happen in the coming days.