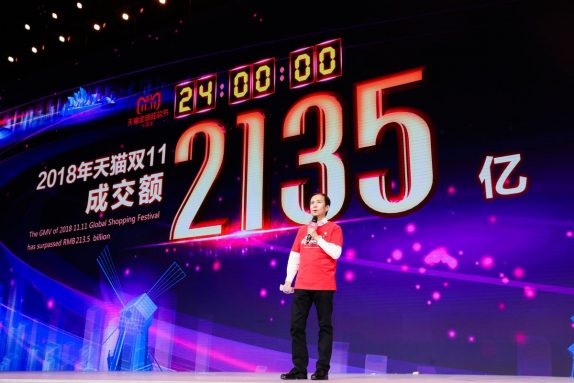 Alibaba Group has announced that it generated RMB 213.5 billion that is equivalent to $30.8 billion of gross merchandise volume on November 11th on the occasion of the singles day. This is an increase of 27% compared to 2017.
That's a wrap on 11.11 2018! GMV: RMB 213.5 billion, or USD 30.8 billion. pic.twitter.com/isGa7diREM

— Alibaba Group (@AlibabaGroup) November 11, 2018
The total GMV settled through Alipay is around RMB 213.5 billion (US$30.8 billion), an increase of 27% compared to 2017. Cainiao Network processed more than 1 billion delivery orders where more than 180,000 brands participated during the sale. Over 40% of consumers who made purchases are international. 237 brands exceeded RMB100 million in GMV, including leading international brands Apple, Dyson, Kindle, Estée Lauder, L'Oréal, Nestlé, Gap, Nike, and Adidas.
Top selling countries to China include Japan, the United States, South Korea, Australia, and Germany. Lazada participated in 11.11 as part of the Alibaba ecosystem, bringing the festival to consumers in Singapore, Malaysia, Thailand, Indonesia, the Philippines, and Vietnam. The 11.11 shopping festival began in 2009 with participation from just 27 merchants.
Daniel Zhang, CEO of Alibaba Group said:
Today we witnessed the strength and rise of China's consumption economy and consumers' continued pursuit to upgrade their everyday lifestyles. Participation from the entire Alibaba ecosystem enabled our brand and merchant partners to engage with consumers like never before. Looking ahead, Alibaba will continue to lead the evolution towards the future digital economy and lifestyle.