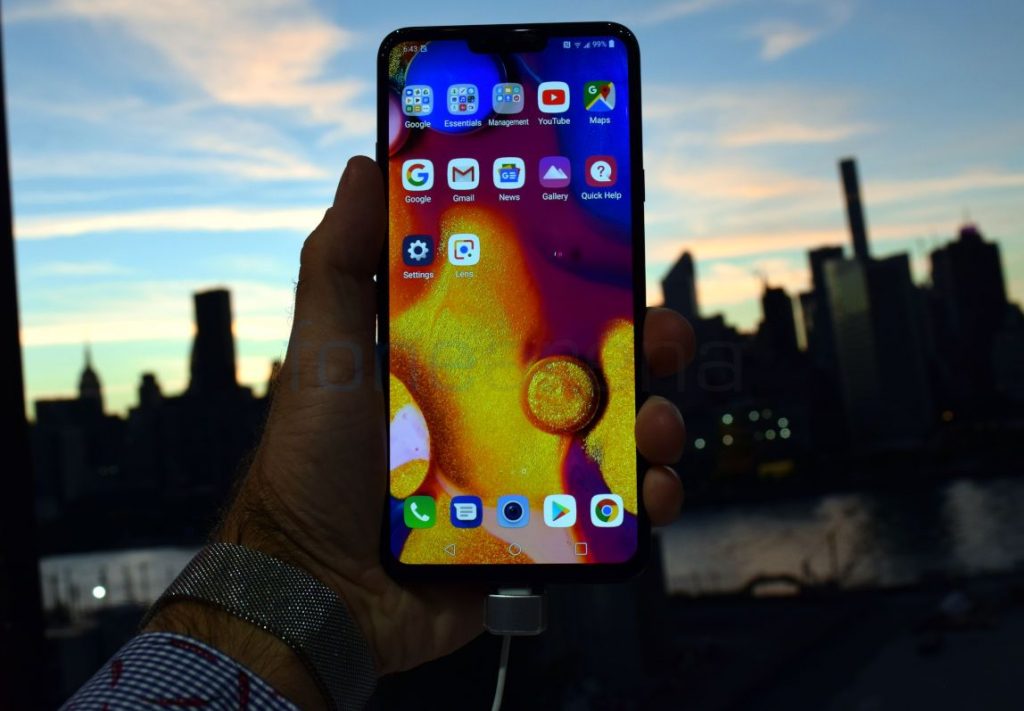 Earlier this week LG took the wraps off two new devices, its high-end phone offering in the V40 ThinQ and a hybrid smartwatch in the W7. I was on site and went hand on with both. I came away mostly impressed. Let's dive in.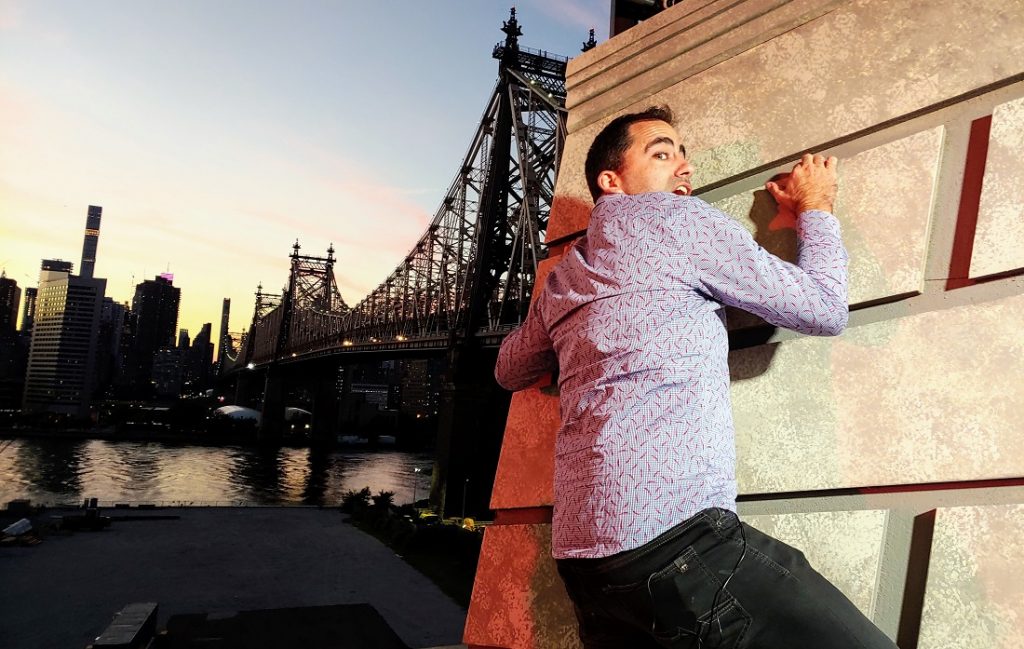 The star of the show was the V40 ThinQ, a smartphone which the company is dubbing "The 5 camera phone." For good reason, since it does indeed have 5 cameras! This is clearly the selling point of this device, and they are again going after the creators with this years offering. They had some very prominent professional rock climbers on hand who they gave the phone early, and they came away with some impressive shots. After the announcement was finished we were allowed to play with the phones ourselves. They even had a faux building for us to climb with the Queensboro Bridge in the background, check it out, shot on the V40 ThinQ.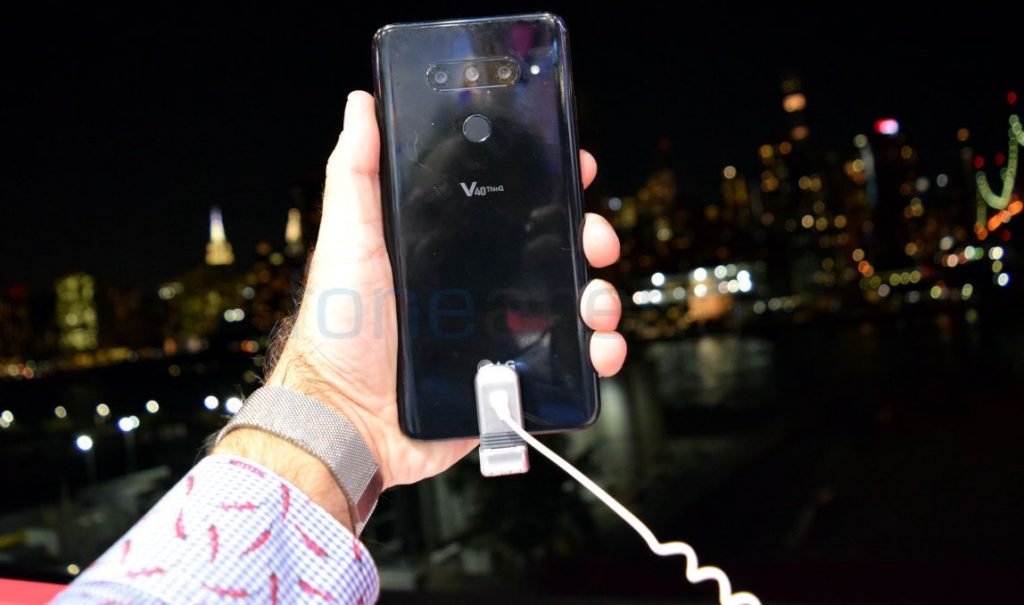 Three of the five cameras live on the back of the phone, a telephoto, a wide-angle, and regular lens. That is three different focal lengths so you can frame your video or photos in any way you like. This is a huge selling point for me as I have always been a fan of LG's wide-angle shots but with the telephoto, it may be a game changer. On the front, the camera fun continues with 2 more shooters. A regular selfie camera and a wide-angle, so you can get all of your friends who came rock-climbing with you in the shot.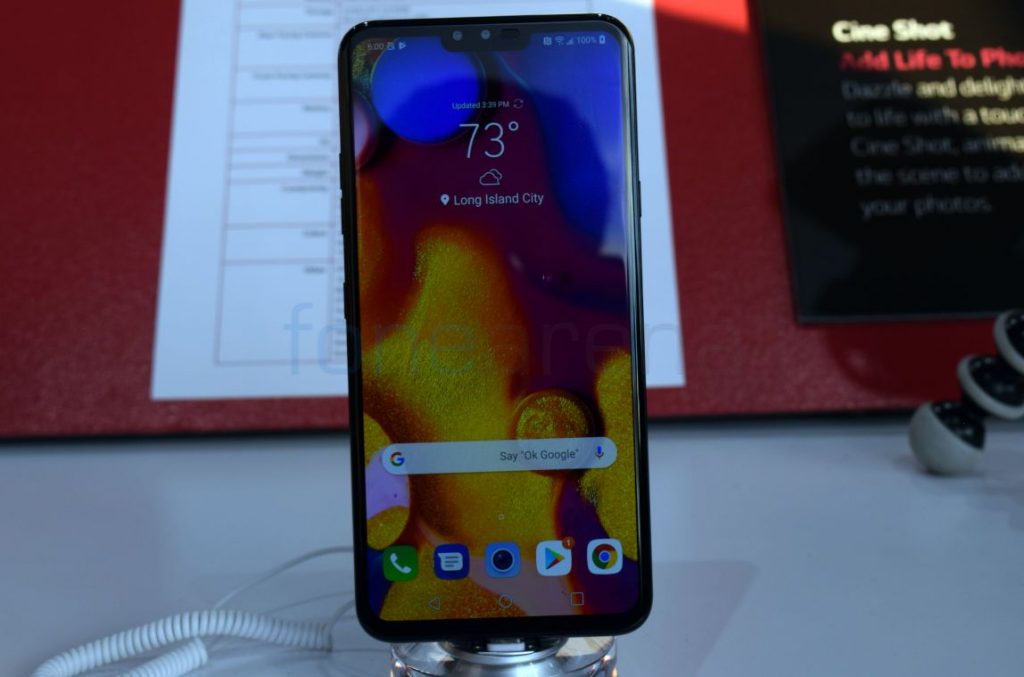 The V40 ThinQ has a huge 6.4 inch QHD+ screen, but since it does have a notch it comes in just a hair smaller than either the Galaxy Note 9 or the iPhone XS Max. It does indeed feel a bit smaller than both in the hand. The screen was bright and easy to read, even in the super bright sun on the rooftop they had us on. The most surprising thing to me was just how lite it was. Almost unbelievably lite. This is in part due to the fact that it only has a 3300mAh battery, which is quite small for this size of phone. I'm a little wary of battery life, especially if they want you to be constantly take photos or video. Will need to have more hands-on time to see that. The glass sandwich design is still with us and is still a super fingerprint magnet but when clean it does look really nice.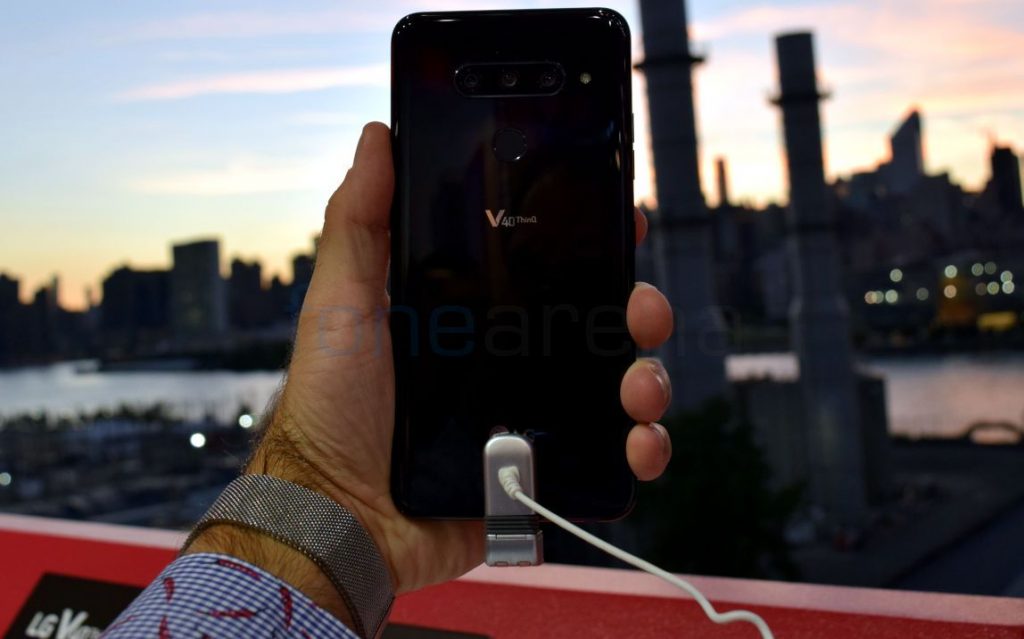 Pricing on the V40 ThinQ  is rather steep. US$ 949 to start is a hard pill to swallow when you consider the stiff competition. There is a silver lining for anyone looking to get the V40 ThinQ  first. If you preorder LG will also send you a DJI Osmo Mobile 2 gimble and a 256GB microSD card along with the V40 ThinQ. So you can film and create to your heart's content. This is actually an enticing deal as its about a $250 value.
Overall I came away impressed. LG's cameras have been a high point for their phones for years now and to have 5 on a single phone, give you many options. I'm excited to use them more. Looking forward to doing a full review soon.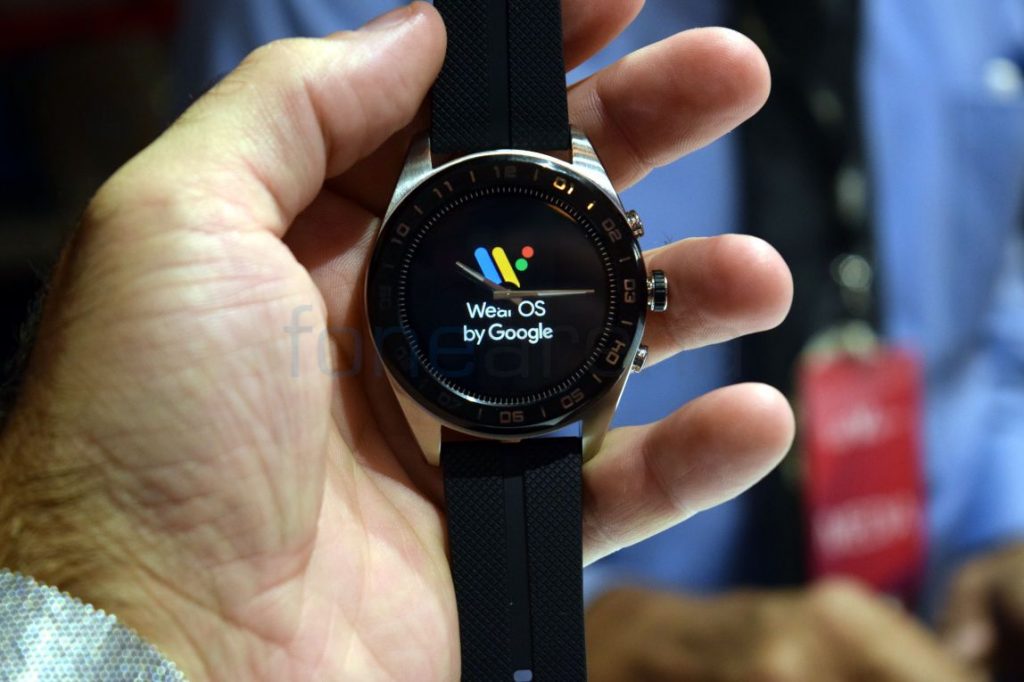 LG also announced its new smartwatch running WearOS, simply called the W7. During the announcement, they did not talk about specs much but I did get a chance to put one on my wrist and try it out. It's a slightly large-ish watch, especially compared to my OG Huawei Watch.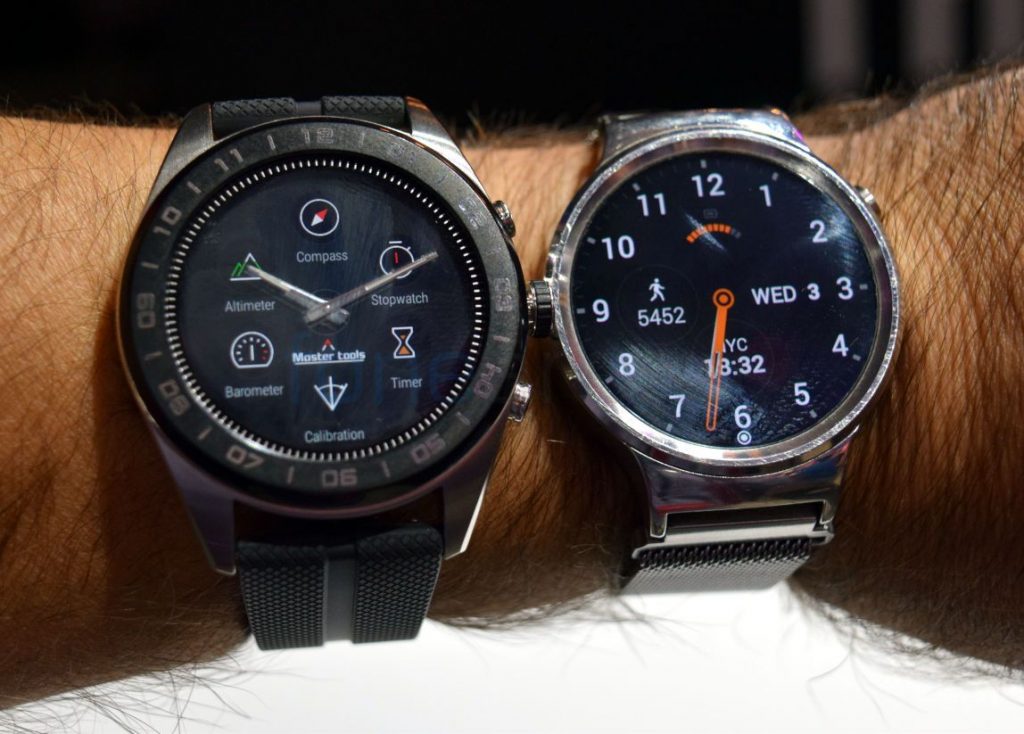 It has a traditional 3 button design which each one launching different functions of the watch. I am happy to see the addition of a rotating crown, one of my favorite features on WaerOS watches that few manufacturers take advantage of. The strap was silicon but it does have regular lugs so you can swap it out for any 22mm band you like. It charges via its charging dock with integrated pins, so no wireless charging here.
The trick that this watch has is that it is a "hybrid" watch. Meaning not only does it have a touchscreen interface running WearOS, it also has a mechanical set of hands! These hands float between the screen and the glass covering it. It has mechanical watch hardware buried inside of this watch which means that this watch can function like a normal watch even when not using the smart side.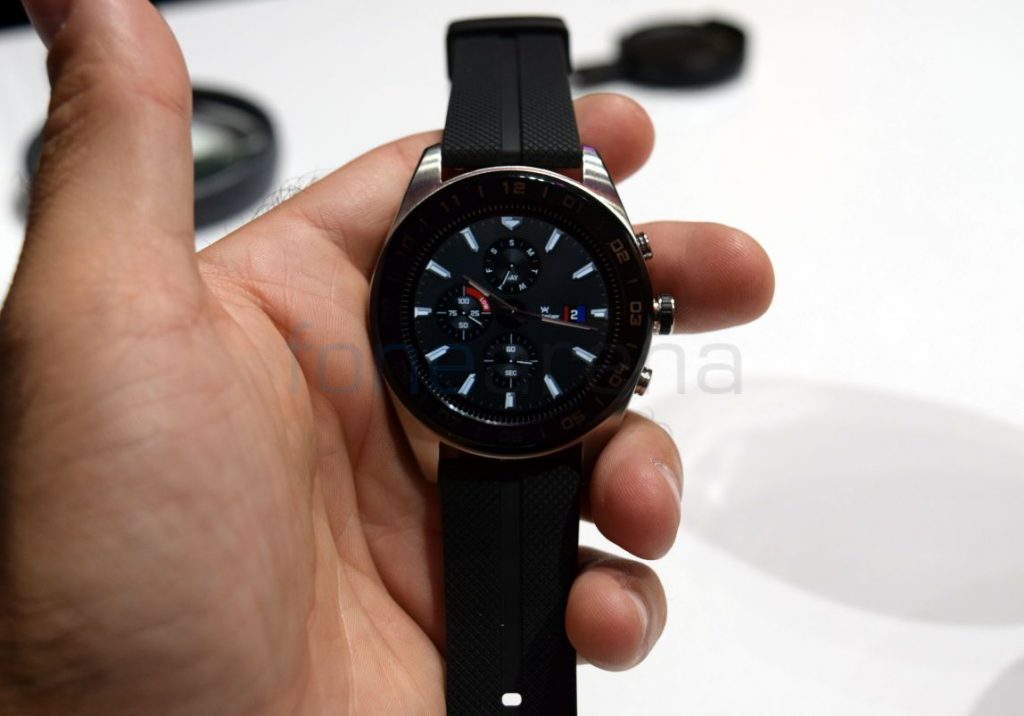 The WearOS battery life is two days which is about average now, the regular watch had can stay powered for 100 days! So if you forget your charger on a trip, you can still use it as a watch which is a nice touch. A really cool innovation since I am a fan of watches but hampered by the fact that it is running 2-year-old silicon.
No, this brand-new watch does not have the new Snapdragon 3100 chip from Qualcomm.  It has the same old 2100 which means its already out of date. Not only that, it does not have GPS, NFC, or a heart rate monitor. It's obviously not a fitness watch but the lack of NFC for Google Pay is a clear miss.
I won't count it out yet before using it a bit since the look and feel on wrist is real nice. The real issue may be its price. Since it does have that extra mechanical watch hardware inside, it does mean that this watch is one of the most expensive Android watches out there. US$450 is the starting price. LG is placing this as a timepiece first and a smartwatch second. Not sure if that will work for them, but I am excited to use it and review it in the future.
Thanks to our friend Joey Riz from NYC!