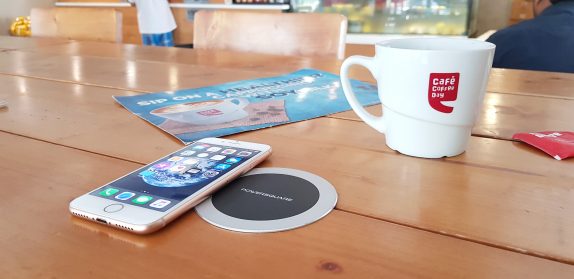 Café Coffee Day today announced that it has partnered PowerSquare which is one of the leading wireless power solution provider in the world to unveil India's biggest wireless charging network for cafes across the country. The network has installed 300+ wireless charging spots across 100+ cafes in leading cities like Bengaluru, Chennai, Mumbai, and Delhi.
Café Coffee Day says that smartphones have become an integral part of its young consumers' lives, and this move would strengthen its digital technology to keep its customers connected at all times. After making free WiFi available across the country, it is launching wireless charging, another category first, in partnership with PowerSquare.
Customers visiting Café Coffee Day can now place their Qi-enabled smartphones on the surface and wirelessly charge their phones. This eliminates the constant hassle of carrying charging cables. This smart wireless charging modules designed and developed by PowerSquare will be installed on café tables.
The company says that this launch is the first step in Café Coffee Day's strategic partnership with PowerSquare and will soon offer wireless charging to customers across all their cafés in India. Cafe Coffee Day and PowerSquare will be expanding this service across cafes in other cities including Hyderabad, Pune, among others.
Commenting on the new initiative, Venu Madhav, CEO, Café Coffee Day said:
 Café Coffee Day has always been pioneering in its approach with several firsts in the country. We not only pioneered the café culture and introduced many youth in India to international coffees and unique coffee brewing techniques but we also led the way with technological innovations based on consumer needs and trends. From introducing high speed Wi-Fi at many of our cafes to being the first to try out digitized tables, Café Coffee Day has always believed in investing in digital technology to enhance in-café experience for our young customers. Café Coffee Day's collaboration with PowerSquare to offer customers the next level of convenience with wireless charging solutions is a perfect fit and in sync with our vision of being future ready to provide a better cafe experience to our customers.
Pavan Pudipeddi, CEO, PowerSquare and one of the founding members of the Wireless Power Consortium (USA) said:
where and anytime without having to carry a charger. By building this network of charging spots, we are looking at transforming the lives of consumers across the country who no longer have to worry about low battery. Our association with Cafe Coffee Day is a major step in realizing this vision. With their presence and scale, Cafe Coffee Day provides us with a great platform to provide these services.