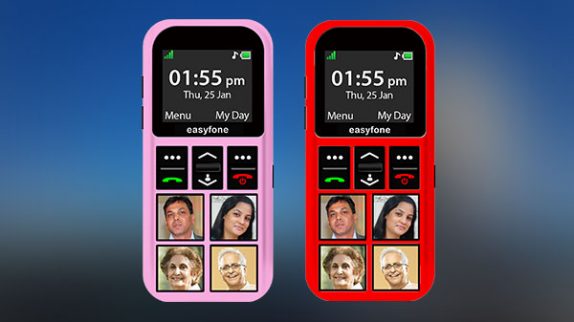 eNovus enterprises, makers of the easyfone has launched easyfone Star, which they claim is India's first phone that has been specially designed for kids to help them be safer and connected. The phone comes with a host of safety features like call restricting to only pre-configured numbers so that the child can only talk to known people.
Interestingly, it doesn't come with internet browsing capability, but it comes with a GPS which allows parents to track their child whenever required. Also, the easyfone Star comes with a dedicated SOS key. The company is also bundling a unique feature where all the important & critical settings can only be configured through the company's website through a service called "CareTouch," and these settings cannot be changed on the phone by anyone.
The phone also lets the parent make changes to settings remotely when they are in the office or are traveling. Parents can set "do not disturb" time windows and can also set up reminders & schedules for study time, activities, B'days, etc. for their children. The easyfone Star will be available in 5 colors and is priced at Rs. 3490. It is available on the company's website and leading e-commerce platforms.
Commenting on the launch, Rahul Gupta, the CEO & Co-Founder of the company, said:
We are extremely pleased to launch easyfone Star – India's first phone for kids. The easyfone Star addresses the needs of parents who want a phone that helps their kids be safer & connected – but without the downsides that existing products offer. The easyfone Star has been designed specially for children – essentially as a safety device, and we have filed patents for the same. We will soon be launching more such products for children as well as others who have unique needs that existing products do not address.