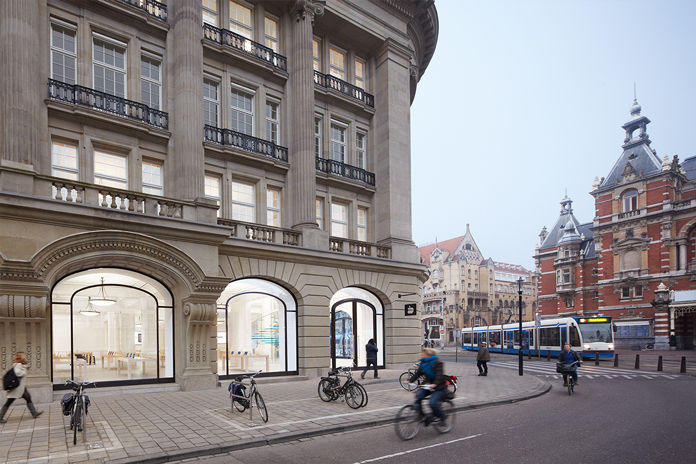 According to reports, the Apple Store at Leidseplein in Amsterdam has been briefly evacuated earlier today likely after an iPad exploded due to battery overheating. Furthermore, three people reportedly suffered breathing problem, possibly due to vapors from a leaking battery. However, they were treated on site.

Flinke chaos en paniek na ontruiming Apple Store Leidseplein #Amsterdam Noord-Holland Ongeval https://t.co/4dLjLzEMlx pic.twitter.com/CuDC2e8Sdt

— AS Media (@asmedianl) August 19, 2018
Brandweer aanwezig bij incident met mobiel apparaat bij de #AppleStore #Leidseplein. Geen rook, wel drie personen met ademhalingsproblemen. Vermoedelijk door een lekkende accupack. Zij worden ter plaatse nagekeken.

— Brandweer AA (@BrandweerAA) August 19, 2018
Soon after the incident, Employees have placed the iPad in a container with sand, and the store was evacuated as a precaution, according to the reports. The chemical vapors or other irritating substances emanating from the iPad battery may have been the reason for breathing issues, according to the Amsterdam fire department.
Fortunately, there weren't any significant injuries or damages at the store, and again at around 3:00 p.m. local time, employees and customers were allowed to re-enter the store as usual, according to the reports. At this moment, it is unclear if iPad battery pack was an official from Apple or an aftermarket replacement, or it could be from the overheating from the improper handling during servicing by a Genius Bar technician. End of the day, such incidents are very rare as a small percentage of lithium-ion batteries do pose a risk of overheating, swelling, and bursting open.