Home automation and smart assistants are a burgeoning category of products that not everyone will find value in. There's no denying that they work better in concert with existing connected devices. How much utility you get out of them completely depends on how much of your life lies on the internet and the kind of investments you've made in building out a smart home. 
The initial launch of the Echo Spot had me excited. As someone who has dabbled in smart assistants and speakers ever since the first generation Dot, the gorgeous design, display of the Spot seemed like the perfect way to aesthetically integrate such an assistant into your living space. Turns out, the Echo Spot does indeed excel at it.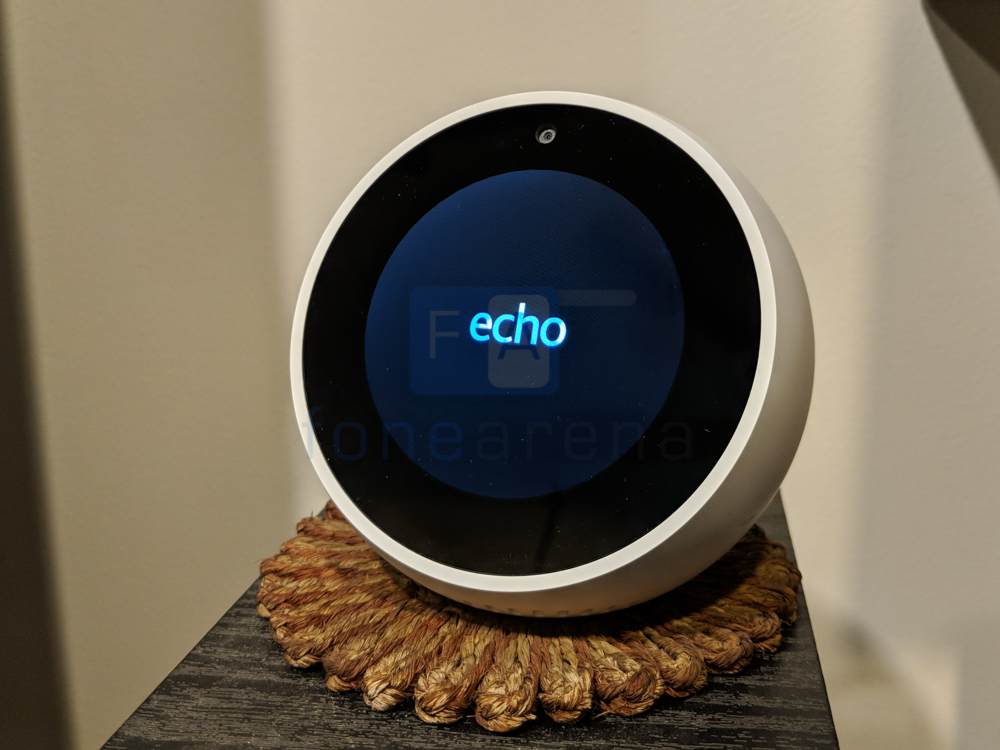 First, the design. Amazon essentially kick started the display enabled smart speaker category with the Echo Show but its fair to say that the Show isn't really a looker. Enter the Echo Spot. Sitting at the cross section of Bauhaus minimalism and a very distinctly 60s aesthetic, the Spot takes heavy inspiration from old school alarm clocks which in turn is a genius stroke by Amazon.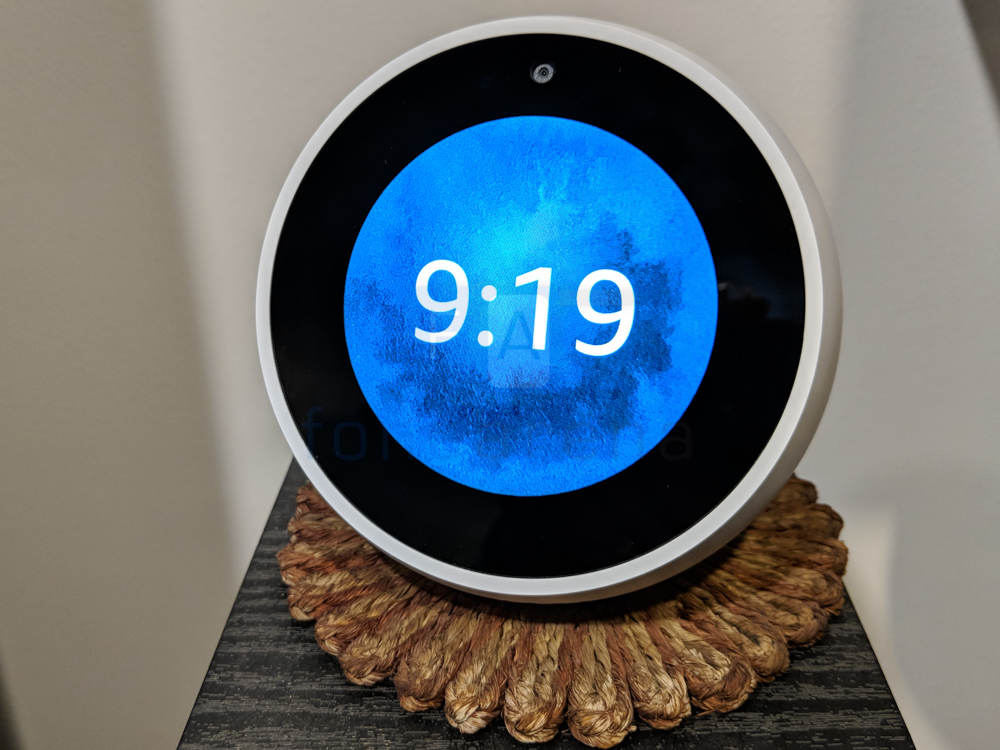 Hardly anyone uses a dedicated alarm clock anymore but the sheer aesthetic of having a bed side alarm clock is very appealing. By playing on that emotion, Amazon has built the perfect hardware to get a smart assistant into your room. The front fascia of the Echo Spot is circular with a similarly circular 2.5 inch screen built into it. There are large bezels all around but since this is not a media consumption device, it simply adds to the design element without impeding usage. Around the upper edge of the ring is a camera and light sensor.
The camera is meant to allow video calls between Echo Spot or Echo Show users. It works fine but it won't be replacing Skype or WhatsApp for anyone. If you've got multiple Echo Spots in the house, you can potentially use them as a high end intercoms. To be fair, I'm not entirely comfortable with the idea of having a constantly connected camera in my bedroom. I just don't like the idea that someone with mal-intent could potentially get access to the camera remotely. You could put up a piece of tape over the camera but nobody really wants to do that and Amazon should absolutely consider a camera less model of the Echo Spot. Moving on, you can ask Spot to click photo booth style photos of you. This is fun the first time around and then you'll likely totally forget about it.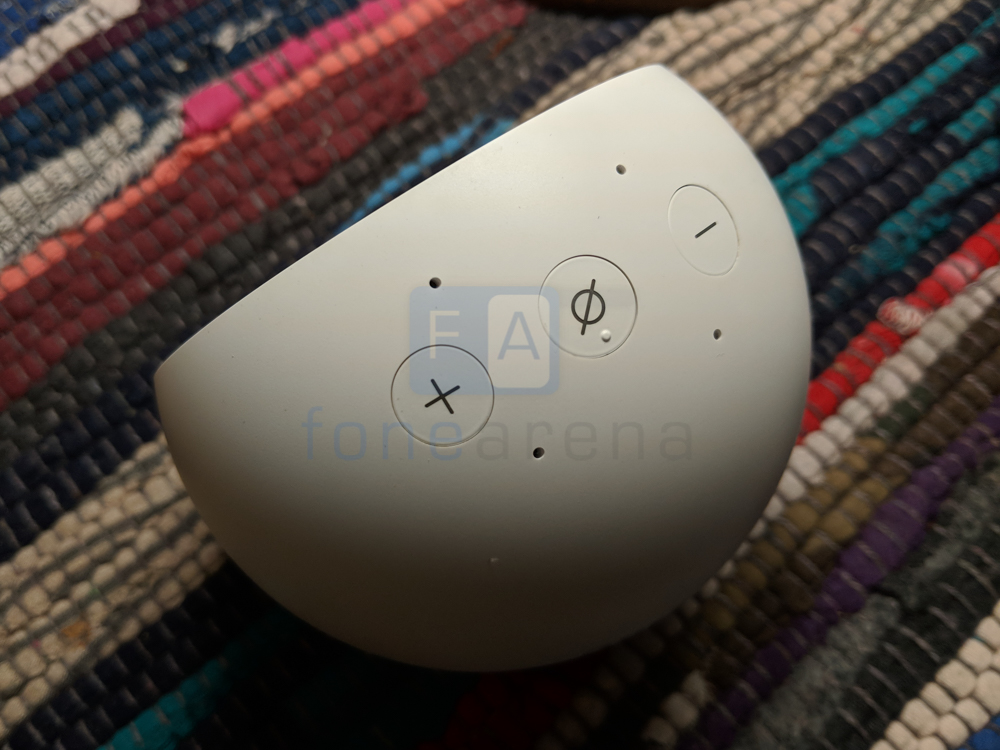 Up top are buttons for direct access to volume controls and a single button to mute the microphone and camera. The latter would be much better placed somewhere slightly harder to reach. I've lost track of the number of mornings where I just pressed down on the button in a failed attempt to switch off my alarm and then kept yelling at Alexa. The Echo Spot didn't work, of course, since I'd switched off the microphones.
Further down you'll observe a power port as well as a 3.5mm audio jack. The Spot doesn't charge over micro USB or Type C but since it really isn't meant to be moved around, it shouldn't prove to be much of a problem. The 3.5mm audio jack is one of the nicest conveniences in Amazon's Echo line up. Much as I like the Google Home Mini, the lack of an auxiliary port to pair up with a better speaker is sorely missed. The Echo Dot had it and so does the Echo Spot. You can, of course, just use Bluetooth connectivity as well to pair up with a wireless speaker. In fact, the Echo Spot lets you put it in Bluetooth receiver mode as well so that you can use it as a speaker for your phone.
How does the Echo Spot sound? Not too bad. To put things in perspective, the Spot has a 1.4″ driver, the Echo Dot has a 0.6″ driver while the Google Home Mini has a 1.5″ driver. The Spot gets louder and has a focus on mid range frequencies and not much of bass. Don't expect to rock out to dubstep or metal on this but it'll serve in a pinch if you want to listen to podcasts, internet radio or even pop music at a moderate volume. The Google Home Mini in contrast produces a fuller sound. There's no merit in comparing the Echo Spot to the full size Google Home or Echo speakers because they handily outpace the Spot by leaps and bounds.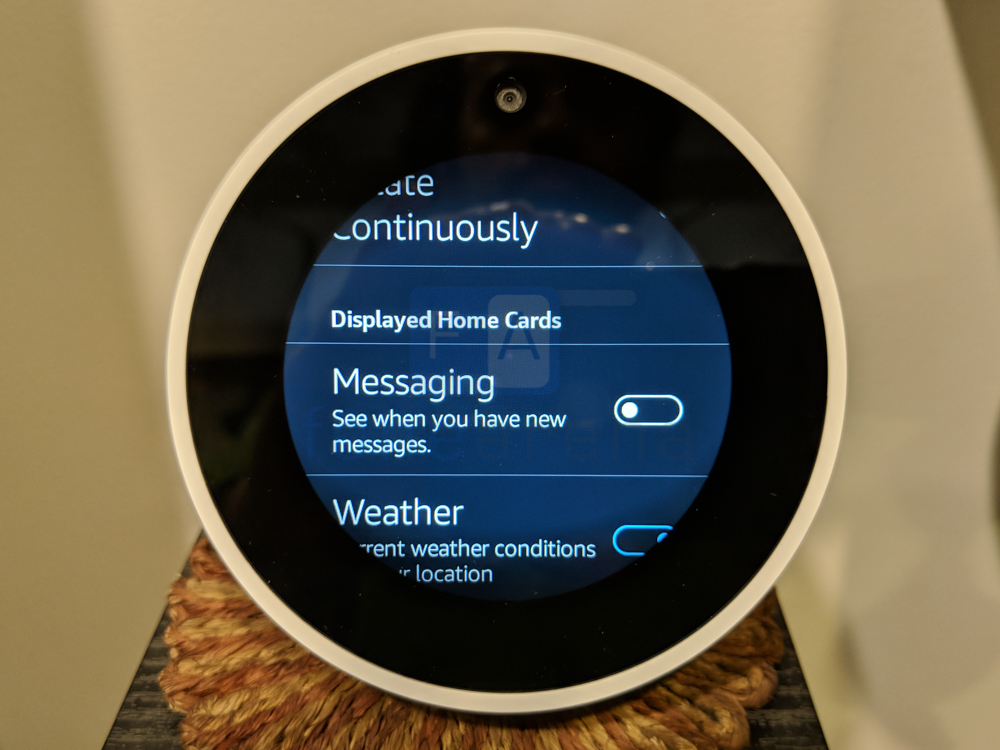 Now coming to the actual functionality, Alexa on the Echo Spot is essentially the same assistant that you get on the Dot, Echo or for that matter even on your phone (if you've installed the app). What has changed though is the visual element. There's a bit of customisation available in the form of clock faces. In fact there are about 23 of them available and some can be customised further to show off your personal images. The home screen shuffles between the clock face, latest news items, your calendar appointments and the weather. You can turn off most of the extra home screen elements. There's no obvious way to select the kind of news you are going to see though. Additionally, the Spot has a tendency to go back to the home screen quite quickly. If you're using it as kitchen timer, you'll have to call on Alexa to display the timer every few minutes since it goes back to the home screen.
The four far field microphones built into the Echo Spot do a marvellous job of picking up your voice from across the room. Like the other Echo devices, the Spot shows a visual indicator of Alexa listening to your request. Amazon has invested massively into building a skill ecosystem for the Echo family and it shows. Anything you might want to automate, is likely supported well here. Unfortunately, there is little content making use of the screen. Sure, there are a few skills allowing you to view the latest news clippings or movie trailers but it quickly gets tiring to view the tiny letterboxed content on a 2.5 inch circular screen. My favourite feature perhaps was the ability to see album art, controls for Spotify. You can even scrub through your music if you wish to.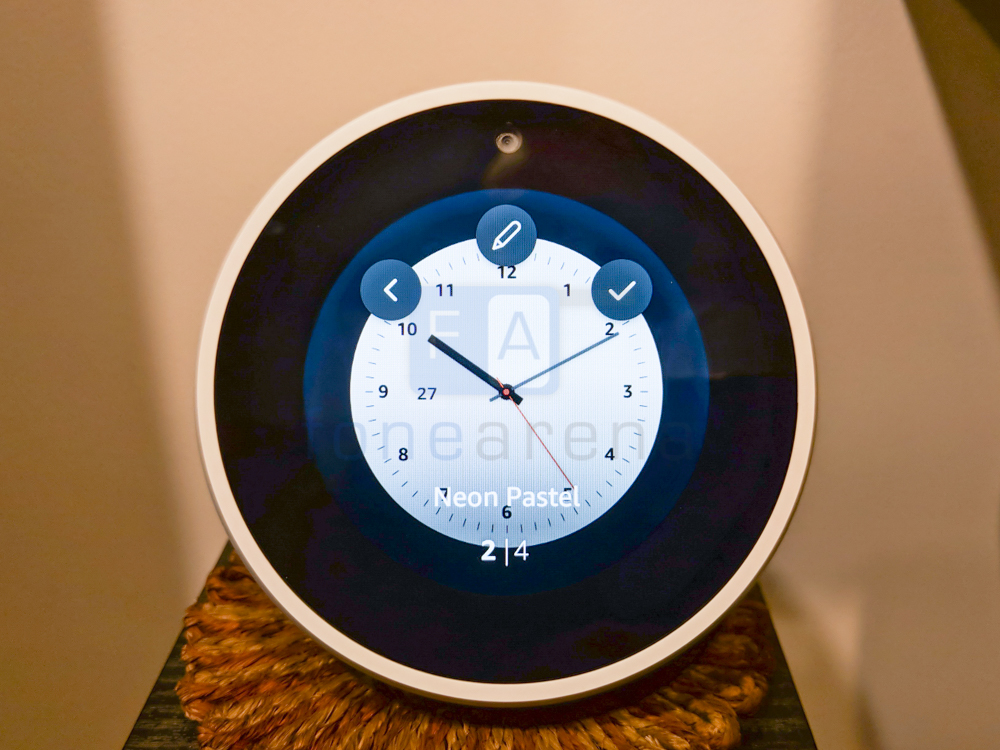 Over time, I've come to depend on the Spot for listening to music and switching on the smart lights and plugs at my home using the routines feature. A single command simultaneously switches on lights, relevant plugs and puts on my favourite playlist. I also found it handy to set up calendar events, look at my schedule at a glance, ordering from Amazon, currency conversions and of course as a clock. Owing to the ongoing feud with Google, there's no way to get YouTube content on it nor can you ask for traffic updates or the time to get to your destination. The last two are things that the Google Home excels at.
Did the Echo Spot change my life? Not quite but I would be lying if I said that it didn't make things easier. Waking up to your favourite internet radio station or switching off lights without having to get up are small conveniences that really add up and add value.
Conclusion
While the Echo Dot and Google Home Mini both are perfectly priced as an entry way into the world of home assistants, the Echo Spot is a much more aesthetic and might I say luxurious take on the same concept. Functionally, the entire Echo lineup of products is nearly identical.  Aesthetically though, the Echo Spot is currently the only home assistance product that I would place proudly on my bedside. The retro-futuristic design, simplistic display and of course, Alexa, helps it transcend the line between a consumer durable and an essential smart assistant. That Amazon can constantly update it to make it even smarter, makes it even better. The Amazon Echo Spot is priced at Rs. 12,999 and is available from Amazon.in .