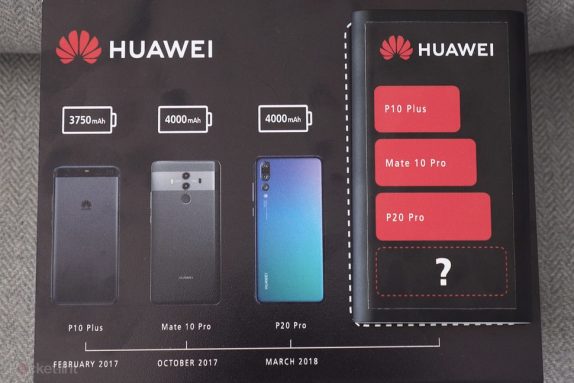 Huawei is all set to introduce the next Mate series flagship; dubbed the Mate 20 Pro before the year of this year. The Pro variants of the Huawei flagships usually pack a bigger battery, displays and the company more or less has confirmed that the Mate 20 Pro will have the biggest battery yet on a Huawei flagship. 
The promotional material lists previous high-end flagships -the P10 Plus, Mate 10 Pro, and P20 Pro – and a blank spot at the end of the line with a question mark and battery charging pack attached. Along with the phones listed is the improvement in the battery capacities over time. The question mark at the end hints about the upcoming 'Mate 20 Pro' as the biggest battery in the range to date.
Since the Mate 10 Pro and the P20 Pro pack a massive 4000mAh battery, we can only assume that the upcoming Mate 20 Pro will have even bigger battery even if it is marginally bigger at 4100mAh. However, weirdly, the teaser image shows that the battery pack of Mate 10 Pro is indicated to have a smaller battery than the P20 Pro even though they are identical. As for the specs part, the Mate 20 Pro is likely to be powered by the Kirin 980 SoC that is going to be unveiled at the IFA 2018 event later this month.