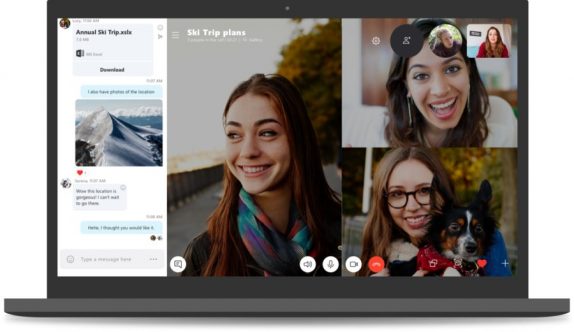 Microsoft today is rolling out a new update to Skype for the desktop that brings the version to 8.0 replacing Skype version 7.0. This update replaces Skype Classic. The new features to skype 8.0 include free HD video and screen sharing calls, chat media gallery, share photos, videos, and other files, and more. 
The new free HD video and screen sharing calls lets you connect with 1 or 24 of your friends, families, or colleagues no matter what device they use. It allows for video calling in high-definition 1080px video. It allows for more productive messaging through the use of @mentions to easily grab someone's attention in a group chat. You can easily find all your @mentions and get back to people in the notification center.
The new Chat media gallery makes it easier to find files, links, and photos that were shared in a conversation. You can access all the media by clicking the Gallery icon under the chat name to see all the files, links, and photos in the conversation. You can share photos, videos, and other files up to 300MB by dragging and dropping files into your conversation window.
Skype V8.0 for iPads with features like quoted messages, personalized themes, chat list, @mentions, and more are now available on the Skype for iPad. The company has also announced a set of new features that will be coming later this year. These include read receipts, private conversations, call recording and this call recording is completely cloud-based, and as soon as you start recording, everyone in the call is notified that the call is being recorded.
You can invite your friends to Skype by simply going to your profile in Skype and tap the 'Share Profile' option to invite others to join Skype. Lastly, you can Skype users to easily join groups by sharing group link, much like WhatsApp invite.