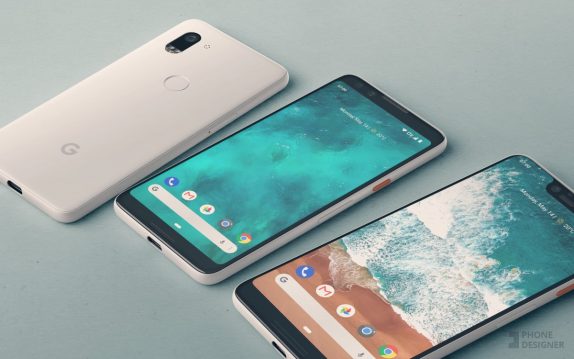 Google Pixel series is slated to release later this year, while there is still time for the renders and live images to come out; we now hear some interesting details about the Pixel 3 flagships. It is said that Google is working on an upgraded Pixel smartphone line, this also includes a variant with a nearly edge-to-edge screen.
As you would expect, Google is planning two models; Pixel 3 and Pixel 3 XL. The larger model said to feature nearly edge-to-edge screen, except for a thicker bezel known as a chin at the bottom of the phone. According to the leaked screen protector images, the XL model will embrace a notch design. While the regular model will have an 18:9 aspect display with no notch.
Because so many asked for it: The Pixel 3 compared with the XL#Pixel3 #nonotch pic.twitter.com/ElPtRvqJDJ

— Phone Designer (@PhoneDesigner) May 30, 2018
Though the Pixel line-up smartphones are best in the flagship segment, it often falls short when compared to Apple iPhones, and Samsung S-series and Note series flagships. According to IDC, Google shipped fewer than 4 million units in 2017 compared to 216 million iPhones shipped in the same period. Usually Google partners with LG, HTC for Pixel line-up, but for the very first time, Google is said to be in talks with Foxconn as a potential manufacturer. Foxconn is the same manufacturer that assembles iPhones.
The company is aiming to remove the bezels entirely on the future Pixel smartphones eventually, but it might retain the notch and chin this year to keep stereo speakers on the front of the phone, says Bloomberg report. With Android P allowing developers to build applications that work around the cutout. It is also reported that Google will include two front-facing cameras. However, the company will stick with a single-camera lens like last year.
The company is also said to be working on an upgraded Android operating system that takes advantage of the artificial intelligence capabilities and this is said to roll out as early as next year. With Apple prepping a low-cost 6.1-inch iPhone model, it needs to be seen how Google will place the upcoming Pixel phones in the market.