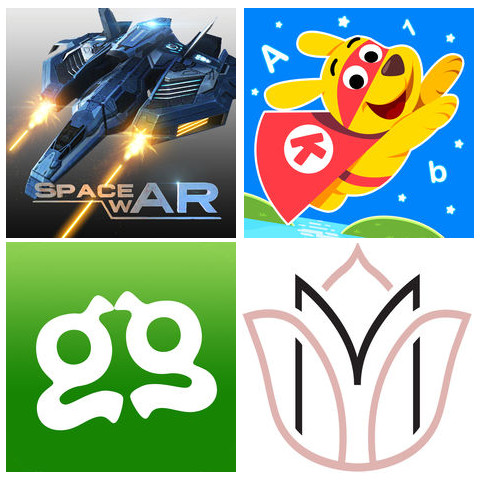 Last year, the Cupertino giant Apple announced the availability of ARKit to the public with the roll-out of iOS 11. In fact, the ARKit is available for anyone with an iPhone 6S or later, the iPad Pro, and the latest 9.7-inch iPad. With the help of ARKit, the iOS developers integrate the high-end augmented reality experiences either in existing apps or introduce a new app specifically for this platform. Right now let's take a look at 5 interesting AR apps available right now for download.
SpacewAR Uprising (Rs. 159 / US$ $1.99)

Developed by Tresreis Games, the SpacewAR Uprising is an exclusive iOS game that requires the player in AR cockpit of a fighter plane with a task to save planet earth from evil alien forces. This game is designed to be intense and fast-paced, where the player needs to move to find proper angles to execute the enemy. With this game, a player can choose other ships, weapons and can even upgrade them as well.
Kiddopia (Rs. 299/month or Rs. 3,999 / $49.99 for lifetime access)

Known for best educational apps for kids, PaperBoat Apps came up with Kiddopia. Started by the couple, Anupam and Anshu Dhanuka, Kiddopia is one of the early adopters of ARKit in India. In this app, AR feature has been integrated into 'My Pet Buddy' and 'Christmas Sparkle' segments, which will be helpful for preschoolers and toddlers. This edutainment app delivers the content to educate kids about shapes, numbers, ABC, tracing, spelling and general knowledge through some attractive visuals and sounds. In addition to the above mentioned interactive activities, the app also includes animated nursery rhymes for kids.
Froggipedia (Rs. 299 / $3.99)
In our school days, we all have heard about dissecting a frog in introductory biology. Most of us get intimidated by a thought of killing and dissecting a frog even though you get a profound learning experience. Well, for those, there is an app called Froggipedia which allows the students to examine an AR frog and dissect it using the Apple Pencil replacing the scalpel, providing a more ethical and cost-efficient alternative to traditional lab dissection. This iOS exclusive app has ARKit 1.5 integration to it. It is developed by Designmate (I) Pvt. Ltd.
Myntra (Free)
For those shopaholics, we suggest you the latest Myntra app that equips an exciting yet unique feature that enables the users to check their show size using AR capabilities. You can access this feature in the name of 'Shoe Size Finder' section under 'Categories'. Users can install the app for free through the App Store.
Mirelz (Free)
Yet another fashion-based immersive app where women can try out their favorite jewels on them using the front camera and can seel feedback from their dear ones through chat options. In addition, users can Mix'n'Match accessories to visualize combinations as well. You can download the app on your iOS device for free.