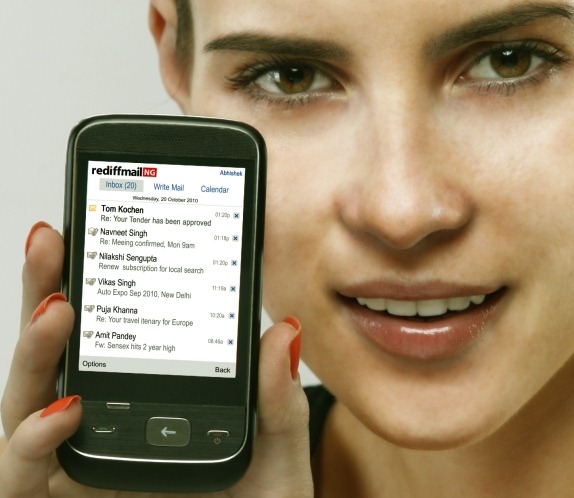 Rediff has launched a new mobile push email service called Rediffmail NG supporting a wide variety of phones including Symbian , Java and Android. The service costs Rs.50 per month and the company aims to offer an affordable email service to the market.. We are yet to try out the service and will share our views as soon as possible. Looks like Blackberry and Nokia Messaging have some unexpected competition. And the most interesting part is that service will support even Micromax , Karbonn breed of phones.
Press Release
Rediff Significantly Alters India's Mobile Landscape with the Introduction of

Rediffmail NG – a Highly Affordable, Mobile Email Service for only Rs. 50 per Month

New Delhi, India, October 20, 2010 – With Rediffmail NG, the next generation email service from Rediff.com (NASDAQ: REDF), India's 670 million mobile phone users (source: TRAI report – August 2010) now have the advantage of being able to send and receive unlimited email, look up contacts and assign tasks to the calendar, and set reminders with the same ease from mobile devices as from their PC – and all for the lowest price available (Rs. 50 per month, inclusive of data charges).

Rediffmail NG works across almost all mobile phone platforms including Symbian, Java, and Android, as well as on almost all mobile phones in the market (close to 200 models from over two dozen manufacturers), including all entry level phones which cost as little as Rs. 2000. Users of Rediffmail NG can maintain service upon switching phones which has become increasingly important with the introduction of new phone models on a continuous basis. Additionally, Rediffmail NG offers seamless service across a users phone and PC, providing instant and secure synchronization, and full-service features including multi-taking capabilities, administrative control, SMS and always-on e-mail service.

According to Ajit Balakrishnan, Chairman and CEO of Rediff.com India, "With Rediffmail NG, we offer an affordable email service for the mass market, helping individuals communicate and conduct business anywhere and anytime, enabling Indian entrepreneurs compete with the world. Even small-sized business owners will now have a cost-effective way to equip their employees with mobile communications and increase productivity. Our approach in this product design has been inspired by the TATA Nano, which has made it possible for millions of people to aspire to own a car."

Ajit Balakrishnan concluded, "For more than a decade, Rediff.com has brought innovative online services to the India market. Rediffmail NG is simply the latest in a line of innovative products from our company. Globally, the mobile application economy is gaining momentum and companies are slowly shifting to a subscription based revenue model. We believe our Rediffmail NG initiative is a first step in this direction and we have plans to continue to take advantage of the growing demand for data-driven solutions."

Prospective users can purchase Rediffmail NG directly via the Company's website at www.rediff.com by clicking on the Rediffmail NG icon and following a few simple steps. Additionally, service can be easily obtained by sending an SMS, text message with the word "mail" to 57333 whereby users will be guided to the enrollment page or connected to a local Rediff representative.