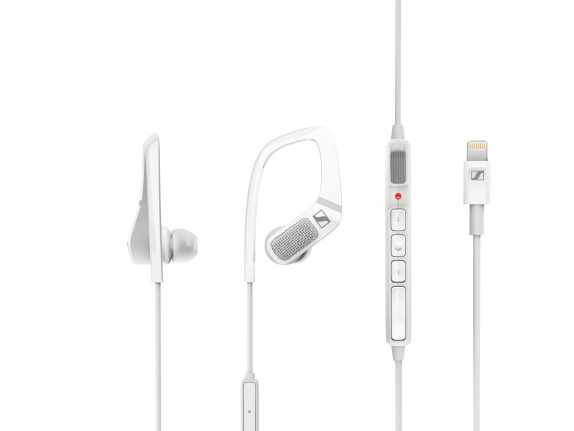 Sennheiser today launched the AMBEO Smart Headsets aiming to take the Virtual Reality (SMART) audio to the next level. It is a smart compact and mobile 3D sound recording headset that is aimed at offering Virtual Reality audio space for vlogging and other content creation.
It uses the Apogee's proprietary PureDigital technology and integrates seamlessly with Apple iOS devices to deliver immersive audio quality. The microphones are positioned in a way that it can pick up the sound just like your ears would. You can use the Smart Slider to adjust the mic sensitivity to normal or loud, i.e. concert, environments resulting in three-dimensional and immersive sound experience.
The headsets are fine-tuned A/D and D/A conversion, and an Apple MFi-certified Lightning connector so that it stays compatible with Apple iOS devices.  It comes with a 'Situational Awareness' feature and using the rocker switch, you can either make the outside noise fade into your personal program or you can deploy the active noise cancellation, blocking out your acoustic environment.
Situational Awareness also works when you are recording or making a call and can, of course, also be turned off. They come with ear hook design which is extremely stable and fits in-ear very well. The additional built-in microphone lets you take calls and operate voice controls.
The Sennheiser AMBEO Smart Headsets are priced at Rs. 19,990. The headset is available from Sennheiser store online as well as offline stores in India. The company said that it is working Android version which will be available at a later date.
Commenting on the launch, Kapil Gulati- Director Consumer Segment, Sennheiser India said:
 With Sennheiser focusing on providing the best and futuristic audio solutions to its consumer, AMBEO is Sennheiser's program and trademark for 3D audio. For us, AMBEO is the umbrella for different types of immersive audio configurations. And that is from the recording side, to the processing side, to the playback side. We believe that SMART puts your eyes in another world; Sennheiser AMBEO brings your ears along.We are very thrilled to have launched the AMBEO Smart Headset in India. The new headset will be able to create an illusion of sound that will leave the consumer in awe. With our AMBEO SMART HEADSET, we have surely set our sight to revolutionize the Virtual-Reality audio space in India.