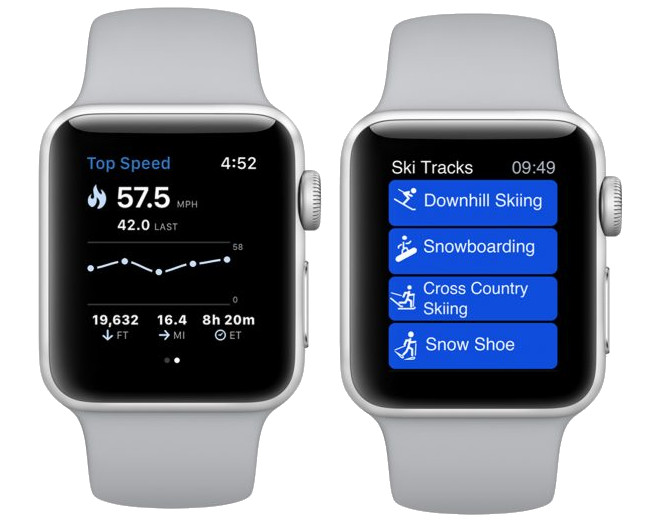 Apple has started rolling out updates to the apps available in the App Store that now lets you track skiing and snowboarding activities. Watch users can now record runs, see vertical descent and other stats, and contribute active calorie measurements directly to the Apple Watch Activity app.
Apple says that developers can take advantage of the built-in GPS and altimeter in Apple Watch Series 3 and custom workout APIs that were rolled out in watchOS 4.2 to enable tracking of specialized metrics. The update to apps for snow, Slopes, Squaw Alpine, Snocru and Ski Tracks now track metrics on the slopes including total vertical descent and horizontal distance, a number of runs, average and maximum speeds, total time spent, calories burned and more.
Furthermore, apps can also auto pause, resume, users will get credit towards in Activity rings, and the workout information will be synched to Health app on iPhone with user permission. Using Siri, users can start Slopes and snoww to track runs using just their voice. The updated apps are now available on the App Store and require watchOS 4.2 or later.
Commenting on the same, Jonny Moseley, Olympic Moguls Gold Medalist and Squaw Alpine Mountain Ambassador said:
Having the ability to track the details of runs with Apple Watch is an incredible asset for everyone from training athletes to skiers and riders just looking to have fun and stay active. The Squaw Alpine app for Apple Watch helps me when I'm out with my family to not only track exactly where my kids are on the mountain, but also compare our performance, so I can make sure I'm keeping up with my sons and add some fun competition to our day.