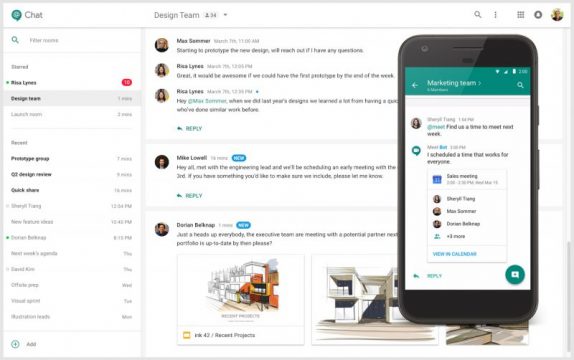 Google just announced that it is introducing Hangouts Chat as a core service in the Gsuite. The Hangouts Chat service will launch by default on unless you've chosen to opt for new services manually. Gsuite users can have direct and group conversations to collaborate easily and efficiently. It was announced back in March last year and takes on Slack.
Hangouts for businesses will have dedicated, virtual rooms to house projects over time, plus threaded conversations, join online meetings, use artificial intelligence to speed up workflows, collaborate with colleagues, offers an enterprise-grade solution for better security and reliable making it simple to track progress and follow up tasks.
It also comes with 25 bots to speed up workflows, ranging from finance and human resources to CRM, project management and more. Hangouts Chat is compatible with the classic version of Hangouts, and you will be able to use classic Hangouts. On the other hand, all one-to-one direct messages will forward both ways between Hangouts Chat and classic Hangouts by default.
If you currently have forced chat history off, you will need to enable Hangouts Chat in your Admin console regardless of your setting for opting for new services. Hangouts chat launching for both rapid release and scheduled release and will be available to all G Suite editions except Government. Since it is announced just, it will be rolled to users in the coming few days.