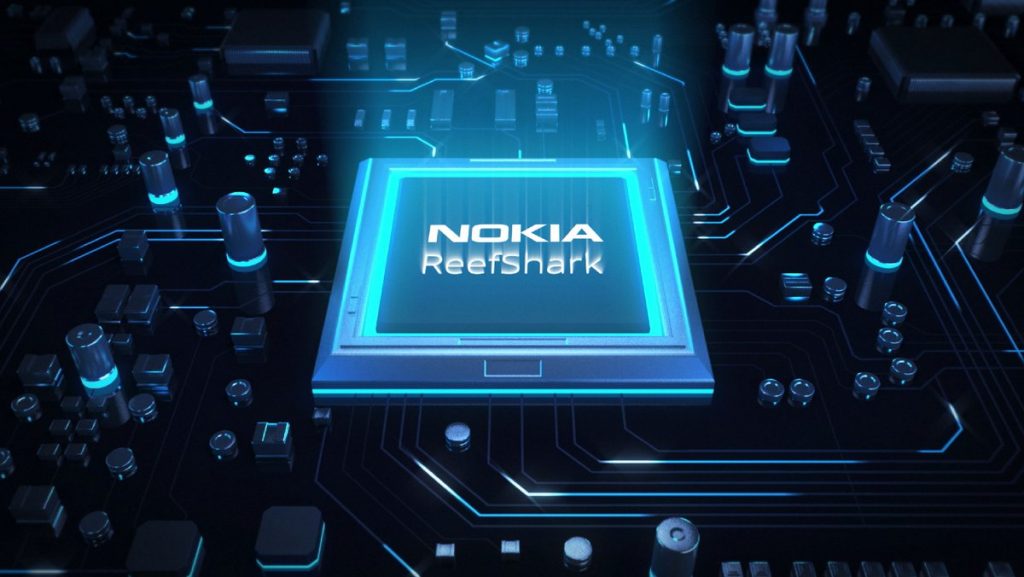 Nokia today has unveiled the new ReefShark chipsets which are aimed to take leverage of the in-house silicon expertise and reduce the size, cost and power consumption of operators' networks and meet the radio requirements of 5G. The company has also outlined its implementation of Future X network architecture for 5G. The chipsets also incorporate the Nokia's artificial intelligence (AI) and nanometer chip technology.
The ReefShark chipsets also leverage on the company's capabilities in antenna development for mobile devices and base stations. The chipsets for RF (radio frequency) are also said to significantly improve the radio performance and also results in reducing the size of massive MIMO antennas. ReefShark chipsets also reduce power consumption in baseband units by 64%, compared to such units in use today.
The ReefShark chipsets for compute capacity are delivered as plug-in units for the commercially available Nokia AirScale baseband module which is a software upgradeable to full 5G functionality. These plug-in units also results in triple throughput with upto 28GBps to 84 Gbps per module
AI in 5G networks enables real-time radio monitoring and optimization and brings in the ability to apply techniques such as network slicing to meet the service level demands of new business cases. The company is working on common toolkits and interfaces for service providers to quickly adopt and implement machine learning technology in their networks.
Nokia mentioned that it is currently working with 30 network operators using ReefShark and is aiming to ramp up the field deployments during the Q3 2018. On the other hand, the Future X combines high-capacity 5G New Radio, core, and SDN controlled 'Anyhaul' transport to provide network capabilities for the commercial 5G network. The Nokia 5G New Radio is based on 3GPP 5G New Radio Release 15 standard and the AirScale Radio Access is a modular way of building radio access networks delivering services with virtually unlimited capacity, scaling and market-leading latency and connectivity.
The Nokia 5G Future X portfolio outlined functions include Nokia's 5G AirScale active antennas, Nokia 5G Anyhaul, Nokia's 5G Small Cells, Nokia 5G Core, Nokia Massive Scale Access, 5G Acceleration Services. The company mentioned that it will further detail the Future X architecture for 5G at the MWC 2018 next month.
Henri Tervonen, CTO of Nokia Mobile Networks and head of R&D Foundation said:
With ReefShark, Nokia has created a clear competitive advantage. Its combination of power, intelligence and efficiency make it ideally suited to be at the heart of fast arriving 5G networks.
Marc Rouanne, president of Mobile Networks at Nokia, said:
With our 5G Future X portfolio we are opening up network data and network intelligence to our customers to jointly program and tailor machine learning and automation that runs on our new silicon. The Future X architecture invented by our Nokia Bell Labs research has made it possible to mix the knowledge across Nokia, between IP, Optics, RF, software and innovative in-house silicon. We now expect to be able to deliver unprecedented capabilities and efficiencies that will allow our customers to transform their service offering for 5G.