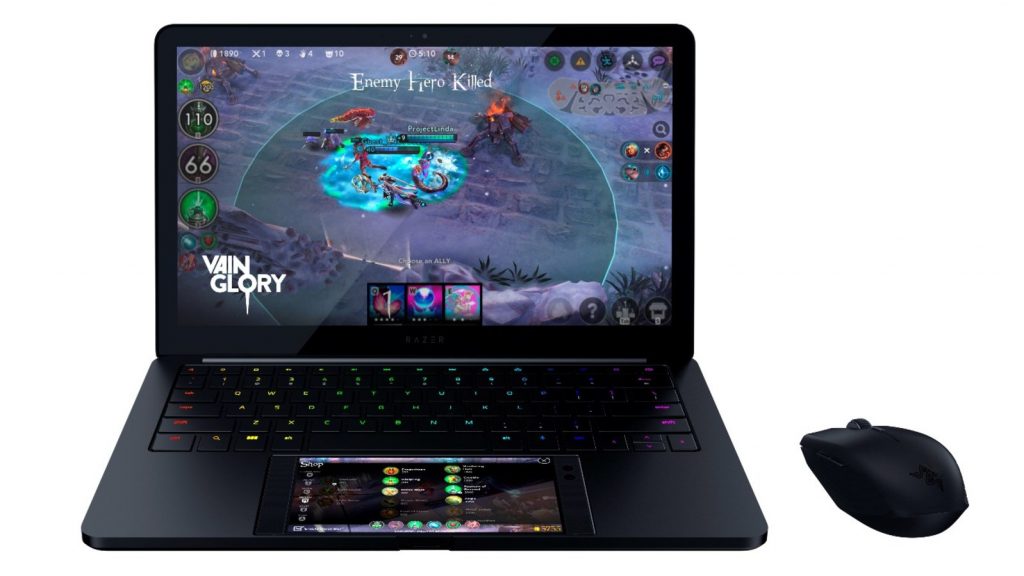 Razer today at the CES 2018 show has unveiled the Android laptop-phone Hybrid Project Linda concept. The company has showcased a 13.3-inch laptop design powered by the Android-based Razer Phone. The smartphone and laptop hybrid concept opens up a new era for mobile personal computing. 
It seamlessly docks the Razer Phone inside its chassis where a touchpad would normally reside and connects with the press of a button. Razer Phone's Snapdragon 835 chipset and 8GB of RAM delivers responsive performance and instantly transforms Project Linda into an Android laptop. The Phone's 5.7-inches display can be used as a touchpad, or as a second screen for access to apps, tools, and more.
It comes with dedicated keys for navigation, search, and app selection. The Project Linda features a unibody CNC aluminum chassis and is just 0.59-inch (15 mm) thin and weighs 1.25 kg including the docked phone.
Its 13.3-inch Quad HD touchscreen display has 120 Hz experience and the concept also packs a 53.6 Wh internal battery that can rapidly charge the docked phone to full capacity over three times while away from AC power. The Laptop also comes with 200 GB of storage. Connectivity options include the built-in 3.5-millimeter audio jack, a USB-A port, a USB-C charging port, 720p webcam, and a dual-array microphone.
Commenting on the same, Razer co-founder and CEO Min-Liang Tan said:
Android power users and laptop enthusiasts share a need for performance in a mobile form factor, which we provide with our award-winning Razer Phone and Razer laptops. Project Linda combines the best of both worlds, bringing a larger screen and physical keyboard to the Android environment, enhancing the experience for gaming and productivity.