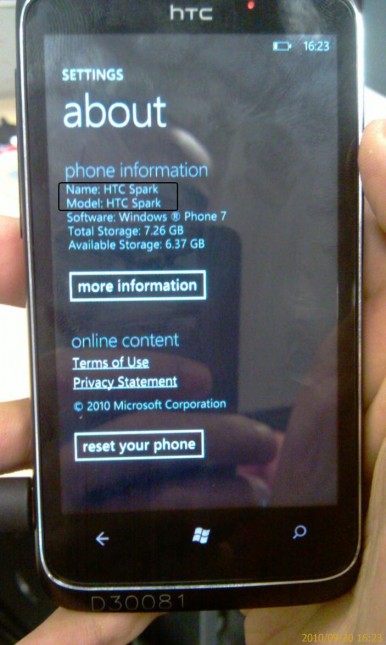 I am a very big fan of HTC, and I love HTC because they love making some sexy devices. Currently, HTC is considering on both Windows Phone 7 and Android. Recently HTC launched the HTC Desire HD and Z, and now they are moving ahead to launch some WP7 powered phones. You people may have seen the HTC HD7, HTC Mozart, HTC Mondrian, HTC Schubert, and the HTC Spark a.k.a HTC 7 Trophy. More images of the HTC Spark has been leaked, there are more than 20 images of HTC Spark, and you can see them all over at xda-developers forums. HTC Spark is rumored to come with following specs:
1 GHz processor
3.8-inch WVGA display with 480 x 800 resolution
Unknown megapixel camera with LED flash
512 MB RAM
512 MB ROM
8 GB internal memory
Dual-band HSPA/UMTS radio
Quad-band GSM radio
a-GPS/GPS, digital compass
FM radio
Wi-Fi b/g/n, Bluetooth,
1,300 mAh battery
PocketNow is saying that HTC is sending out invitations to people, and they are inviting  people to Central London for pre-briefing on October 7th, and the invite states that the briefing concerns " a range of new phones that not have been announced yet". On the same day, HTC is holding an event in Taipei too, so I think HTC is announcing something big on October 7th.
via BGR