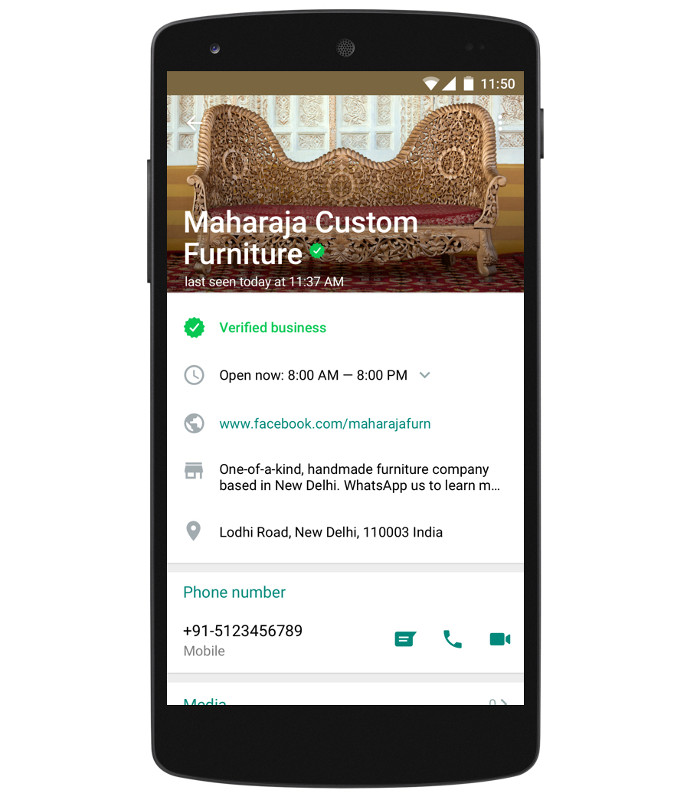 After confirming that it is working on Twitter-like Business features, Facebook-owned WhatsApp has announced that it its testing new tools through a closed pilot program that will allow people to communicate with the businesses they want to reach on WhatsApp. Business accounts will have a verified profile with a green badge so people can identify a business from another person so it will be easier to respond to messages. 
"Our approach is simple – we want to apply what we've learned helping people connect with each other to helping people connect with businesses that are important to them," said WhatsApp.
WhatsApp also said that it is building and testing new tools via a free WhatsApp Business app for small companies and an enterprise solution for bigger companies operating at a large scale with a global base of customers, like airlines, e-commerce sites, and banks. This will offer customers notifications like flight times, delivery confirmations, and other updates.
WhatsApp will eventually charge companies to use some future features. In an interview with WSJ, WhatsApp chief operating officer Matt Idema said "We want to put a basic foundation in place to allow people to message businesses and for them to get the responses that they want. We do intend on charging businesses in the future."
KLM Royal Dutch Airlines said that it is the first airline with verified WhatsApp business account that will let customers directly contact KLM's social media service agents, 24/7, via WhatsApp to know about booking confirmation, check-in notification, boarding pass, flight status updates and asking questions in 10 different languages.
WhatsApp went completely free back in January last year and said that it doesn't plan to introduce ads. Last August it changed its privacy policy to allow businesses to send messages directly to people using the platform.