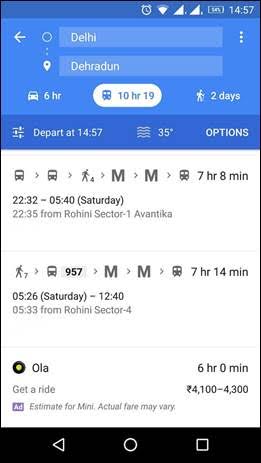 Ola and Google have partnered to bring Ola Outstation service to Google Maps. Users will now see an inter-city Ola cab ride options directly within Google Maps.
The move will enable bookings from 23 cities to over 215 one-way routes in the country and in the coming weeks, the integration will be expanded to a total of 500 routes. The transit mode in Google Maps will now show relevant Ola cab offering besides the existing bus and train service options that connect two cities. Also listed are key details of your search including the estimated trip duration, the trip cost, and the availability of Ola drivers on that route. Tapping the Ola ride option launches the Ola app where the user can book the ride. And if the app isn't on their phone the user is prompted to install it.
This feature will be available in Bangalore, Chennai, Kolkata, Mumbai, Delhi, Agra, Hyderabad, Patna, and 15 other cities with hundreds of available routes between them, and will be extended to several more soon. Earlier in May, Google and Ola joined hands to launch Progressive Web App for 2G networks. Google Maps added Ola integration in March last year in India.
Vijay Ghadge, VP of Operations at Ola said,
Ola Outstation has gained significant prominence in the past year since its launch, this association takes us a step further in making the category as reliable and convenient as intra-city commute.