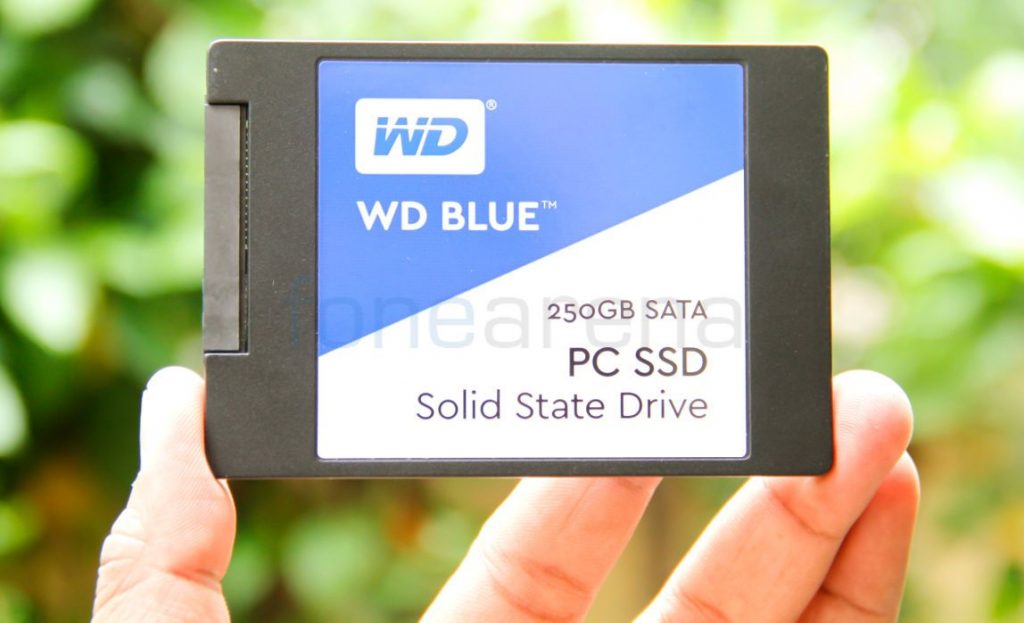 After completing SanDisk acquisition last year, Western Digital introduced WD Blue and WD Green solid state drives (SSDs), the first WD-branded SATA SSDs for consumers in October. These were was launched in India a few months back. Both these promise near-maximum speed of SATA drives. Is the WD Blue 250GB SSD worth the price? Let us find out in the review.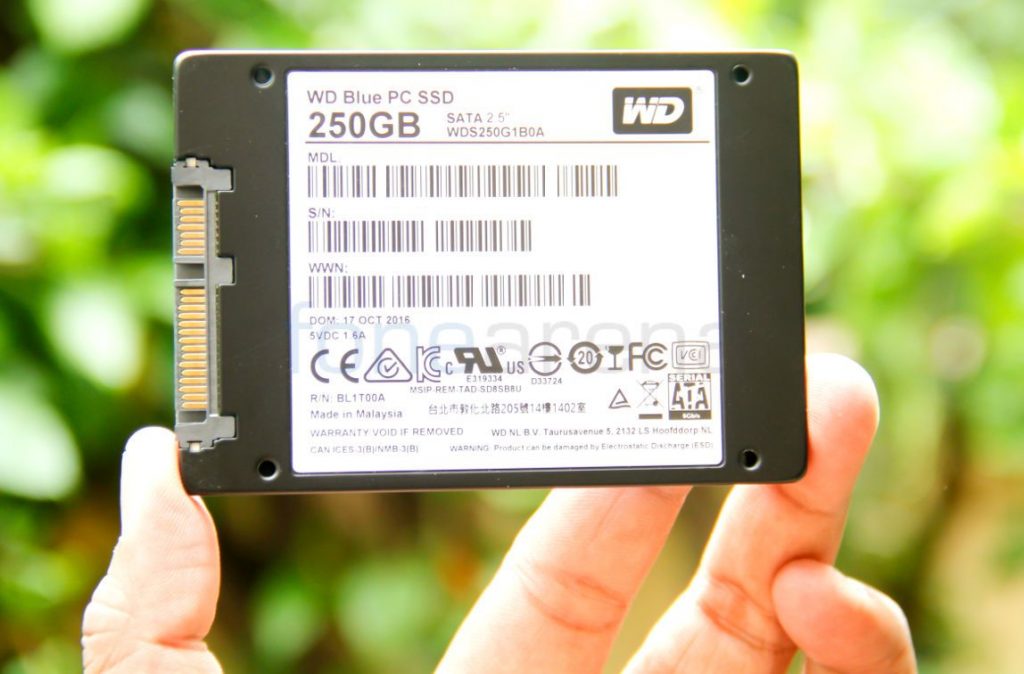 It has an endurance rating of up to 100 TBW (terabytes written) and a 1.75 million hour mean time to failure based on its internal testing. Endurance rating varies depending on the storage version. It comes in both 2.5″/7mm cased and M.2 2280 form factors. We have the 2.5-inch version here. It is 7.00 x 69.85 x 100.5mm when cased and weighs 37.4 grams.
It uses SATA III 6Gb/s interface connection, but when you connect using a cable to USB 3.0 to use it as an external storage, speed will be less since the theoretical limit of USB 3.0 is 5Gb/s.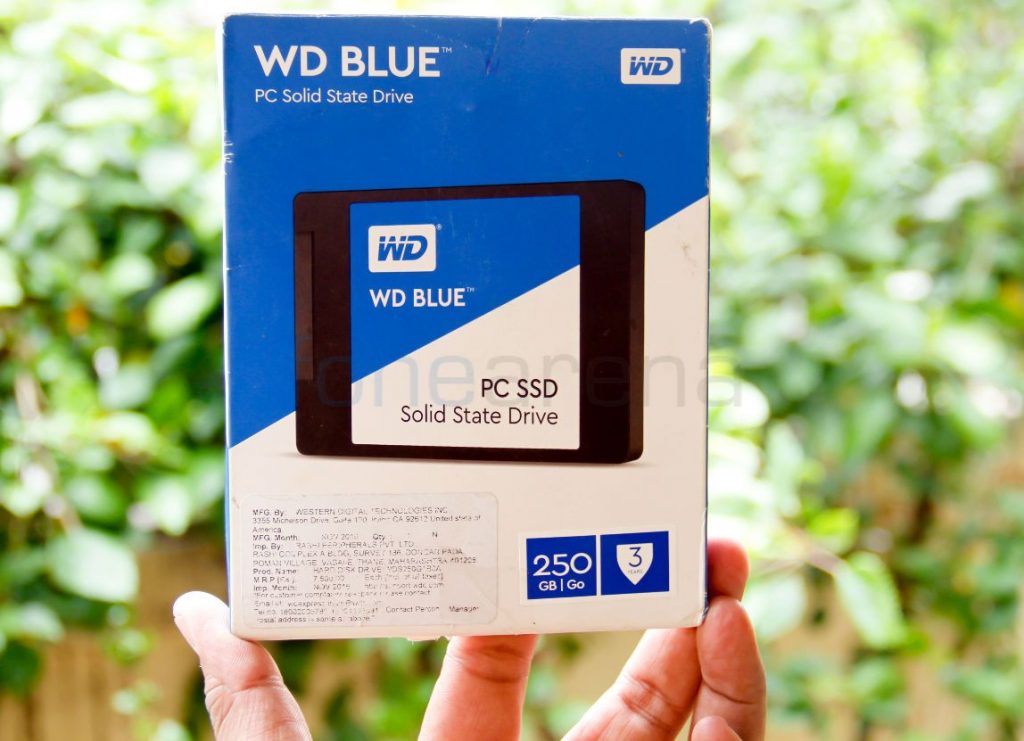 The WD Blue SSD uses the same hardware platform as the SanDisk X400, but it comes with an updated firmware. There is a  WD SSD Dashboard software that has a suite of tools to check the health of the solid state drive.
Performance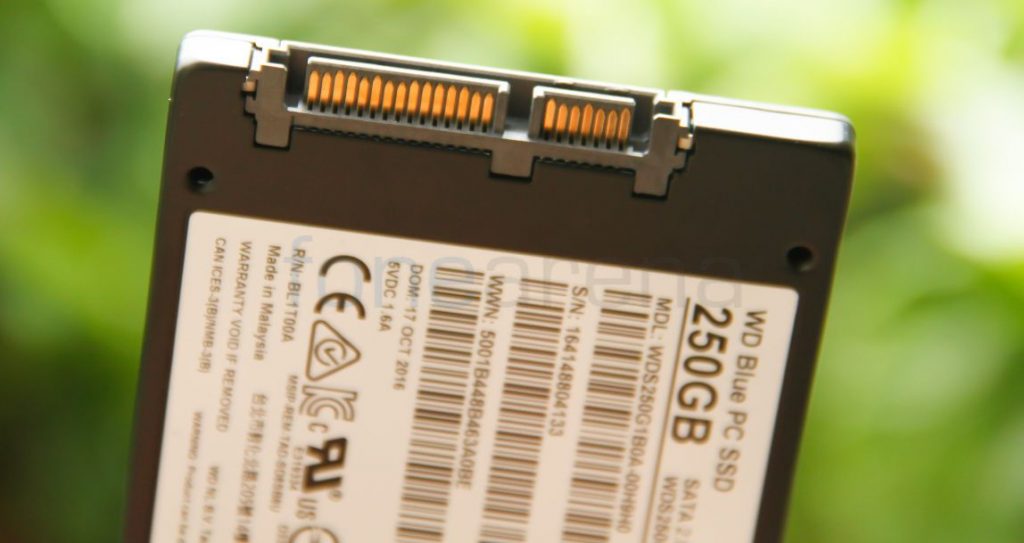 It offers random read input-output access per second (IOPS) of 97k and write input-output access per second (IOPS) of 79k. It promises Sequential Read speed of up to 540 MB/s and Sequential Write speed of up to 500 MB/s. Both the read and write speeds, IOPS and Endurance are more than in the WD Blue series of SSDs compared to the entry-level WD Green SSDs. Based on our usage, we got about 544 MB/s Read speed and about 506 MB/s write speed on CystalDisk benchmark. The write endurance is above average for a mainstream SATA SSD.
Conclusion
SSDs are mainly used as a boot drive since boot times are quicker compared to standard hard disks, but I have been using SSDs as a normal storage in my work PC for more than 2 years since HDDs have failed several times, and have not turned back. WD Blue SSDs also come in 500GB and 1TB variants. All WD Blue SSDs comes with a 3-year limited warranty, like most of the companies, but they could have offered a 5-year warranty to compete with Samsung.
The 250GB WD Blue SSD was launched at an MRP of Rs. 7500 last year, but the price keeps fluctuating. It was available for Rs. 7000 a few months back, now it is available on Amazon.in for Rs. 7899. If the price comes down a bit, it is definitely worth an investment.